MinistryWatch's Top 25 Stories of 2022

Newsmakers include:  Rick Warren, Perry Stone, Matt Chandler, John MacArthur, Brian Houston, Ravi Zacharias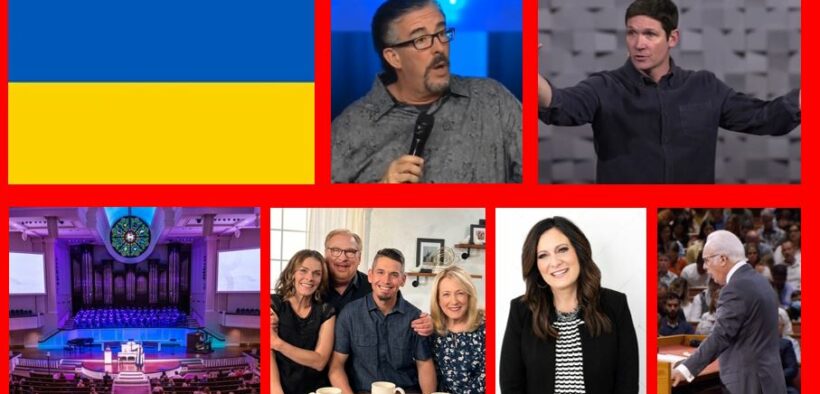 Below is a list of the Top 25 stories of the year, as ranked by the number of page views at the MinistryWatch website, plus a bit of description and commentary for each story.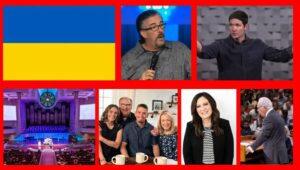 Less than a week after the Hillsong board released a statement revealing its cofounder, Brian Houston, had sent inappropriate text messages to a staff member and spent time in a woman's hotel room, the board of the global megachurch has announced the longtime global senior pastor has resigned. In a statement posted on its website March 23, the board said it had accepted Houston's resignation and acknowledged "there will be much emotion at this news." News of the complaints against Houston surfaced in the Australian press and in a March 18 statement, the Hillsong board acknowledged it had been "dealing with two complaints made against Pastor Brian over the last 10 years," and said each was investigated by a board member, or "a body appointed by the global board," and dealt with confidentially.
Students at Gordon College organized a rally "in solidarity with women and the LGBTQA+ community" after a speaker made what were characterized as misogynistic and transphobic remarks during a chapel service. Marvin Daniels, the executive director and CEO of The Hope Center, a nonprofit that serves children, youth, and families in Kansas City, Missouri, was scheduled as a featured speaker for the Wenham, Mass. college's annual Deep Faith Week starting Feb. 14, the Gordon Review reported…In the context of a morning chapel sermon on 2 Corinthians 5, Daniels…described "a culture in chaos" where "they trying to redefine sexuality for us."
Christian institutions face a never-ending challenge: Which cultural changes should we embrace as we prepare for the future? The challenge is starker at Bob Jones University, the bastion of American fundamentalism for nearly a century. Disagreements over changes made at the school during the eight-year tenure of Steve Pettit, the school's fifth president and first from outside the Jones family, broke out following an October 4 board meeting in which some board members said they would let Pettit go rather than renew his current contract. That decision has now been delayed. Pettit's current contract ends at the end of the 2022-23 academic year, on May 5, 2023. The opposition to Pettit has nothing to do with morality or doctrine, but with "preferences of Christian practice," according to one alumnus.
The details in the report are nothing if not shocking. The sexual assault of a pastor's wife by a former Southern Baptist Convention leader on July 25, 2010, is one of the more graphic descriptions of sex abuse in a blockbuster report, conducted by third-party investigation firm Guidepost Solutions, and made public by the Southern Baptist Convention on May 22. But the details pale in comparison with the identity of the alleged perpetrator: Johnny Hunt, former president of the Southern Baptist Convention, longtime Georgia megachurch pastor and until last week, senior vice president of evangelism and leadership at the denomination's North American Mission Board. Hunt has denied the allegations.
Nathan Zacharias, son of the late disgraced apologist Ravi Zacharias, has posted his first blog in seven months to explain that his recent silence is not due to him having changed his mind about his father's character. "Many people have written in to ask if a quiet blog means something has changed," said Zacharias in a post dated Aug. 4. "As was the case before, no, nothing has changed. We still believe in Dad's innocence, we still believe the investigation was biased and unethical, and we believe RZIM's leadership mishandled many things, as well."
Proverbs 31 Ministries founder and president Lysa TerKeurst announced on social media Jan. 1 that she and her husband Art are getting divorced. "I now believe the wisest (and hardest) choice I can make is to stop fighting to save my marriage of 29 years and, instead, accept reality," she said in an Instagram post.  TerKeurst is the bestselling author of 22 books, including 2018's "It's Not Supposed to Be This Way: Finding Unexpected Strength When Disappointments Leave You Shattered," in which she detailed the aftermath of discovering her husband's infidelity, the process of grief and healing she went through during their separation, and their seeming relational restoration…But TerKeurst said in her Instagram post that although she and her husband had renewed their wedding vows three years ago, the marriage could not survive "the devastation of what consistent deception of one spouse does to the other."
Members of White's Chapel United Methodist Church, a large congregation in this wealthy Dallas suburb, overwhelmingly voted earlier this month to disaffiliate from the United Methodist Church, part of the ongoing defection of conservative Methodists from the second-largest Protestant denomination in the U.S. over issues of sexuality. White's Chapel fits that bill — Southlake is no stranger to the polarizing debates about critical race theory in schools, about gun rights and sexuality. But the congregation is no stranger to competing ideas, either, and says it does not plan to join the Global Methodist Church, the new conservative denomination offering a home to like-minded United Methodists. Rather, White's Chapel hopes to create what they call a Methodist Collegiate College, "envisioned to create a new form of connectionalism — one of shared ministry, equal accountability, and practical governance." And it's hoping other churches might join it in time.
Access to MinistryWatch content is free.  However, we hope you will support our work with your prayers and financial gifts.  To make a donation, click here.
Recently, Jerry Falwell, Jr. and his wife, Becki, were interviewed in the pages of Vanity Fair about their precipitous fall from grace. The former president of Christian college juggernaut Liberty University drew ire for his vociferous support for Donald Trump as President, often reliant upon social media bombast. Not all Falwell critics were secular. Many conservative evangelicals found his conduct unbecoming of a Christian. Eventually, his wife's marital infidelity (plus other scandalous behavior) came to light, resulting in his ouster from both Liberty and the wider evangelical community. The story itself is sordid, and the writer betrays progressive biases in its myriad digs at the Moral Majority and the Religious Right. One worries that the Falwells are attempting a rebrand. Their words betray a desire to put some daylight between themselves and conservative church-going Christians, with Franklin Graham cast in a villainous role, excommunicating the Falwell family from the evangelical movement.
Andy Wood, named as Rick Warren's successor at Saddleback Church after Warren retires, has apologized for inviting Mark Driscoll to speak at the 2021 Echo Leadership Conference. In July, Saddleback said Wood was cleared of allegations of abusive leadership, but critics say there are still too many unanswered questions. "In the past I interviewed Mark Driscoll to help pastors learn from his mistakes," Wood tweeted on Friday, Aug. 12. "Since then additional controversy and pain has come out. My choice hurt and confused many people. I regret the pain, confusion & distraction this caused. I humbly apologize for my mistake and error."
The offering was over and the worship team at Global Vision Bible Church had just finished singing "Oh How I Love Jesus" when the Rev. Greg Locke began telling his church about his conversations with demons. Those demons, he said, had revealed the names of a group of "full-blown, spell-casting" witches who'd been sent to infiltrate Global Vision, a nondenominational church west of Nashville, Tennessee, where Locke is pastor. "To God be the glory, I lie not," he told the congregation at Global Vision on Feb. 13, which was meeting in a packed tent on the church's property. "We got first and last names of six witches that are in our church. And you know what's strange, three of you are in this room right now."
Below is a list of the 100 largest Christian ministries in the MinistryWatch database. Please note that last November (2019), we listed the 50 largest Christian ministries.  However, since then our database has grown from about 450 ministries to about 650 ministries, including a new category — Colleges and Universities.  So we felt it would be more helpful to expand the size of this list. This list should not be interpreted as a list of recommended ministries.  They are ranked by total revenue, and not by effectiveness, financial efficiency, or any other measure.  That said, the Financial Efficiency rating and the Transparency Grade of the ministries are listed. To learn more about these institutions, click on the ministry's name and read the complete MinistryWatch profile on this organization.
Steve Greisen, a Christian filmmaker and veteran of the Jesus movement's 1970s-era music scene, was arrested in Colorado Springs following "a summer long collaborative effort to identify and arrest child sexual predators" involving local and federal investigators. The Gazette reported the arrests on Oct. 1. Greisen, 68, has operated two film companies in Monument, a small town north of Colorado Springs. Greisen was among 12 men arrested following investigations coordinated by the Colorado Springs Police Department and El Paso County Sheriff's Office joint Internet Crimes Against Children Unit and Special Agents from the U. S. Dept. of Homeland Security.
On New Year's Day, 43 congregations of the Reformed Church in America split from the national denomination, one of the oldest Protestant bodies in the United States, in part over theological differences regarding same-sex marriage and the ordination of LGBTQ clergy. The departure of the theologically conservative congregations to the new group, the Alliance of Reformed Churches, leaves some who remain in the RCA concerned for the denomination's survival. Before the split, the nearly 400-year-old denomination had fewer than 200,000 members and 1,000 churches. At least 125 churches from various denominations are in conversation with ARC leaders about joining.
After more than four decades, the pastor of one of the nation's largest and most influential churches is ready to step down. And he has named a young couple to take his place. "This afternoon, at our all-staff meeting held at the Lake Forest campus, I was finally able to publicly announce that we have found God's couple to lead our congregation, and that they have agreed to come!" Saddleback Church pastor Rick Warren told his Orange County, California, congregation in an email June 2. The email included a link to a video featuring Warren and his wife, Kay, along with Andy and Stacie Wood of Echo Church in San Jose, California. Andy Wood, 40, is currently Echo's lead pastor, while Stacie Wood is a teaching pastor. They will have the same roles at Saddleback.
The lead pastor of an Orlando-area megachurch and his wife quietly filed for divorce last summer in a county across the state, a fact confirmed by court records but never publicly acknowledged by the pastor or his church. The Roys Report broke the story, detailing that Justin Dailey, lead pastor of multi-campus Action Church, and his former wife Stefanie filed for divorce in June 2021 in Dixie County, Florida, a three-hour drive from their home. The dissolution of marriage was made final Aug. 6. Justin Dailey is listed as the plaintiff and Stefanie as the defendant. The couple had married when he was in his early 20s, per the Roys Report, and moved to Florida in 2008.
A Dallas-area church with more than 6,500 members said it will disaffiliate with the United Methodist Church and will remain independent while it investigates alliances with other Methodist denominations. Senior Pastor Arthur Jones of St. Andrew United Methodist Church of Plano, along with Kathy King, chair of the church's executive committee, said in a post on the church's website that founding pastor Robert Hasley began to consider disaffiliation "years ago" and asked a group of lay leaders to "monitor the inevitable fragmenting of the United Methodist Church."
MinistryWatch stands for transparency and accountability. That's why we think it is important for Christian ministries to be as transparent as possible with donors and with the public. So MinistryWatch grades every ministry in its database based on transparency. Today, we release a list of the ministries who have received a failing or "F" grade—approximately 15 ministries. Our transparency grade evaluates the ease with which donors can see into the finances of a ministry.  The ministries on this list have failed to comply with the following three requirements: The completion and public availability of a Form 990, the completion and public release of an audited financial statement, and membership in the Evangelical Council for Financial Accountability.
When crisis hits around the world, as it has in Ukraine, Christians are often first in line to help.  That's a very good thing. However, there's a reason the Bible tells us to love God with our mind as well as our heart. At times like these, we should engage both. Below are a few principles and tips to keep in mind as you give to Ukrainian relief efforts. We also have our assessment of some ministries that are raising funds for Ukrainian relief.
A popular Dallas-area megachurch leader has been placed on indefinite leave for online communication with a woman who is not his wife. Leaders at The Village Church, based in Flower Mound, Texas, announced longtime pastor Matt Chandler's leave during a service this past weekend, citing inappropriate Instagram messages. A review of Chandler's electronic communication messages found he had violated the church's social media policy, Josh Patterson, one of the pastors at the church, told worshippers.
This is a list of 100 highly paid Christian ministry executives. The information was derived from the Form 990 prepared by the ministry itself. We are not calling this list the "Highest Paid Christian Ministry Executives" because we know that many pastors and other church leaders who might make more are not on this list, because churches are not required to make their Form 990s available to the public.
OPINION – Over the years I've helped quite a number of churches, ministries, and nonprofits navigate the confusing maze of communicating the news of a fallen pastor or leader to the congregation, ministry partners, donors, and the general public. During that time, I've discovered a certain pattern of behavior from leaders who fail. I'm not a psychologist or counselor, so I'm not addressing the sin, emotional problems, pride, or other issues that lead to a moral collapse, but particularly in the case of pastors and ministry leaders, there are six types of risky conduct I've seen played out time and time again. These behaviors can sometimes go on for years, but I've noticed that at least one of them is almost always in play at the time of his or her fall.
In January, author and founder of Proverbs 31 Ministries Lysa TerKeurst announced she'd filed for divorce from her husband, Art. The couple married in 1992 and have been separated since November 2020. North Carolina, where the TerKeursts live, requires that a couple be separated for a continuous year before instituting a divorce proceeding. In February, Art filed a response to the petition for divorce, asking for post-separation support, alimony, an equitable division of property, damages, and the rescission of a post-nuptial agreement which he says was unconscionable and based upon fraud.
A former member of John MacArthur's megachurch says she was publicly shamed by the pastor in 2002 for her decision to leave her abusive husband and defy church counsel, according to The Roys Report. MacArthur, who leads Grace Community Church (GCC) in Sun Valley, California, told his congregation it was necessary for him to call out Eileen Gray, who had rejected church elders' direction to reconcile with her husband, a former children's music and Bible teacher at the church, because the church "bears responsibility before God to be the instrument of discipline." In 2005, David Gray was convicted of aggravated child molestation, corporal injury to a child, and child abuse and is currently serving 21 years to life in a California prison.
Donors, where is the money going? When a televangelist's ministry or pastor's church owns a private jet, you can almost be certain the leader lives in a mansion. That is one of the lessons Trinity Foundation has learned from investigating religious fraud and excess for more than 30 years. In April 2021 the Houston Chronicle's Jay Root asked Trinity Foundation for assistance on an article series about church parsonages in Texas. Trinity Foundation compiled a list of megachurches and large media ministries in the state and then searched for parsonages and homes of pastors and ministry leaders.
Allegations of sexual misconduct began surfacing against televangelist Perry Stone in 2020. His Cleveland, Tennessee-based ministry, Voice of Evangelism, announced in July that he had taken a leave of absence after admitting that he had acted inappropriately with female employees. But a few months later, Stone was back in the pulpit.  Now, new accusations have been made public, and – according to the Chattanooga Times Free Press – the Federal Bureau of Investigation has been questioning people in connection with Stone's behavior.