Bart Barber Enters Southern Baptist Presidential Race after Another Pastor Withdraws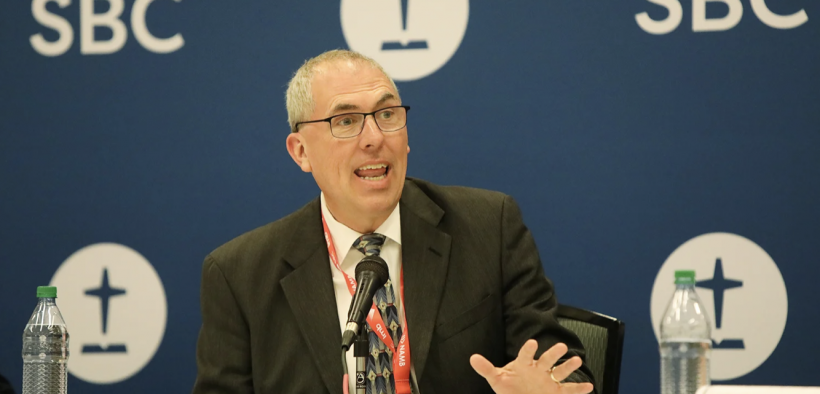 Longtime Southern Baptist pastor Bart Barber, who has served in numerous leadership roles in the nation's largest Protestant denomination, has joined the race for president of the evangelical organization.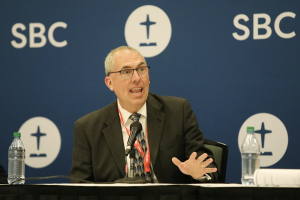 Matt Henslee, the Southern Baptist Convention Pastors' Conference president, announced he intends to nominate Barber at the annual meeting of the SBC in June in Anaheim, California.
"God gave me a friend who has modeled how to love, care, lead, serve, & more—all with a spirit of humility and prayer, devotion to God's Word, and an aim to make much of Jesus," Henslee tweeted on Thursday (April 7).
Barber, 52, has been the pastor since 1999 of First Baptist Church of Farmersville, Texas. He joins two other candidates in the running for SBC president: Tom Ascol, a Florida pastor who has claimed liberals are taking over the SBC, and Robin Hadaway, a former SBC missionary. 
The election campaign, which follows Ed Litton's presidential victory at the 2021 Nashville gathering, is unusual, as presidents traditionally seek a second one-year term. However, Litton announced he would not run again after facing controversy over plagiarism in his sermons, for which he has apologized.
Henslee posted a video of Barber discussing his candidacy, in which his colleague called Ascol a friend he intends to keep beyond the election, and said, "You will not be helping me by saying mean things about Tom Ascol's character or about his love for Jesus."
While Ascol has the support of a faction called the Conservative Baptist Network, Barber describes himself as a "vocal critic" of it.
A previous candidate for SBC president, Florida pastor Willy Rice announced on Wednesday that he was withdrawing from the race after reports that his church had ordained a deacon who as a former schoolteacher had admitted to having sex with an 18-year-old student in the 2000s. Rice announced the previous weekend that the deacon had stepped down.
Access to MinistryWatch content is free.  However, we hope you will support our work with your prayers and financial gifts.  To make a donation, click here.
In an interview, Barber told Religion News Service that the course of events prompted him to enter a race he thought he would be watching from the sidelines. Instead, he announced his plans via video as he drove cattle feed back to his ranch in his Chevy pickup truck.
"Although I've resisted doing this for quite some time, I believe we're at a point in the life of our convention where there are things that we can do just to be healthier as a convention," said Barber, whose doctoral dissertation was on an early split in the SBC, in an interview.
"And by that I mean, to have a better spirit of cooperation, to work with one another better and be more productive in the things we're trying to do together."
He said he hopes that approach can move the Southern Baptists forward after years of grappling with controversial issues related to abuse, race, and politics.
Barber has been chosen to lead the SBC's 2022 Resolutions Committee; he served on the 2021 committee when it sought to resolve the controversy over critical race theory. He is a former first vice president of the SBC. Barber also was a member of the trustee board of Southwestern Baptist Theological Seminary when it ousted Paige Patterson as president after reports surfaced of Patterson's mishandling of sexual abuse allegations.
Southern Baptists attending the 2022 annual meeting are to consider a report on how SBC leaders have recently dealt with the issue of sexual abuse.
Barber, the pastor of a predominantly white church in a small town, said he was planning to sit out the race until Rice suddenly was no longer in the running.
"It's like taking somebody away from a small business instead of a large corporation," he said, contrasting himself with the megachurch pastors that have presided over the SBC.
However, he said he determined that perhaps he could do more than be "a pastor with a Twitter account" and seek to turn his fellow Southern Baptists away from a political atmosphere within their convention that has "entered into an age of opposition research and October surprises."
Barber was asked via Twitter to react to the account of the SBC's Ethics and Religious Liberty Commission—an agency that has drawn the wrath and support of different Southern Baptists—after it quoted its acting president noting the historic confirmation of Judge Ketanji Brown Jackson as the nation's first Black woman Supreme Court justice.
"The trustees of the ERLC oversee the ERLC," he tweeted in response, adding in the interview, "The president of the SBC does not."
Barber had planned to nominate Nathan Finn, provost at South Carolina's North Greenville University, as SBC recording secretary, but they have agreed to let someone else do that because otherwise "it just looks like a ticket," something the Texas pastor said he wanted to avoid.