100 Largest Christian Ministries in the U.S. — 2020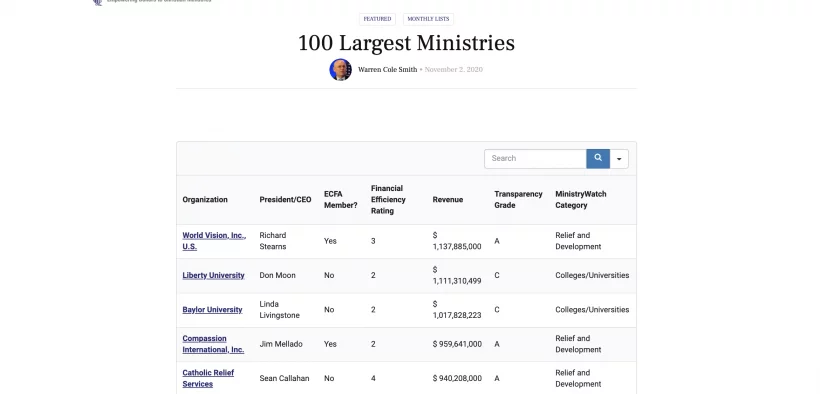 Below is a list of the 100 largest Christian ministries in the MinistryWatch database.
Please note that last November (2019), we listed the 50 largest Christian ministries.  However, since then our database has grown from about 450 ministries to about 650 ministries, including a new category — Colleges and Universities.  So we felt it would be more helpful to expand the size of this list.
This list should not be interpreted as a list of recommended ministries.  They are ranked by total revenue, and not by effectiveness, financial efficiency, or any other measure.  That said, the Financial Efficiency rating and the Transparency Grade of the ministries are listed.
To learn more about these institutions, click on the ministry's name and read the complete MinistryWatch profile on this organization.
If you would like to know more about our Financial Efficiency Rating, click here.  If you would like to know more about our Transparency Grades, click here.
| Rank | Organization | President/CEO | ECFA Member? | Financial Efficiency Rating | Revenue | Transparency Grade | MinistryWatch Category |
| --- | --- | --- | --- | --- | --- | --- | --- |
| 1 | Grand Canyon University | Brian Mueller | No | N/A | $1,708,190,506 | D | Colleges/Universities |
| 2 | World Vision, Inc., U.S. | Edgar Sandoval | Yes | 3 | $1,137,885,000 | A | Relief and Development |
| 3 | Liberty University | Jerry Prevo | No | 2 | $1,111,310,499 | C | Colleges/Universities |
| 4 | Baylor University | Linda Livingstone | No | 2 | $1,017,828,223 | C | Colleges/Universities |
| 5 | Compassion International, Inc. | Jim Mellado | Yes | 2 | $959,641,000 | A | Relief and Development |
| 6 | Catholic Relief Services | Sean Callahan | No | 4 | $940,208,000 | A | Relief and Development |
| 7 | Food For The Poor, Inc. | Ed Raine | No | 5 | $912,386,701 | D | Relief and Development |
| 8 | Samaritan's Purse | Franklin Graham | Yes | 3 | $753,607,738 | A | Relief and Development |
| 9 | Cru / Campus Crusade for Christ | Steve Sellers | Yes | 3 | $624,627,000 | C | Fellowship Evangelism |
| 10 | MAP International | Steve Stirling | Yes | 4 | $591,172,880 | A | Relief and Development |
| 11 | Pepperdine University | James Gash | No | 1 | $500,820,310 | C | Colleges/Universities |
| 12 | Mercy Corps | Tjada D'Oyen McKenna | No | 3 | $489,285,000 | C | Relief and Development |
| 13 | Catholic Medical Mission Board | Mary Beth Powers | No | 5 | $439,147,230 | D | Relief and Development |
| 14 | Young Life | Newton F. Crenshaw | Yes | 3 | $426,902,026 | A | Fellowship Evangelism |
| 15 | Christian Broadcasting Network | Gordon Robertson | Yes | 4 | $416,063,836 | A | Educational Media |
| 16 | Azusa Pacific University | Paul R. Ferguson | Yes | 4 | $320,695,476 | A | Colleges/Universities |
| 17 | California Baptist University | Ronald L. Ellis | No | 5 | $319,425,348 | C | Colleges/Universities |
| 18 | Habitat for Humanity International | Jonathan Reckford | No | 2 | $300,519,000 | C | Community Development |
| 19 | Feed The Children | Kevin Hagan | No | 4 | $288,239,070 | C | Relief and Development |
| 20 | High Point University | Nido Qubein | No | 2 | $278,132,499 | C | Colleges/Universities |
| 21 | Campbell University | J. Bradley Creed | No | 4 | $241,540,179 | C | Colleges/Universities |
| 22 | Samford University | Andrew Westmoreland | No | 2 | $232,026,789 | C | Colleges/Universities |
| 23 | Hillsdale College | Larry P. Arnn | No | 1 | $231,065,777 | C | Colleges/Universities |
| 24 | Indiana Wesleyan University | David Wright | No | 4 | $225,099,742 | C | Colleges/Universities |
| 25 | Biola University | Barry H. Corey | No | 3 | $223,270,949 | C | Colleges/Universities |
| 26 | ChildFund | Anne Goddard | No | 2 | $217,010,970 | C | Relief and Development |
| 27 | Covenant House | Patricia A. Cruise | No | 1 | $210,899,770 | C | Relief and Development |
| 28 | Abilene Christian University | Phil Schubert | No | 1 | $210,458,073 | C | Colleges/Universities |
| 29 | Educational Media Foundation | Bill Reeves | Yes | 2 | $208,751,473 | A | Radio/ TV Stations |
| 30 | Wycliffe Bible Translators | John Chestnut | Yes | 2 | $208,569,000 | A | Foreign Missions |
| 31 | Lipscomb University | L. Randolph Lowry | No | 2 | $205,283,951 | C | Colleges/Universities |
| 32 | Convoy of Hope | Hal Donaldson | Yes | 3 | $200,214,313 | A | Relief and Development |
| 33 | Seattle Pacific University | Daniel J. Martin | No | 4 | $177,819,895 | C | Colleges/Universities |
| 34 | Wheaton College | Dennis Hanno | Yes | 2 | $173,359,454 | A | Colleges/Universities |
| 35 | Harding University | David Burks | No | 4 | $169,097,469 | C | Colleges/Universities |
| 36 | Fellowship of Christian Athletes | Shane Williamson | Yes | 4 | $155,781,340 | A | Fellowship Evangelism |
| 37 | Concordia University (Wisconsin) | Patrick T. Ferry | No | 2 | $153,807,489 | C | Colleges/Universities |
| 38 | Christian Blind Mission | Ron Nabors | Yes | 5 | $151,646,693 | A | Relief and Development |
| 39 | Food for the Hungry, Inc. | David Evans | Yes | 2 | $151,183,995 | C | Relief and Development |
| 40 | Point Loma Nazarene University | Robert Brower | Yes | 3 | $143,674,413 | A | Colleges/Universities |
| 41 | Messiah University | Kim S Phipps | No | 3 | $143,079,714 | C | Colleges/Universities |
| 42 | Bethel University (Minnesota) | Ross Allen | No | 3 | $141,706,321 | C | Colleges/Universities |
| 43 | Unbound | Scott Wasserman | No | 4 | $141,221,919 | C | Relief and Development |
| 44 | Billy Graham Evangelistic Association | Franklin Graham | Yes | 2 | $140,692,346 | C | Evangelism |
| 45 | Mercy Ships | Tom Stogner | Yes | 1 | $140,259,099 | A | Relief and Development |
| 46 | Museum of the Bible Inc | Harry Hargrave | No | 2 | $140,020,513 | C | Christian Growth |
| 47 | Heifer Project International | Pierre Ferrari | No | 1 | $138,872,650 | C | Relief and Development |
| 48 | Bethany Christian Services | Chris Palusky | Yes | 4 | $138,497,927 | A | Community Development |
| 49 | The Navigators | Mutua Mahiaini | Yes | 3 | $137,454,000 | C | Christian Growth |
| 50 | Trinity Broadcasting Network | Matthew Crouch | No | 1 | $137,389,286 | D | Radio/ TV Stations |
| 51 | Dallas Baptist University | Adam Wright | No | 4 | $137,203,412 | C | Colleges/Universities |
| 52 | YMCA of the USA | Kevin Washington | No | 4 | $134,627,208 | C | Community Development |
| 53 | George Fox University | Robin Baker | No | 4 | $132,997,587 | C | Colleges/Universities |
| 54 | Christian Aid Ministries | David Troyer | Yes | 4 | $132,966,588 | A | Relief and Development |
| 55 | Oral Roberts University | William M Wilson | Yes | 4 | $132,849,964 | A | Colleges/Universities |
| 56 | Kingsway Charities | James Gregory | No | 5 | $130,897,514 | C | Relief and Development |
| 57 | Cedarville University | Thomas White | No | 3 | $126,916,822 | C | Colleges/Universities |
| 58 | International Fellowship of Christians and Jews/ Rabbi Yechiel Eckstein | Yael Eckstein | No | 2 | $125,665,151 | C | Advocacy |
| 59 | University of Mary Hardin-Baylor | Linda Livingstone | No | 2 | $122,789,445 | C | Colleges/Universities |
| 60 | Regent University | Stephen Bruce | Yes | 3 | $122,784,123 | A | Colleges/Universities |
| 61 | Gideons International | Dan Heighway (Executive Director) | Yes | 4 | $120,719,526 | C | Evangelism |
| 62 | Mississippi College | Blake Thompson | No | 4 | $120,401,644 | C | Colleges/Universities |
| 63 | InterVarsity Christian Fellowship | Tom Lin | Yes | 3 | $119,410,000 | A | Fellowship Evangelism |
| 64 | Palm Beach Atlantic University | Debra Schwinn | No | 3 | $119,320,652 | C | Colleges/Universities |
| 65 | Operation Blessing | Gordon Robertson | Yes | 5 | $117,018,180 | A | Relief and Development |
| 66 | Crista Ministries | Jacinta Tegman | Yes | 2 | $116,158,000 | A | Community Development |
| 67 | Moody Bible Institute | Mark Jobe | Yes | 1 | $116,134,505 | A | Colleges/Universities |
| 68 | Colorado Christian University | Donald W. Sweeting | Yes | 3 | $114,550,185 | A | Colleges/Universities |
| 69 | Houston Baptist University | Robert B Sloan Jr. | No | 2 | $110,428,371 | C | Colleges/Universities |
| 70 | Campbellsville University | Keith Spears | No | 4 | $109,982,784 | C | Colleges/Universities |
| 71 | Joyce Meyer Ministries | Joyce Meyer | Yes | 4 | $101,718,322 | C | Educational Media |
| 72 | College of the Ozarks | Jerry Davis | No | 3 | $100,879,597 | C | Colleges/Universities |
| 73 | Emmanuel College | Janet Eisner | No | 1 | $100,613,386 | C | Colleges/Universities |
| 74 | Southeastern University | Kent Ingle | No | 4 | $100,012,414 | C | Colleges/Universities |
| 75 | Focus on the Family | James D. Daly | Yes | 4 | $99,206,000 | A | Educational Media |
| 76 | Taylor University | Paige Cunningham | Yes | 3 | $98,863,701 | A | Colleges/Universities |
| 77 | Christian Appalachian Project | Bill Mills | No | 4 | $98,417,971 | C | Community Development |
| 78 | In Touch Ministries | Phillip Bowen | Yes | 4 | $98,339,427 | A | Educational Media |
| 79 | Lee University | Mark Walker | No | 3 | $96,336,927 | C | Colleges/Universities |
| 80 | University of Northwestern (St. Paul) | Alan S. Cureton | Yes | 2 | $96,088,667 | A | Colleges/Universities |
| 81 | Charleston Southern University | Dondi E Costin | No | 3 | $95,790,845 | C | Colleges/Universities |
| 82 | North Park University | Mary Surridge | No | 4 | $94,442,905 | C | Colleges/Universities |
| 83 | Anderson University | Evans P Whitaker | No | 3 | $94,410,210 | C | Colleges/Universities |
| 84 | Gordon College | D. Michael Lindsay | Yes | 2 | $93,390,806 | A | Colleges/Universities |
| 85 | Union University | Dub Oliver | Yes | 5 | $92,552,196 | A | Colleges/Universities |
| 86 | Gardner Webb University | William Downs | No | 4 | $89,470,793 | C | Colleges/Universities |
| 87 | Medical Teams International | Martha Newsome | Yes | 3 | $87,605,708 | A | Relief and Development |
| 88 | Eastern University | Ronald A. Matthews | No | 4 | $87,373,826 | C | Colleges/Universities |
| 89 | Grove City College | Paul J. McNulty | No | 2 | $85,993,349 | C | Colleges/Universities |
| 90 | International Justice Mission | Gary Haugen | No | 3 | $80,572,174 | C | Community Development |
| 91 | Concordia University (Nebraska) | Russell Sommerfeld | No | 5 | $77,290,771 | C | Colleges/Universities |
| 92 | John Brown University | Charles W. Pollard | Yes | 4 | $77,286,686 | A | Colleges/Universities |
| 93 | Interchurch Medical Assistance | Daniel Speckhard | No | 4 | $75,373,822 | C | Relief and Development |
| 94 | CURE International | Justin Narducci | Yes | 3 | $75,234,914 | A | Community Development |
| 95 | Fresno Pacific University | Joseph Jones | No | 2 | $73,825,184 | C | Colleges/Universities |
| 96 | Hardin-Simmons University | Eric Bruntmyer | No | 3 | $72,333,033 | C | Colleges/Universities |
| 97 | Vanguard University of Southern California | Michael J. Beals | No | 3 | $71,522,990 | C | Colleges/Universities |
| 98 | Oklahoma Christian University | John E. deSteiguer | No | 5 | $70,087,967 | C | Colleges/Universities |
| 99 | Pioneers | Steve Richardson | Yes | 4 | $69,997,602 | A | Foreign Missions |
| 100 | Ethnos360 | Larry Brown | Yes | 3 | $66,580,479 | C | Foreign Missions |
| 101 | Children's Hunger Fund | David Phillips | Yes | 4 | $66,534,069 | A | Relief and Development |