Highly Compensated Ministry Executives – 2022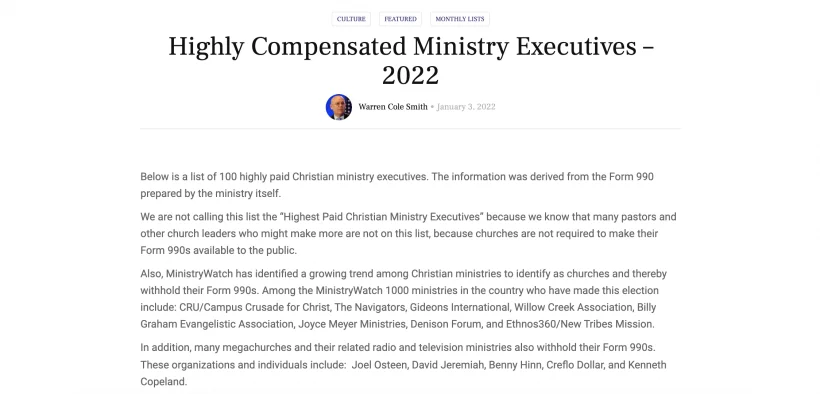 Below is a list of 100 highly paid Christian ministry executives. The information was derived from the Form 990 prepared by the ministry itself.
We are not calling this list the "Highest Paid Christian Ministry Executives" because we know that many pastors and other church leaders who might make more are not on this list, because churches are not required to make their Form 990s available to the public.
Also, MinistryWatch has identified a growing trend among Christian ministries to identify as churches and thereby withhold their Form 990s. Among the MinistryWatch 1000 ministries in the country who have made this election include: CRU/Campus Crusade for Christ, The Navigators, Gideons International, Willow Creek Association, Billy Graham Evangelistic Association, Joyce Meyer Ministries, Denison Forum, and Ethnos360/New Tribes Mission.
In addition, many megachurches and their related radio and television ministries also withhold their Form 990s. These organizations and individuals include:  Joel Osteen, David Jeremiah, Benny Hinn, Creflo Dollar, and Kenneth Copeland.
MinistryWatch has gone on record repeatedly, and we do so again here, with our view that withholding Form 990s is an unwise practice.  You can read a more complete explanation of our position here.
A word about timing: This information comes from the most recent Form 990 available on Guidestar.org. For most ministries, they come from the year 2020.  For some, 2019 was the most recent year.  If we did not have current salary data (2020 or 2019), we left those executives off the list.
In the case of Franklin Graham, only his Samaritan's Purse compensation is listed. He also serves as president of the Billy Graham Evangelistic Association and (for the reason cited above) we were not able to determine what compensation he receives from BGEA.
In the case of the Inspiration Networks:  Some executives receive their salaries from a for-profit subsidiary.  The for-profit subsidiary, INSP LLC, is wholly owned by the non-profit organization The Inspirational Networks, Inc.
Digging Into The Numbers
This list reveals a number of interesting facts.  Here are a few:
The total compensation for all the executives on this list is $81.9-million.

 

That's a 31 percent increase over the year before.
Inspiration Ministries has 8 executives on this list, more than any other ministry.

 

Baylor University (7) and Pepperdine University (6) are next.
Fourteen other ministries with 2 or more executives on the list.

 

They are:

 

Grand Canyon University (4), Liberty University (4), International Fellowship of Christians and Jews (3), Alliance Defending Freedom (2), Buckner Children & Family Services (2), Campbell University (2), Dallas Baptist University (2), Educational Media Foundation — K-Love and Air1 (2), Glory of Zion (2), Hillsdale College (2), Trinity Broadcasting Network (2), Wheaton College (2), YMCA of the USA (2)
| | Person name | Title | Organization name | Period ending | Total compensation |
| --- | --- | --- | --- | --- | --- |
| 1 | David Cerullo | Director/President & CEO | Inspiration Ministries | 12/31/2019 | $7,319,371 |
| 2 | Nido Quibein | President | High Point University | 5/31/2020 | $3,443,945 |
| 3 | Yechiel Eckstein | President, CEO & Founder | International Fellowship of Christians and Jews | 12/31/2019 | $2,948,441 |
| 4 | Dale D Ardizzone | General Counsel & Corp Sec | Inspiration Ministries | 12/31/2019 | $2,415,273 |
| 5 | Jerry Falwell | Chancellor/President | Liberty University | 6/30/2020 | $2,202,231 |
| 6 | JC Watts | Former Director/CEO | Feed The Children | 6/30/2020 | $1,870,000 |
| 7 | Linda Livingstone | President | Baylor University | 5/31/2020 | $1,506,723 |
| 8 | Ronald Ellis | President | California Baptist University | 6/30/2020 | $1,351,610 |
| 9 | Charles D. Pierce | President | Glory of Zion International Ministries | 3/31/2020 | $1,239,583 |
| 10 | Michael Novak | CEO (Retired) | Educational Media Foundation (K-LOVE & Air 1 Radio) | 12/31/2019 | $1,232,088 |
| 11 | John Allman | Head of School | Trinity Episcopal Schools Corporation | 6/30/2020 | $1,128,031 |
| 12 | Larry Arnn | President | Hillsdale College | 6/30/2020 | $1,099,372 |
| 13 | Andrew Benton | President & CEO | Pepperdine University | 7/31/2019 | $1,081,658 |
| 14 | Robert I Brace | CFO & Treasurer | Inspiration Ministries | 12/31/2019 | $942,192 |
| 15 | Jon R Wallace | Former President & Trustee | Azusa Pacific University | 6/30/2020 | $936,726 |
| 16 | William Fleming | President | Palm Beach Atlantic University | 6/30/2020 | $897,058 |
| 17 | Keith Evans | President | Westminster Schools | 7/31/2020 | $891,518 |
| 18 | Hal Lindsey | Chairman | Hal Lindsey Website Ministries | 12/31/2019 | $880,000 |
| 19 | Matthew Crouch | President/Director | Trinity Broadcasting Network | 12/31/2019 | $866,275 |
| 20 | Alan Sears | Founder | Alliance Defending Freedom | 6/30/2020 | $830,412 |
| 21 | Timothy R Cottrell | Head of School, Ex Officio | 'Iolani School | 6/30/2020 | $813,743 |
| 22 | Roy Brian Webb | VP & Chief Investment Officer | Baylor University | 5/31/2020 | $798,034 |
| 23 | Kevin Washington | President and CEO | YMCA of the USA | 12/31/2020 | $793,640 |
| 24 | Rick Marrs | Provost | Pepperdine University | 7/31/2019 | $792,291 |
| 25 | Benjamin Cerullo | EVP Ministry Outreach | Inspiration Ministries | 12/31/2019 | $762,132 |
| 26 | Temba Maqubela | Headmaster | Groton School | 6/30/2020 | $752,402 |
| 27 | John Roos | EVP Corporate Communications | Inspiration Ministries | 12/31/2019 | $748,476 |
| 28 | Colby May | Director | Trinity Broadcasting Network | 12/31/2019 | $747,271 |
| 29 | Tony Lintelman | Former VP | Buckner Children and Family Services | 12/31/2019 | $739,881 |
| 30 | Brian Mueller | President | Grand Canyon University | 6/30/2020 | $736,215 |
| 31 | Barry Corey | President | Biola University | 6/30/2020 | $724,923 |
| 32 | Franklin Graham | President | Samaritan's Purse | 12/31/2019 | $722,403 |
| 33 | David Dini | Headmaster | St. Mark's School of Texas | 6/30/2020 | $704,950 |
| 34 | Charles Pippin | SVP Investments | Pepperdine University | 7/31/2019 | $699,623 |
| 35 | Barbara Cerullo | Dir/EVP | Inspiration Ministries | 12/31/2019 | $696,620 |
| 36 | Randy Lowry III | President | Lipscomb University | 5/31/2020 | $690,401 |
| 37 | Evans P Whitaker | President | Anderson University | 5/31/2020 | $687,459 |
| 38 | David Robertson | COO Ministry Outreach | Inspiration Ministries | 12/31/2019 | $676,660 |
| 39 | Mark Kramer | EVP | Inspiration Ministries | 12/31/2019 | $667,130 |
| 40 | Randal O'Rear | President | University of Mary Hardin-Baylor | 5/31/2020 | $663,931 |
| 41 | Adam Wright | President | Dallas Baptist University | 5/31/2020 | $658,333 |
| 42 | Paul McEntire | EVP & COO | YMCA of the USA | 12/31/2020 | $648,314 |
| 43 | Yael Eckstein-Farkas | President & CEO | International Fellowship of Christians and Jews | 12/31/2019 | $625,980 |
| 44 | John Kauffman | Faculty | Campbell University | 5/31/2020 | $620,302 |
| 45 | Brian Roberts | Chief Administrative Officer | Grand Canyon University | 6/30/2020 | $618,593 |
| 46 | Richardson Schell | Headmaster | Kent School Corporation | 6/30/2020 | $608,832 |
| 47 | Daniel Martin | President | Seattle Pacific University | 6/30/2020 | $608,156 |
| 48 | Gordon Robertson | CEO | Christian Broadcasting Network | 3/31/2020 | $607,225 |
| 49 | Kelly Shackelford | President/CEO | First Liberty Institute | 6/30/2020 | $600,782 |
| 50 | Henry Radda | Provost | Grand Canyon University | 6/30/2020 | $589,708 |
| 51 | David Morehead | VP & Chief Investment Officer | Baylor University | 5/31/2020 | $583,910 |
| 52 | Brett Dalton | Chief Business Officer | Baylor University | 5/31/2020 | $583,684 |
| 53 | Ronald Kennedy | EVP of Enrollment & Marketing | Liberty University | 6/30/2020 | $578,805 |
| 54 | Gary Cook | Chancellor | Dallas Baptist University | 5/31/2020 | $575,307 |
| 55 | Gary Hanson | EVP and COO | Pepperdine University | 7/31/2019 | $575,045 |
| 56 | Turner Gill | Former Highly Compensated | Liberty University | 6/30/2020 | $573,682 |
| 57 | Andy Doyle | Chairman | Camp Allen Camp and Conference Center | 12/31/2019 | $571,022 |
| 58 | Joan Dannenberg | Chief Financial Officer | Trinity Episcopal Schools Corporation | 6/30/2020 | $569,699 |
| 59 | Roger Parrott | President | Belhaven University | 6/30/2020 | $564,302 |
| 60 | Thomas Locke | Head of School | The Episcopal Academy | 6/30/2020 | $564,298 |
| 61 | Robert Sloan | President | Houston Baptist University | 5/31/2020 | $556,683 |
| 62 | William M Wilson | President | Oral Roberts University | 4/30/2020 | $554,436 |
| 63 | Philip G Ryken | President/Trustee | Wheaton College | 6/30/2020 | $551,292 |
| 64 | Andrea Kelly | Head of School | Friends Academy | 6/30/2020 | $547,356 |
| 65 | Thomas Monaghan | Senior Counsel | American Center for Law and Justice | 3/31/2020 | $545,778 |
| 66 | Charles Stanley | President & Chairman | In Touch Ministries | 9/30/2019 | $543,022 |
| 67 | Theron Andrew Westmoreland | President | Samford University | 6/30/2020 | $542,242 |
| 68 | Kenneth McKenzie | CEO (Partial Year) | Museum of the Bible | 6/30/2020 | $539,791 |
| 69 | Atul Tandon | CEO | Opportunity International | 12/31/2019 | $539,732 |
| 70 | Dave Rosselli | Vice President | Baylor University | 5/31/2020 | $532,531 |
| 71 | Philip Schubert | President | Abilene Christian University | 5/31/2020 | $531,176 |
| 72 | Natalia R Hernandez | Head of School | Breck School | 6/30/2020 | $529,939 |
| 73 | John Cervini | Vice President | Hillsdale College | 6/30/2020 | $526,002 |
| 74 | Edgar Sandoval | President | World Vision, Inc., U.S. | 9/30/2020 | $524,375 |
| 75 | Carlos Campo | President | Ashland University | 5/31/2020 | $522,747 |
| 76 | Cris Doornbos | CEO | David C. Cook | 5/31/2020 | $520,571 |
| 77 | Kent Ingle | President | Southeastern University | 5/31/2020 | $519,817 |
| 78 | George Mamo THRU 820 | COO | International Fellowship of Christians and Jews | 12/31/2019 | $515,762 |
| 79 | Albert Reyes | President/CEO | Buckner Children and Family Services | 12/31/2019 | $509,054 |
| 80 | Chris Holmes | General Counsel | Baylor University | 5/31/2020 | $502,761 |
| 81 | Stanton Jones | Former Provost; Former Professor | Wheaton College | 6/30/2020 | $501,897 |
| 82 | Michael Thirtle | President/CEO | Bethesda Lutheran Communities | 8/31/2019 | $501,856 |
| 83 | Alan Mason | President | Educational Media Foundation (dba K-LOVE and Air 1 Radio) | 12/31/2019 | $499,607 |
| 84 | Newton Crenshaw | President/CEO | Young Life | 9/30/2020 | $499,544 |
| 85 | Paul McNulty | President | Grove City College | 6/30/2020 | $498,208 |
| 86 | Joseph Pierce | Pastor Youth Apostle | Glory of Zion International Ministries | 3/31/2020 | $493,377 |
| 87 | Pierre Ferrari | CEO | Heifer Project International | 6/30/2020 | $490,330 |
| 88 | Jerry Davis | President | College of the Ozarks | 5/31/2020 | $487,129 |
| 89 | Christine Linderson | SVP of Financial Aid | Grand Canyon University | 6/30/2020 | $483,304 |
| 90 | Deryk Janse Van Rensburg | Dean | Pepperdine University | 7/31/2019 | $482,630 |
| 91 | Michael Farris | President/CEO | Alliance Defending Freedom (pka Alliance Defense Fund, Inc.) | 6/30/2020 | $482,208 |
| 92 | Robin G Mahfood | President/CEO (partial year) | Food For The Poor | 12/31/2019 | $480,769 |
| 93 | Santiago H Mellado | President/CEO | Compassion International, Inc. | 6/30/2019 | $476,818 |
| 94 | Peter Bell | Dean | Liberty University | 6/30/2020 | $474,539 |
| 95 | Michael Lindsay | President | Gordon College | 6/30/2020 | $473,832 |
| 96 | Gary Carini | Vice Provost | Baylor University | 5/31/2020 | $473,738 |
| 97 | Samuel Hinkle | SVP Advancement | Pepperdine University | 7/31/2019 | $473,049 |
| 98 | J. Bradley Creed | President | Campbell University | 5/31/2020 | $472,877 |
| 99 | Barry Giller | Head of School | Charlotte Christian School | 6/30/2020 | $469,799 |
| 100 | Roy Peterson | President/CEO | American Bible Society | 6/30/2020 | $457,471 |