Ministries With An "F" Transparency Grade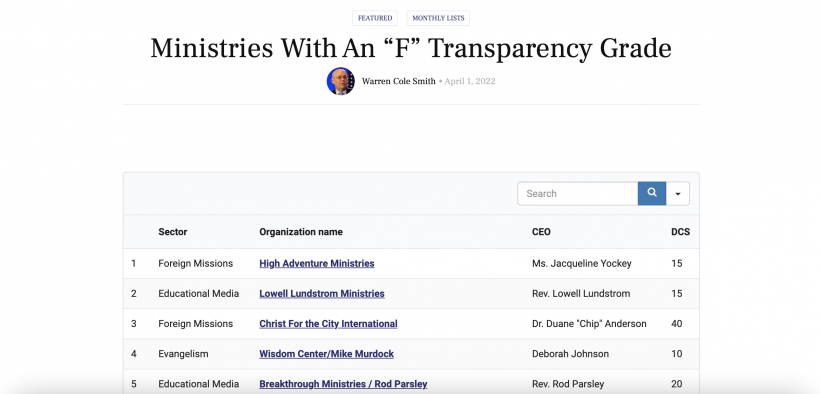 MinistryWatch stands for transparency and accountability.  That's why we think it is important for Christian ministries to be as transparent as possible with donors and with the public.
So MinistryWatch grades every ministry in its database based on transparency.  Today, we release a list of the ministries who have received a failing or "F" grade — approximately 15 ministries.
Our transparency grade evaluates the ease with which donors can see into the finances of a ministry.  The ministries on this list have failed to comply with the following three requirements:
The completion and public availability of a Form 990. The Form 990 highlights revenue, expenses, fundraising costs, and executive salaries.  Form 990s have a great deal of information of interest to donors, though they are not a "gold standard" because this information is self-reported.
The completion and public release of an audited financial statement. Audited financial statements do not list executive salaries, but they have the advantage of being created by an independent accounting firm, thus giving donors and the public greater assurance that the numbers reported by management are accurate.  (Ministries with annual revenue of less than $1-million may have reviewed financial statements.)
Membership in the Evangelical Council for Financial Accountability (ECFA). Members of the ECFA publicly commit to live up to the "Seven Standards of Responsible Stewardship."
The grading system is simple.
If a ministry complies with all three of the standards above, that ministry will receive a Transparency Grade of "A."
If a ministry meets two of the three standards, that ministry will receive a "C."
If a ministry meets only one of these standards, it will receive a "D."
If it fails to meet any of the three standards, that ministry will receive a Transparency Grade of "F."
Though we have only 15 or so "F" ministries here, you can search our database and see the grade of your favorite ministry by clicking here.
Also, we have published with this list the Donor Confidence Score for each ministry on the list.  To read more about the Donor Confidence Score, click here.  All of the ministries on this list except one have a Donor Confidence Score that puts them in the "Withhold Giving" category.  The one that does not is Christ For The City International, which has a Donor Confidence Score of 40:  "Give With Caution."
If you would like to report an error or a change in ministry status, please email:  [email protected]