Televangelist Perry Stone "Acted Inappropriately" With Female Employees

Ministry placed him on sabbatical after determining the issues were 'civil in nature and not criminal'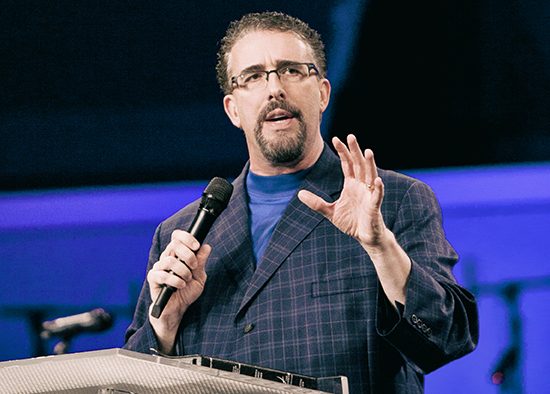 Perry Stone has been a steady presence on Christian television networks for the past decade.  But in recent months, he has not been a steady presence in his own ministry.  His Cleveland, Tennessee-based ministry, Voice of Evangelism, announced in July that he had taken a leave of absence after admitting that he had acted inappropriately with female employees.
The Chattanooga Times Free Press obtained an audio recording of Stone at a "small, in-person group of church members" on which Stone said women in his ministry had brought concerns about his words and actions to the board of the organization.  The board asked him to step aside and receive counseling.
Stone's ministry classifies itself as a church and no longer releases financial information.  However, its Form 990 from 2012 listed revenue of more than $17-million.
"I confess at times I've been inappropriate in all this weariness of just non-stop ministry," Stone said in the message. "I let my guard down and I've asked, of course, God to forgive me for that. I sat down with my family, with my beautiful, precious wife Pam, the love of my life. I asked her to forgive me. And I very humbly and very sincerely ask those who have been hurt or offended by my actions to, please, also forgive me for those things."
Stone was not specific in the audio, but he did say he "acted inappropriately with them, and with words and sometimes actions."
The Voice of Evangelism board of directors, in a statement to the Times Free Press, said Stone was placed on sabbatical first because of health concerns.
"Secondly," the statement said, "a couple of employees at VOE requested to meet with the board of directors to address concerns of inappropriate words and actions.
"Upon review, the board determined that the issues were civil in nature and not criminal, but that the behavior deviated from the biblical standards set in place for VOE leadership. So the board unanimously initiated his current sabbatical. This action was not reactionary but with much prayer, and was set in place to uphold the highest standards of integrity and transparency."
Stone told his followers in the recorded message that he has been gone from his ministry on an "extended and, honestly, some much needed sabbatical" at a "special location out of state and a special clinic to receive professional counseling every day."
According to the Times Free Press, "Stone has made a multimillion-dollar career as an evangelist who claims to predict major events, such as George W. Bush being elected president, the attack on the World Trade Center and Osama Bin Laden's death. He travels the country, and sometimes the world, leading prayer events. In 2013, he built the $22 million Omega Center International building debt free."
Though Stone is supposed to be in the midst of a six-month season of "rest and restoration," his programs continue to air on Christian television.  Stone's Manna-Fest television program has been airing on the Trinity Broadcasting Network since 2000.  The last Form 990 available indicates his ministry pays TBN about $4-million a year for air-time.
In addition, in response to questions from MinistryWatch, Stone's ministry said, "Perry has maintained an active social media presence to share brief relevant messages to followers and supporters."