MinistryWatch's Top 10 Stories for the Month of September
The following stories had the most page views at the MinistryWatch website during the month of September. We present them here in a "countdown" format, from 10 to 1. The first few sentences of each story are reproduced below. To read the entire story, click on the link. To read the Top 15 stories of 2021, click here.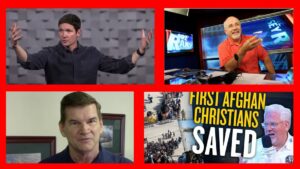 10. Tennessee Pastor Resigns After Abuse Allegations are Pushed to Forefront
A Tennessee pastor of what was originally a Southern Baptist church has resigned after a local newspaper published the story of a former parishioner who came forward with allegations that he abused her when he was a youth pastor in Kentucky. Pastor Christian Watts announced his decision to step down from Life Change Church of Tullahoma, Tennessee, on the church's Facebook page after The Tennessean published the story of Valerie Swope, who said Watts had an inappropriate sexual relationship with her. Watts acknowledged he had sex with Swope starting when she was 16, when she was part of a youth group he led at a church in Louisville.
9. 2,000 Churches and Christian Ministries Ask Senate to Oppose 'Respect for Marriage Act'
On September 13, Alliance Defending Freedom (ADF), a Christian legal defense group, sent a letter on behalf of 2,000 "pastors, ministers of faith, and leaders of religious nonprofit organizations" asking the U.S. Senate to oppose the so-called "Respect for Marriage Act," H.R. 8404. The Respect for Marriage Act, sponsored by Rep. Jerry Nadler (D-NY) passed the U.S. House of Representatives on July 19 by a vote of 267 to 157. According to the ADF letter, the Act puts churches and ministries in danger of injustice simply because they hold a biblical definition of marriage as the union between one man and one woman.
8. How Did Glenn Beck's Nazarene Fund Spend $35 Million Raised for Afghan Evacuations
As the U.S. pulled out of Afghanistan in Aug. 2021 and the Taliban quickly took over the country, government and private organizations worked to evacuate as many people as they could. Glenn Beck, the conservative Mormon media star, helped raise $35 million for his two charities, Mercury One and The Nazarene Fund, to pay for evacuations. Now, both The Nazarene Fund and Mercury One are claiming they evacuated 12,000 people: The Nazarene Fund in an Aug. 29 Tweet; and Mercury One in an Aug. 30 Tweet. David Jacobs, executive director of The Nazarene Fund, provided MinistryWatch with the following statement:  "We are very proud of the work we did and are continuing to do in Afghanistan and the surrounding region."
7. CBN Lawsuit Against Megachurch Pastor and Ministry Leader Reaches Settlement
A lawsuit involving the Christian Broadcasting Network, megachurch pastor Bob Rodgers, and the multi-million-dollar fortune of an elderly woman with no family has recently settled. Rodgers and his church, Evangel World Prayer Center, were defendants in the suit, along with Jacqeline Yockey, the former leader of High Adventure Ministries. Christian Broadcasting Network (CBN) accused the two Louisville, Kentucky, ministries of persuading Ruth H. Hugh to change the terms of her trust in 2017 when she was near death, according to Kentucky's Courier Journal. The terms of the settlement were confidential and not disclosed. Hugh had no children or surviving relatives and lived in San Diego's affluent La Jolla neighborhood in a home worth more than $5 million with panoramic views of the Pacific Ocean, according to The Daily Beast.
6. Rewriting History: Haggard Now Denies Wrongdoing in 2006 Scandal that Ended His NAE Presidency
Ted Haggard, the former head of the National Association of Evangelicals (NAE), who left it and New Life Church in Colorado Springs in 2006 after a sensational scandal involving a male escort and methamphetamines, now denies any wrongdoing in that case as he defends himself against new sex charges at his second church, which closed earlier this year. "The people who know me know these things are ridiculous," said Haggard in a sermon delivered to a few dozen members of his third congregation, Storyhouse Church, which he launched this summer after closing down St. James Church. 
Access to MinistryWatch content is free.  However, we hope you will support our work with your prayers and financial gifts.  To make a donation, click here.
5. Brooklyn Pastor Who Had Million Dollar Jewelry Stolen Arrested After Forcefully Grabbing Woman During Live Sermon
Brooklyn Bishop Lamor Whitehead is making headlines following an incident on September 18, wherein he forcefully grabbed a woman by the back of the neck for disrupting his live sermon, leading her out of the room. Whitehead first made the news in July when he and his wife were robbed of jewelry at gunpoint while he was preaching during his church's livestream on a Sunday morning. According to police, the value of the jewelry stolen was estimated to be worth over $1 million. Police officers were called to the scene after Whitehead, bishop of Leaders of Tomorrow International Ministries located in Brooklyn, New York, was interrupted by two women who started shouting from the back of the room at the bishop.
4. When a Preacher's Content is 'Repurposed' to a Different Medium, What Qualifies as Proper Attribution?
On Sundays, David Jeremiah delivers sermons to the crowd at Shadow Mountain Community Church, his San Diego megachurch. Throughout the week, his messages are broadcast on radio and TV by his Turning Point Ministries. Jeremiah is one of the nation's best known evangelical preachers. His bio cites his "passion for preaching and teaching the Word of God," and he's also a bestselling author of books, Bible studies, and devotionals. But in some sermons, the 81-year-old Jeremiah sometimes incorporates long passages from other authors' writing without giving credit.
3. Pastor Continues to Preach with a Revoked License, Shares a Pulpit with the Organization that Charged Him for Sexual Assault
Concerns over Stockton Pastor John Shivers of Centro Vida Church are circulating after a local newspaper published an article saying the pastor continues to preach, undeterred by his revoked ministerial license in connection to charges of sexual misconduct. In December 2019, the Western District Board of the United Pentecostal Church International (UPCI) unanimously found Shivers guilty of misconduct. His consequence included nine months of ministerial probation, which he violated, and as a result, UPCI revoked his license. Despite the disciplinary action, Shivers has maintained a distinguished position in his church, favorable influence in the city of Stockton, and District board members continue to guest preach at Centro Vida under his pastorate authority.
2. At Dave Ramsey's Company, Some Sex Outside Marriage was OK, Court Documents Show
In early 2019, Dave Ramsey, the finance guru and national radio host, began to think that he'd made a terrible mistake. For months he and other leaders at Ramsey Solutions had been backing Chris Hogan, a bestselling author and speaker for the Franklin, Tennessee, media and publishing company, in a dispute with Hogan's wife, who had accused him of adultery. Ramsey had learned of the allegations against Hogan in the fall of 2018, on the eve of a major tour planned for Hogan's "Everyday Millionaire" book. For Ramsey Solutions, the allegations presented a particularly thorny problem. Founded by Ramsey in 1992, the company offers financial advice—famously, stern warnings to avoid debt—with a Christian foundation. Much of its revenue comes from the personal finance courses and books it sells to churches and from his daily radio show.
A popular Dallas-area megachurch leader has been placed on indefinite leave for online communication with a woman who is not his wife. Leaders at The Village Church, based in Flower Mound, Texas, announced longtime pastor Matt Chandler's leave during a service this past weekend, citing inappropriate Instagram messages. A review of Chandler's electronic communication messages found he had violated the church's social media policy, Josh Patterson, one of the pastors at the church, told worshippers.