Pastor Continues to Preach with Revoked License: Shares Pulpit with the Organization that Charged Him for Sexual Misconduct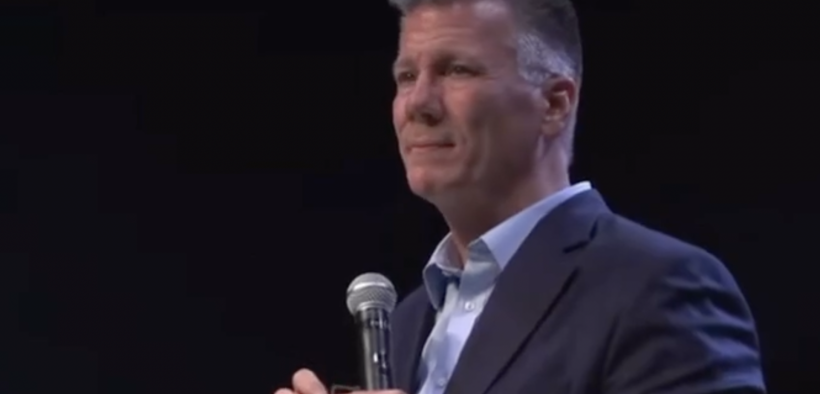 Concerns over Stockton Pastor John Shivers of Centro Vida Church are circulating after a local newspaper published an article saying the pastor continues to preach, undeterred by his revoked ministerial license in connection to charges of sexual misconduct.
In December 2019, the Western District Board of the United Pentecostal Church International (UPCI) unanimously found Shivers guilty of misconduct. His consequence included nine months of ministerial probation, which he violated, and as a result, UPCI revoked his license. 
Despite the disciplinary action, Shivers has maintained a distinguished position in his church, favorable influence in the city of Stockton, and District board members continue to guest preach at Centro Vida under his pastorate authority.
The day the feature was published, one of the victims revealed in a Facebook post that the article was about her. Amber Fant claimed Shivers assaulted her while she was interning at Christian Life College in 1996. She said her reason for speaking to the newspaper was "because I was frustrated and disheartened by the outcome of pressing charges against John Shivers, by way of the Western District/UPC."
The post sparked discussion amongst former members who questioned Shivers' behavior.
"Wow, yall look good on your knees" – one claimed Shivers' told her while she was ironing a backdrop for a student event. 
Another quoted, "I can see a woman and no matter what they're wearing I can tell you what bra size they are (and then proceeded to laugh)."
Someone else commented, "…we didn't want to believe our Pastor would say something so sexually explicit to us…Many more people have more stories but are too scared to share or black mailed not to share."
Access to MinistryWatch content is free.  However, we hope you will support our work with your prayers and financial gifts.  To make a donation, click here.
According to an email from Western District Secretary Tony Fair, The District Superintendent had to approve Centro Vida's choice of an interim pastor during Shivers' correction. They permitted his replacement to be Nathaniel Haney—senior pastor of Christian Life Center, chairman of the Board for Christian Life College, and Shivers' brother-in-law. 
Nathaniel is the brother of Shivers' wife, Elizabeth (Liz). Both are the grandchildren of the late Clyde Haney, who founded Christian Life College. Their father, Kenneth Haney, was president of Christian Life College and senior pastor of the Christian Life Center. 
Fant has publicly declared that Kenneth and Joy Haney covered up Shivers' assault against her to protect the family name and their ministry. Kenneth left both positions in 2001 to serve as the general superintendent of UPCI. He died in 2011.
Nathaniel eventually appointed Shivers' son, Jonathan, as the new lead pastor of Centro Vida. Subsequently, the church promoted John and Liz to senior pastor and first lady. 
On December 29, 2019, standing in place of Shivers, Nathaniel told the congregation, "Your pastor never takes any time off. He burns the candle at both ends, but after a while, you start getting empty if you don't take some time to fill back up. So Pastor Shivers is filling up right now so he can come back and feed his people."
Although his ministerial probation included not attending Centro Vida for nine months, Shivers returned to the pulpit less than six months after Nathaniel's announcement. In the same month (June 2020), the Western District revoked his license for violating probation.
Shivers once served as a chaplain to the Stockton Police Department and still participates in community outreach projects. Mayor Kevin Lincoln awarded Shivers and his wife a Certificate of Recognition for 25 years of service to Stockton on stage amid a special Sunday observance.
Following the mayor, chairman of the Board of Supervisors Tom Patti praised the Shivers couple as a guiding light, and Assemblyman Carlos Villapudua awarded them a certificate on behalf of the CA State Assembly. 
It is unclear whether Stockton's politicians knew of Shivers' charges or ministerial status.
As for the District Board, two members preached at Centro Vida within the last year. During a service that honored "Senior Pastor and Sis. Shivers," Presbyter Jesse Pinheiro preached after Shivers introduced him on stage as his friend. 
Shivers had more to say when presenting District board member Presbyter Rodney Nielsen to the pulpit, calling him his dearest friend. Nielsen began his sermon, "I'd like to give honor to your incredible pastor and first lady…You are so fortunate to have the Shivers as pastor."
As a last resort, Fant and another victim filed a report with Stockton police in May 2020. But unfortunately, the statute of limitations had run out.
Fant says that while people say they hope Shivers finds his place in hell for his actions, she has always wished that he would admit to what he has done, seek true repentance, and take every step never to harm another woman. "But …You can never seek repentance for something you won't acknowledge you did wrong."