Brooklyn Pastor Who Had Million Dollar Jewelry Stolen Arrested After Forcefully Grabbing Woman During Live Sermon
Brooklyn Bishop Lamor Whitehead is making headlines following an incident on Sunday (September 18), wherein he forcefully grabbed a woman by the back of the neck for disrupting his live sermon, leading her out of the room.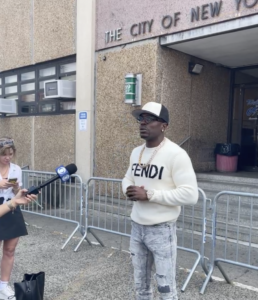 Whitehead first made the news in July when he and his wife were robbed of jewelry at gunpoint while he was preaching during his church's livestream on a Sunday morning. According to police, the value of the jewelry stolen was estimated to be worth over $1 million.
Police officers were called to the scene after Whitehead, bishop of Leaders of Tomorrow International Ministries located in Brooklyn, New York, was interrupted by two women who started shouting from the back of the room at the bishop.
The incident, which was captured on video (1:31:00 mark), shows that Whitehead stopped his sermon and confronted the woman who was taking pictures and video of their altercation. "Do you want to come preach," the bishop asked the disrupter and told her to come up to the front, adding, "I'm gonna make you famous."
Whitehead then proceeded to repeatedly say "Yes Lord" and "In the name of Jesus" while he smiled in what appeared to be in her direction. The bishop then told the congregation to pray in the Spirit and started speaking in tongues. He then told someone to remove the woman from the room and repeated, "Let's give Jesus a round of applause," several times to the congregation.
The woman then appeared on camera walking in front of Whitehead, shouting and pointing her finger.
As the woman was walking away from Whitehead, the bishop abruptly grabbed the back of her neck and led her off camera, telling her to "go over here." He then told others to grab her and take her out of the room. Someone who is off camera could be heard saying, "Let her go."
The protesting woman told Whitehead she was going to press charges. The bishop responded, "Press whatever charges you want…You're not going to come in my space. I feel threatened." Whitehead then appeared on camera, walking back to the pulpit to resume preaching.
"I was almost done with my preaching and these two young ladies came in and sat in the back," Whitehead told the New York Daily News, sharing that the woman who approached him was shouting obscenities and calling him names.
Whitehead explained, "She came back storming toward my wife and my 10-month-old baby. She went toward my wife, and that's when I grabbed her. I grabbed her and took her out of my church. All I could remember was the guys with the guns who put their gun in my baby's face."
When law enforcement arrived, they placed the bishop in handcuffs, took him to the 69th Precinct station house, and told him that he was going to be charged with assault.
"They put me in cuffs, and I told them I wasn't getting in. And they grabbed me and picked me up and put me in the car," Whitehead said. "There were a lot of little kids in church that are frightened now—again. All the little babies in my church saw me get arrested, the ones that look up to me."
Whitehead told the news outlet that he just wants to preach the Word of God, but instead gets treated like a criminal.
Whitehead explained that the charges were dropped, and he was let go a couple of hours after he was arrested.
"You don't get to arrest me and throw me in prison," he said. "They had me in a cell with someone with felony charges and let me out. It's not going to stop here. If I was a rabbi, if I was a Catholic priest, they would have never done this."
"They lock me up in front of my children, in front of my wife, in front of my church. They publicly embarrassed me and then they drop all the charges after two hours and apologize to me," the bishop told the New York Daily News.
Access to MinistryWatch content is free.  However, we hope you will support our work with your prayers and financial gifts.  To make a donation, click here.
Whitehead's Facebook Live Video Explains Incident
Whitehead hosted a Facebook Live later that evening, in which he told those watching that the "NYPD failed me today and failed my church today."
The bishop claims the women were sent by bloggers looking to gain notoriety by fabricating stories against him and his ministry. Whitehead refused to mention the bloggers by name during his Facebook Live on Sunday night. However, he revealed to reporters on Monday that he believes pastor Larry Reid was behind what he refers to as "a setup."
Whitehead and Reid have a recent history of shouting at each other after the two appeared together on an Instagram Live alongside Apostle Geneses Warren. In that exchange, the bishop confronted Reid for laughing at his family getting robbed live on the internet.
The bishop also claims that the only reason he was arrested was because he is Black, saying, "They would have never did it to a rabbi. They would have never did it to a priests. But because of the color of my skin, they arrested me. Not only did they arrest me, but when they put me into the police car, they injured my wrist."
Charges were dropped as soon as those in higher positions of authority found out what had happened, Whitehead said. On Monday morning, Whitehead held a press conference in front of the police station where he was held, demanding that the NYPD issue a public apology.
Whitehead told community officials not to ask him to do anything for the community on their behalf until they have met with him to apologize.
"Why call the police and the police that I call arrest me," he asked the few who were in attendance. "It doesn't make sense. It doesn't make sense, and at the end of the day, at the end of the day, they brought back memories of how they killed my father."
Whitehead said his father was killed by police in 1978 during an incident in which officers "illegally detained him. They beat him. They beat him. They strangled him to death, and he took his life."
Prior to Sunday's incident with the police, Whitehead shared that he supported the NYPD but felt he needed to hold his press conference to expose injustice.
"They turn their back on me when he treated me like a criminal," Whitehead said. "I didn't do anything wrong and you all threw me in the police car against my will—an injustice."
"I don't abuse women," Whitehead told reporters. "You know, so everybody's looking at me as an abuser—I don't abuse."
The woman claimed that a scratch on her cheek came from Whitehead, but Whitehead claims the wound was self-inflicted, saying, "I grabbed her shoulder and the back of her shirt. I didn't grab no flesh, and I pushed her out. And I have the video [to prove it]."
According to Whitehead, one of the women who caused the disturbance has been arrested, and the authorities are currently looking for the other.
This article was originally published by ChurchLeaders.com.