MinistryWatch's Top 10 Stories for the Month of November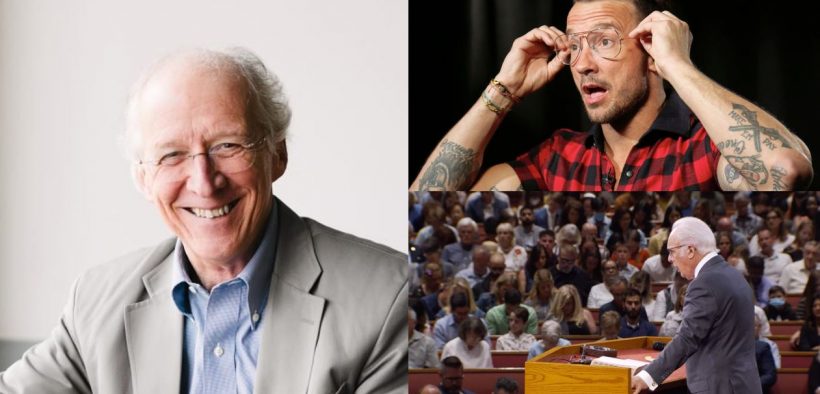 The following stories had the most page views at the MinistryWatch website during the month of November.  We present them here in a "countdown" format, from 10 to 1.  The first few sentences of each story are reproduced below.  To read the entire story, click on the link.
10.  Massive Staff Cuts Leave Willow Creek Campus In An Uproar
The fallout at Willow Creek Community Church continues, this time with one of its campuses roiling from unexpected staff cuts.  The October staff cuts—which include more than 90 positions across Willow Creek's eight campuses—are part of a vision by new Senior Pastor Dave Dummitt to "streamline costs and centralize the embattled Chicago-area megachurch."
9.  Salvation Army, Other Ministries, Dump Ad Agency Over Racist Comments
Stan Richards is a legendary ad guy.  His Dallas-based agency The Richards Group is reported to be the nation's largest independent agency.  It also handles the advertising for some of the nation's largest Christian ministries, including the Salvation Army and Volunteers for America.  But both of these organizations have recently pulled their business, along with dozens of other organizations.  They all came after the 88-year-old Richards made racially insensitive comments during an online meeting to discuss one of its customers, Motel 6.  Richards suggested that using Black themes would be "too Black" and would upset the hotel chain's "white supremacist constituents."
8.  MinistryWatch List of 100 Largest Ministries in the U.S.
This list should not be interpreted as a list of recommended ministries.  They are ranked by total revenue, and not by effectiveness, financial efficiency, or any other measure.  That said, the Financial Efficiency rating and the Transparency Grade of the ministries are listed.
To learn more about these institutions, click on the ministry's name and read the complete MinistryWatch profile on this organization.  If you would like to know more about our Financial Efficiency Rating, click here.  If you would like to know more about our Transparency Grades, click here.
Access to MinistryWatch content is free.  However, we hope you will support our work with your prayers and financial gifts.  To make a donation, click here.  
7.  Hillsong Investigates Carl Lentz
Brian Houston, global senior pastor of international and controversial Hillsong Church,  announced Thursday (Nov. 12) that an independent investigator will review the "inner workings" of Hillsong's New York City branch after the firing of its lead pastor, Carl Lentz, last week.  "We need a solid foundation for a fresh start and new beginning," Houston said in a tweet, adding, "The best is yet to come."  On Nov. 4, Houston emailed staff and members of Hillsong East Coast about Lentz's termination. The email cited "leadership issues and breaches of trust, plus a recent revelation of moral failures" for Lentz's firing but did not reveal more details, saying to do so "would not be appropriate." Houston later posted a similar statement on the church's website.
6.  LA County Clears John MacArthur's Church of COVID Outbreak
Los Angeles public health officials have cleared John MacArthur's Grace Community Church of an earlier COVID-19 outbreak and lifted all outbreak-related requirements and restrictions on the church.  "We are glad to announce that we received a notice from the Los Angeles County Department of Public Health…saying that we have been cleared of COVID-19 outbreak," the church announced on its website.  The county requires that churches report whenever at least three people test positive for COVID-19 within a two-week period, which public health officials consider an "outbreak."  In mid-October, LA County reported that four people related to Grace tested positive for COVID-19. According to Grace, three of those sick with COVID were part-time employees.
5.  Trump's Evangelical Advisors Back Voting Challenges
President Donald Trump's evangelical advisers are backing his challenges to the results of the 2020 election, though most stop short of joining the president's effort to declare victory despite President-elect Joe Biden's substantial leads in key swing states.  Ralph Reed, head of the Faith and Freedom Coalition, echoed Senate Majority Leader Mitch McConnell and other top Republicans in saying that Trump has every right to pursue recounts and rumors of voter fraud.  "As a veteran of the 2000 Florida recount, I take the integrity of elections and the rule of law very seriously," Reed told Religion News Service. "Donald Trump's campaign is entirely within its rights to pursue legal challenges and recounts where appropriate. This election will be over when those recounts are complete and those legal challenges are resolved—and not until."
4.  Liberty University Deletes John Piper Videos
Liberty University removed videos of evangelical author and speaker John Piper from its website after the well-known pastor wrote a blog post that was seen as critical of President Donald Trump.  According to Christianity Today, Piper and Southern Baptist Convention President J.D. Greear recorded a video conversation with David Nasser, Liberty's senior vice president for spiritual development, in mid-October. The two resulting videos were posted online about a week later.  The conversation was timed to coincide with the 20th anniversary of Piper's best-known book, "Don't Waste Your Life." Greear has a new book out on a similar topic, called "What Are You Going to Do With Your Life?"
3.  Gospel Coalition Leaves The ECFA
The Gospel Coalition (TGC) has voluntarily resigned from the Evangelical Council for Financial Accountability (ECFA) citing financial considerations.  "TGC had multiple memberships with financial-accountability organizations," TGC said in a statement to Ministry Watch. "For stewardship and expense-reducing reason the Board decided to reduce our memberships."
TGC continues to maintain profiles on Charity Navigator and GuideStar, which shows the organization had revenue of $5.1 million in 2018. A chunk of that revenue comes from events—one of which it had to postpone due to the COVID-19 pandemic.
2.  Pastor John Gray In Midst of New Scandal
For years, as rumors of extramarital affairs circulated, people asked, "Did John Gray do it?"
Now, following additional rumors that arose this summer, people are asking a new question. "Is John Gray still the pastor of Relentless Church?"  Gray, an associate pastor at Joel Osteen's Lakewood Church in Houston, has faced charges of unfaithfulness since he arrived at Relentless Church in South Carolina in 2018, and his family moved into a $1.8 million house the church bought for them.  He tried to make things up to his wife Aventer for an earlier  "emotional affair" by buying her a $200,000 Lamborghini as an anniversary gift, but the gesture only generated criticism of his lavish spending.  John Gray's latest scandal began August 21 when social media and entertainment news websites pounced on claims posted by a Houston woman in a YouTube video. "Mary" claimed she sent Gray nude photos and meals, while he gave her money.  Days later, The Greenville News reported that Gray's attorneys said the woman was blackmailing and extorting Gray and called for an FBI investigation.
1.  Carl Lenz Terminated for Moral Failures
In an Instagram post on Thursday (Nov. 5), Carl Lentz, the lead pastor of Hillsong NYC, admitted to an extramarital affair, ending a day of speculation as to why he had been fired.  On Wednesday, Hillsong founding pastor Brian Houston notified staff and members of Hillsong East Coast by email of Lentz's termination. The email, which was obtained by Religion News Service, cited "leadership issues and breaches of trust, plus a recent revelation of moral failures" as the reason for the firing but did not reveal more details, saying to do so "would not be appropriate."  In his Instagram post, Lentz admitted to being "unfaithful in my marriage, the most important relationship in my life.  This failure is on me, and me alone and I take full responsibility for my actions," according to the post.