Salvation Army, Other Ministries & Corporations, Dump Ad Agency Over Racist Comments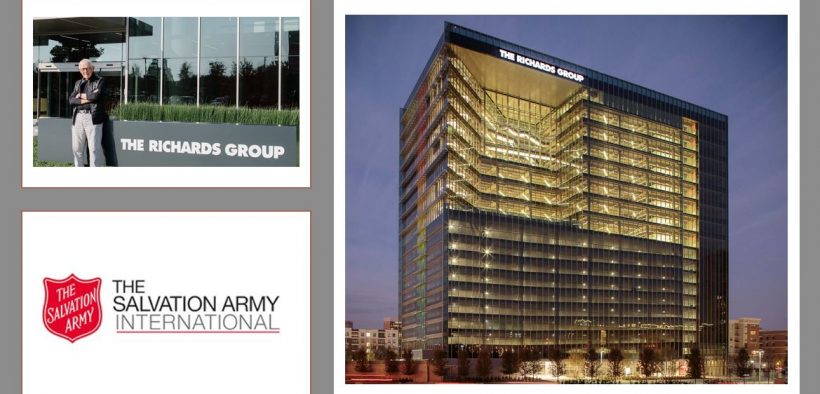 Stan Richards is a legendary ad guy.  His Dallas-based agency The Richards Group is reported to be the nation's largest independent agency.  It also handles the advertising for some of the nation's largest Christian ministries, including the Salvation Army and Volunteers for America.
But both of these organizations have recently pulled their business, along with dozens of other organizations.  They all came after the 88-year-old Richards made racially insensitive comments during an online meeting to discuss one of its customers, Motel 6.
Richards suggested that using Black themes would be "too Black" and would upset the hotel chain's "white supremacist constituents."
Motel 6 leaders issued a written statement. "We are outraged by the statements made about Motel 6 and our customers by a member of The Richards Group during one of its internal meetings. … The comments were not only completely inaccurate, they are also in direct opposition of our values and beliefs as an organization."
Richards himself has expressed remorse for his comments and has stepped away from the firm, writing to staff that he had "fired" himself.  "If this was a publicly held company," he wrote, "I'd be fired for the comments I made.  But we're not public, so I'm firing myself.  Our employees, first and foremost, deserve that.  I made a mistake.  The biggest mistake of my life.  One I will never be able to adequately explain or take back.  All I can say is that I was wrong."
An apology was also posted on the firm's website stating: "We understand and regret the pain and concerns of all those who were deeply troubled by the words our founder spoke. He can't take them back. We can only ask for forgiveness and promise to learn and be better. We ask our many friends for understanding and prayers as we move forward." It was signed by Glenn Dady, principal/creative director.
But the damage had already been done, and is ongoing.  Motel 6, the Salvation Army, and other well-known non-profits are not the only ones dropping The Richards Group.  Others who have moved their business include The Home Depot and Keurig Dr Pepper.  Another significant account is H-E-B, a regional grocery story chain founded by Howard E. Butt.  H-E-B gives five percent of its profits to charity, and the Butt family has been active in Christian charity for many years.  The H.E. Butt Foundation owns Laity Lodge, a Christian artists and educational retreat in the Texas Hill Country.
The Salvation Army account had been a fruitful relationship for both the Army and for The Richards Group.  The Salvation Army's "Doing the Most Good" national brand strategy was developed by The Richards Group.  But The Salvation Army, said in a statement, "Based upon further information and extensive consultations, The Salvation Army has determined that it will sever its relationship with The Richards Group. The statements made by Mr. Stan Richards are hurtful to everyone and in complete conflict with the fulfillment of our mission to meet human needs in Christ's name without discrimination. The Salvation Army is and always will be committed to diversity, equity and inclusivity in every aspect of our work, and we remain focused on providing hope and help to millions of Americans in need."
Volunteers for America President Mike King told its staff in an email: "On Oct. 14, Volunteers for America ended our relationship with The Richards Group, the advertising agency we have worked with on national branding campaigns since 2012. We decided to terminate our contract after learning of racially insensitive and inappropriate comments made by the agency's founder. As an organization committed to diversity, equity and inclusion, we find these comments to be unacceptable and incompatible with our mission. VOA values the rich diversity of all people, and commits to promoting inclusive environments where all people feel accepted and valued."
Both Volunteers for America and The Salvation Army are classified as churches, so their Form 990s are not available to the public.  So the amount the organizations spent on advertising with The Richards Group is not known.  However, Brian Gavin, senior vice president of communications and marketing at VoA, told The Non-Profit Times that The Richards Groups would not have been among the organization's top vendors that would have been listed on the Form 990 had the organization be required to file one.
The Richards Group was known for advertising that often featured religious and patriotic themes.  One of its most notable ads was for Ram Trucks for the 2013 Super Bowl.  The ad featured the voice of radio broadcaster Paul Harvey reciting the his "So God Made A Farmer" speech.  In 2019, The Richards Group created an online ad for Jeep that featured a "visual narration of "The Star-Spangled Banner" as performed by the pop band OneRepublic.  The spot, called "More Than Just Words," was part of a  "non-TV ad plan" for the Super Bowl that year.  The ad drew critical praise and got more than 100-million page views.