MinistryWatch's Top 10 Stories for the Month of March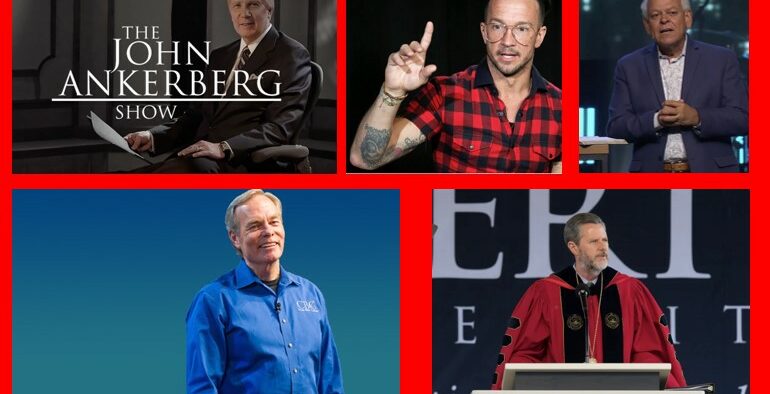 The following stories had the most page views at the MinistryWatch website during the month of March. We present them here in a "countdown" format, from 10 to 1. The first few sentences of each story are reproduced below. To read the entire story, click on the link. To read the Top 25 stories of 2022, click here.
Johnny Hunt, Disgraced Former SBC Pastor, Sues Denomination He Once Led
A disgraced former Southern Baptist president is suing the denomination he once led, saying he was defamed by allegations he assaulted another pastor's wife. In a complaint filed in the federal court for the Middle District of Tennessee, lawyers for the Rev. Johnny Hunt, a long-time Georgia megachurch pastor, admit Hunt "had a brief, inappropriate, extramarital encounter with a married woman" in 2012, but claims the incident was consensual and that it was a private matter that should not have been made public in a major 2022 report. "Some of the precise details are disputed, but at most, the encounter lasted only a few minutes, and it involved only kissing and some awkward fondling," according to the complaint.
Hillsong Church global senior pastor Phil Dooley apologized March 12 and said the church will launch an independent review of its financial structure and systems after a government official accused founder Brian Houston of misuse of funds and lavish spending. Tasmanian independent MP Andrew Wilkie told the Australian parliament March 9 someone had leaked documents to him showing that Hillsong broke financial laws relating to fraud, money laundering and tax evasion, including earning $80 million more income than it reported. Wilkie also criticized Dooley, who took over as head of the church from Houston last March, for using church funds on business class flights and gifts.
The lead teaching pastor at a Fort Worth Baptist church has resigned after he was arrested on suspicion of driving while intoxicated with a child under 15 years old in the vehicle and suspicion of unlawfully carrying a weapon. The Rev. Andrew Erickson of Travis Avenue Baptist Church in Texas was booked about 11:15 p.m. on March 3, according to court records. He resigned from his job at the church shortly after his arrest, according to Baptist News Global. "Over the last 12 months and more recently, it has become clear that there are things I need to work on personally, and I believe causes me to need a season of rest from the responsibilities of ministry," he wrote in a resignation letter distributed to church members that was excerpted in Baptist News Global.
For three weeks, Andrew Wommack declined to tell MinistryWatch why Tony Dungy and James Brown, two Black broadcasting pioneers and committed Christian laymen, withdrew from the annual men's event they've headlined for years. But Wommack explained the cancellation in a letter to people who registered for this week's Men's Advance: his "stance on homosexuality." The letter was reported March 1 by Debbie Kelley of The Gazette in Colorado Springs.
Access to MinistryWatch content is free.  However, we hope you will support our work with your prayers and financial gifts.  To make a donation, click here.
The pastor of First Baptist Church (FBC) of Fort Lauderdale in Florida, James Welch, resigned with no public reason provided. Welch's resignation followed reporting by MinistryWatch that the church's membership in the Evangelical Council for Financial Accountability (ECFA) had been suspended.
A community is reeling after a shooter killed three children and three staff members at a small Christian school in Nashville, Tennessee. Metro Nashville Police reportedly first received calls about an active shooter at 10:13 a.m. CT. The shooter, who entered the school by shooting through a side entrance on the first floor, was carrying at least two assault-type rifles and a pistol, according to police spokesperson Don Aaron. Police heard gunshots and engaged the shooter, initially identified as a 28-year-old Nashville woman, on the second floor. Police shot and killed the assailant. "By 10:27, the shooter was deceased," Aaron said.
Bishop Scott Jones isn't the first United Methodist bishop to join the Global Methodist Church since the theologically conservative denomination launched in May, but his exit from the UMC has arguably caused the greatest stir. That's partly because of the unique position his family holds in Methodism and the "extreme center" position he had staked out within the United Methodist Church. For some, it also casts a different light on his retirement, just days before he joined the GMC, as head of the Texas Annual Conference where about half of its churches—more than any other conference in the United Methodist Church—likewise left the denomination.
Steve Greisen, a Christian filmmaker and a veteran of the Jesus movement's 1970s-era music scene, pleaded guilty in Colorado Springs to a criminal attempt to solicit online sex with a minor. In a plea deal, Greisen agreed to register as a sex offender and spend five years in Colorado's supervision program for sex offenders. He had been arrested on charges for inducement of child prostitution, patronizing a prostituted child and sexual assault on a child, with a possible prison sentence of 12 years.
Jerry Falwell Jr. is suing Liberty University in Lynchburg, Virginia, claiming his former employer has withheld $8.5 million in retirement benefits that were previously promised to him. The son of the school's founder and conservative activist Jerry Falwell Sr., Falwell has been credited with bringing Liberty University back from the brink of financial collapse while serving as its president from 2007 to 2020. However, Falwell's tenure at the school ended amid scandal and controversy in 2020.
Lonnie Frisbee is a name mostly lost to history, but he could be one of the most influential persons in the modern evangelical movement. There's no doubt that he is the man who put the "freak" in "Jesus Freak." And in his life we see some of the best and worst of evangelicalism. And in the way evangelical leaders dealt with him we see a pattern of cover-up that extends even to today. But to understand that, a bit of his biography is helpful.