MinistryWatch's Annual List of "Shining Light" Ministries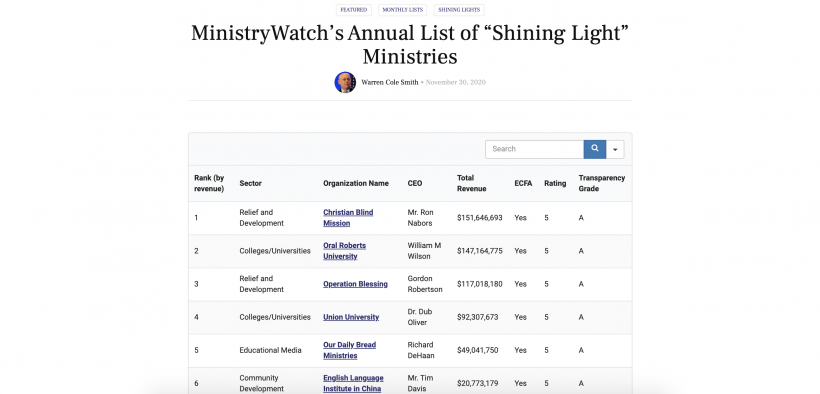 Each month, MinistryWatch.com publishes lists of interest to donors and non-profit executives.  But once each year we publish a very special list, a list of what we call our "Shining Lights." The Bible says we are to let our lights shine so that others may see our good works and glorify our Father in heaven.  (Matthew 5:16)  These ministries do just that.
To become a MinistryWatch "Shining Light," a ministry must have earned a 5-star rating on MinistryWatch's 5-star financial efficiency scale.  Further, those ministries on this list have a Transparency Grade of "A."  That's MinistryWatch's highest transparency grade.  Out of 700 ministries, only 13 meet these strict criteria.  They are listed below.
| Rank (by revenue) | Sector | Organization Name | CEO | Total Revenue | ECFA | Rating | Transparency Grade |
| --- | --- | --- | --- | --- | --- | --- | --- |
| 1 | Relief and Development | Christian Blind Mission | Mr. Ron Nabors | $151,646,693 | Yes | 5 | A |
| 2 | Colleges/Universities | Oral Roberts University | William M Wilson | $147,164,775 | Yes | 5 | A |
| 3 | Relief and Development | Operation Blessing | Gordon Robertson | $117,018,180 | Yes | 5 | A |
| 4 | Colleges/Universities | Union University | Dr. Dub Oliver | $92,307,673 | Yes | 5 | A |
| 5 | Educational Media | Our Daily Bread Ministries | Richard DeHaan | $49,041,750 | Yes | 5 | A |
| 6 | Community Development | English Language Institute in China | Mr. Tim Davis | $20,773,179 | Yes | 5 | A |
| 7 | Christian Growth | Crown Financial Ministries | Chuck Bentley | $15,867,157 | Yes | 5 | A |
| 8 | Evangelism | New International | Jeff Metzger | $7,333,839 | Yes | 5 | A |
| 9 | Evangelism | Lamb & Lion Ministries | Dr. David Reagan | $3,339,492 | Yes | 5 | A |
| 10 | Publishing | Scripture Union USA | Gail Martin | $1,400,939 | Yes | 5 | A |
| 11 | Evangelism Support | India National Inland Mission | Dr. Ajay Pillai | $1,337,470 | Yes | 5 | A |
| 12 | Foreign Missions | Children of Promise International | Mr. Robert Egimann | $965,845 | Yes | 5 | A |
| 13 | Fellowship Evangelism | Christian Military Fellowship | Robert Flynn | $361,149 | Yes | 5 | A |