Promise Keepers 2020: Guys, God, and the GOP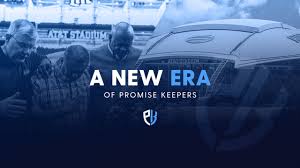 On Tuesday, the recently resurrected Promise Keepers announced its "blockbuster" lineup of keynote speakers for its 2020 Global Digital Experience, a free live stream event on July 31 and Aug. 1 that's designed as a stand-in for what was scheduled to be a live gathering of up to 80,000 men in Dallas, Texas.
Some of the scheduled speakers, including Tony Evans and Steve Arterburn, spoke at PK events during the ministry's heyday in the 1990s. Only a few dozen men went to the first gathering in Boulder, Colorado, in 1991, but by the end of the decade some seven million men had attended PK events at football stadiums and in the nation's capital. By 1998, the ministry had an annual budget of $100 million and hundreds of employees, but it shifted to a free admission model and shut down after donations didn't materialize.
Others scheduled include these popular conference speakers:
Bob Goff, bestselling author of Love Does for Kids and founder of the nonprofit organization Love Does.

Jimmy Evans, senior pastor of Gateway Church in Dallas and founder of

the "MarriageToday" ministry and television program.

Miles McPherson, senior pastor of the Rock Church in San Diego and a former

defensive back f

or the NFL Chargers, who has recently organized community events around the death of George Floyd.
Other speakers, though, have seen their share of controversies in recent years.
David Barton of WallBuilders, who has spent decades claiming to be a historian of America's Christian heritage while working for the Republican Party and candidates. For the last three years he has served as a dependable apologist for President Donald Trump, most recently praising the president's handling of the COVID-19 crisis.
Publisher Thomas Nelson took the unusual step of pulling his bestselling 2012 book, The Jefferson Lies: Exposing the Myths You've Always Believed About Thomas Jefferson, because of its looseness with the facts. "There were historical details—matters of fact, not matters of opinion, that were not supported at all," said Nelson executive Brian Hampton. Among other claims, Barton argued that the slave-owning editor of The Jefferson Bible, which omitted all supernatural accounts from the New Testament, was a civil rights visionary and "conventional Christian."
David J. Harris is an entrepreneur and media figure who serves on the board of Black Voices For Trump and BLEXIT, the organization founded by Candace Owens to condemn Democrat policies for minority communities.  His website features current articles about Hillary Clinton's emails, the Seth Rich conspiracy, and Antifa. His store sells "Drain the Swamp" t-shirts and "Trump 2020" socks. He has appeared on Fox and Friends, The Glenn Beck Show and is featured in articles published by Breitbart and Falun Gong's The Epoch Times.
A third speaker seems like a questionable choice for an event promoting morality and integrity.
John Gray is senior pastor of Relentless Church in Greenville, S.C., and an associate pastor of Joel Osteen's Lakewood Church in Houston, Tex. Gray's "national profile has risen, but the publicity hasn't always been favorable," wrote journalist Stephanie Martin. "Gray has faced criticism for lavish spending, addressed rumors of marital infidelity, and is now embroiled in two lawsuits."
Gray, whose church has experienced financial problems, gave an unusual defense after a furor arose following his posting about giving his wife a $200,000 Lamborghini Urus as an anniversary gift.
"I'm supposed to wait until I'm 70 to live my best life? And my best life is making my wife happy," he said in a video that has since been taken down, according to The Washington Post. "It wasn't a pastor that bought the car; it was a husband that bought the car. Get that in your spirit. I'm a husband first. Don't confuse what I do with who I am. What I do is I pastor God's people. Who I am is a husband and a father. And I'll do anything to honor them. And I won't ask permission from anybody to do it. No man should."
Ken Harrison is the CEO of Colorado Springs-based WaterStone, a Christian foundation that pioneered tax-deductible donor-advised funds in the 1980s.  He also serves as the unpaid, volunteer Chairman and CEO of Promise Keepers.  In a 2019 interview, he said PK's 2020 event would focus on two key social issues: pornography and abortion.  Harrison said he declined offers from politicians wanting to speak at the 2020 event, and pledged that the new PK would "avoid being political but won't avoid politics."
The speaker lineup also includes the Benham Brothers, two entrepreneur sons of pro-life activist Flip Benham. The cable channel HGTV cancelled the brothers' show in 2014 after attacks on them and the network by left-wing groups.
Meanwhile, the Promise Keepers' website features additional speakers not included in the July 7 press release: evangelists Luis and Andrew Palau, and athlete/speaker Chad Hennings.  Musical guests on the website include Michael W. Smith.
Individuals can sign up for the free livestream of the event, and churches can register to simulcast the event for free.