MinistryWatch's Top 10 Stories for the Month of September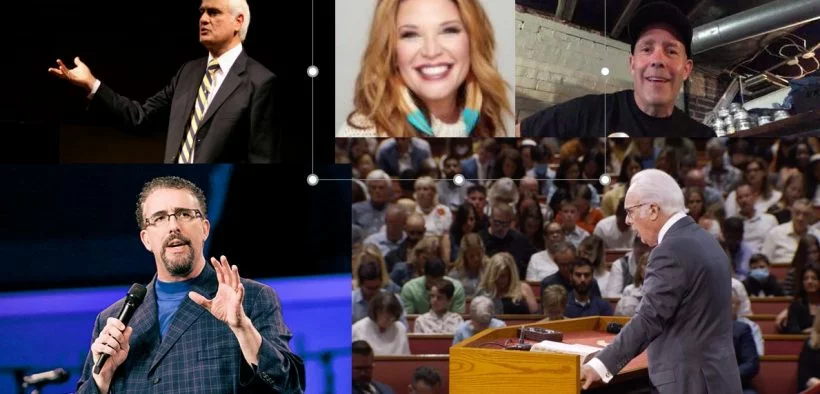 The following stories had the most page views at the MinistryWatch website during the month of September.  We present them here in a "countdown" format, from 10 to 1.  The first few sentences of each story are reproduced below.  To read the entire story, click on the link.
10.  Long-time Professor Jim Spiegel Out At Taylor University
A longtime faculty member at Taylor University no longer has a job at the Christian school, reportedly after posting a video of a song he'd written titled "Little Hitler" on YouTube.
An email sent last week to the "Taylor University Family" from the school's president, provost, dean, and board chair confirmed James Spiegel, a professor of philosophy and religion, no longer is employed by the university in Upland, Indiana.  Spiegel, who had been employed by the university since 1993, according to his curriculum vitae, is a controversial figure on campus.
He spearheaded a petition objecting to plans to bring Starbucks to campus because of its support for Planned Parenthood and for its endorsement of LGBTQ causes. He also signed onto another supporting Vice President Mike Pence's invitation to speak last year at graduation. Taylor's president resigned a month after Pence's visit, which sparked sharp disagreement on campus.
9. International Fellowship of Christians and Jews Tap Evangelicals For Support
If you watch Christian television – Trinity Broadcasting Network, The Inspiration Network, World Harvest TV, or GEB TV — you've probably seen the ads.  One emotional ad promises to provide bread, a blanket, and medicine to an elderly Holocaust survivor, all for just $25.  Another shows a Russian woman thanking God for a "blessing box" containing food.  They're from the International Fellowship of Christians and Jews.  For years, the ads featured Rabbi Yechiel Eckstein, the group's founder.  Sometimes they still do, even though Eckstein died last year of a heart attack at age 67.
8. 50 Largest Evangelism and Discipleship Ministries in the US
Below is a list of the 50 largest evangelism and discipleship ministries, according to the MinistryWatch database.  Please note that we do not have a single "Evangelism and Discipleship" category in the MinistryWatch database, so we have aggregated a number of categories to include as many ministries as possible that engage in evangelism and discipleship work.  This list should not be interpreted as a list of recommended ministries.  They are ranked by total revenue, and not by ministry effectiveness, financial efficiency, or any other measure.  That said, the Financial Efficiency rating and the Transparency Grade of the ministries are listed.
7.  Influential Pastor Charles Stanley Steps Down After 50 Years at First Baptist Atlanta
Charles Stanley doesn't believe in retirement, he said.  But the influential pastor is stepping down from his role at First Baptist Church Atlanta after more than 50 years.  "As much as I love being your pastor, I know in my heart this season has come to an end," Stanley told his church in a prerecorded message shown at the end of First Baptist's online service Sunday (Sept. 13).  In the message, he said he had informed the church's board earlier this month that he planned to step down as senior pastor.
6. Judge Grants Injunction Barring John MacArthur
A Los Angeles Superior Court judge granted a preliminary injunction against Grace Community Church, prohibiting Pastor John MacArthur from holding indoor worship services.  The County of Los Angeles has sought to stop the megachurch from hosting indoor services that have filled the sanctuary with many unmasked congregants sitting next to each other in recent weeks.  The battle between the church and the county has raged since MacArthur began holding indoor services again in late July.
5.  Jen Hatmaker Files for Divorce
Jen Hatmaker, a popular Christian writer, blogger, and former reality TV star, has filed for divorce.  Hatmaker announced the split from her husband, Brandon, on social media Sunday (Sept 6). Court documents show the petition for divorce was filed in late August.  "I don't know how to say this, and I still cannot believe I am even saying it, but Brandon and I are getting divorced," Hatmaker wrote on her Facebook page. "Although the details are ours alone, this was completely unexpected, and I remain stunned as we speak. I am shocked, grief-stricken, and broken-hearted."
4.  Eric Metaxas Says Protester On Bike Menaced Him
Eric Metaxas says that a protester on a bike harassed him after he left the White House last week.
"The guy came at me with his bike and was very menacing for a long time," Metaxas told WORLD Magazine. He would not say whether or not he hit the protester, despite a recent viral video in which a man resembling Metaxas punched a cycling demonstrator.  Days later, the conservative Christian author and radio host reportedly confirmed the punch in an email to Religion Unplugged, saying, "It just happened."
3.  New Allegations Against Ravi Zacharias Emerge
New allegations of sexual harassment against Ravi Zacharias have prompted Ravi Zacharias International Ministries (RZIM) to open an investigation into the late founder's behavior.
The allegations were first reported by Christianity Today (CT).  According to CT, Zacharias "sexually harassed multiple massage therapists who worked at two day spas he co-owned" in the Atlanta suburbs, near the RZIM headquarters.
2.  Televangelist Perry Stone Acted Inappropriately With Female Employees
Perry Stone has been a steady presence on Christian television networks for the past decade.  But in recent months, he has not been a steady presence in his own ministry.  His Cleveland, Tennessee-based ministry, Voice of Evangelism, announced in July that he had taken a leave of absence after admitting that he had acted inappropriately with female employees.
The Chattanooga Times Free Press obtained an audio recording of Stone at a "small, in-person group of church members" on which Stone said women in his ministry had brought concerns about his words and actions to the board of the organization.  The board asked him to step aside and receive counseling.
1. LA County Evicting Grace Community Church From Parking Lot
LA County is evicting Grace Community Church from a parking lot it has leased since 1975. Lawyers representing GCC and its pastor, John MacArthur, say the move is in retaliation for holding indoor worship services in violation of a pandemic-related state mandate. The county sent a letter to GCC last week, giving the church 30 days to vacate a large portion of the parking lot it's used for 45 years. If GCC doesn't comply, "the District may enter the premises and remove Grace's personal property in accordance with the Agreement and applicable law, and Grace will be responsible for any resultant expenses incurred by the District."