MinistryWatch's Top 10 Stories for the Month of December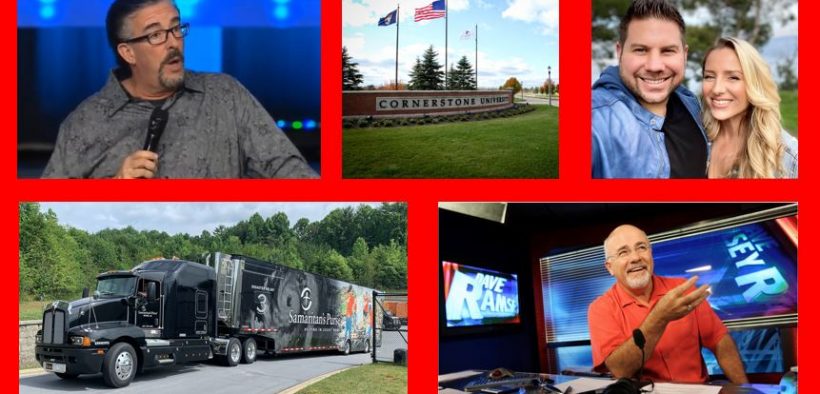 The following stories had the most page views at the MinistryWatch website during the month of December. We present them here in a "countdown" format, from 10 to 1. The first few sentences of each story are reproduced below. To read the entire story, click on the link. To read the Top 15 stories of 2021, click here.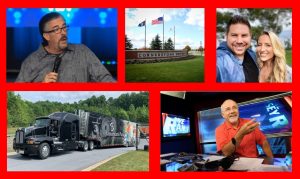 10. Cornerstone University's New President is under Fire. His Former Colleagues See a Pattern.
In March 2012, Katy Attanasi, then an assistant professor of religion at Regent University in Virginia, was at home feeding her newborn son when she heard a knock at the door. On her stoop, she found a snow-dusted FedEx envelope from the university. Inside was a letter informing her that her faculty contract would not be renewed. Attanasi, now a Methodist pastor in Kentucky, was one of eight faculty to receive a Fed-Exed termination letter that semester. Hers was signed by Gerson Moreno-Riaño, dean of Regent's School of Undergraduate Studies. No warning had been given and no explanation followed…Last May, Moreno-Riaño was appointed as the 12th president of Cornerstone University, a small, Christian liberal arts school in Grand Rapids, Michigan. The day before his formal installation in October, Cornerstone's faculty voted no confidence in his ability to lead as president, citing a culture of "fear and suspicion" and the last-minute departures of at least eight faculty and staff. Attanasi and some of her former colleagues at Regent called the pattern at Cornerstone eerily familiar.
9. NC's The Point Church Lays Off Staff
The Point Church, a prominent multisite church near Raleigh, N.C., laid-off, reduced the hours of, or saw the resignation of at least seven of its staff members in December 2021. A source tells MinistryWatch that the church has a total of about 40 staff members. The move comes after a year of disappointing financial numbers for the once high-flying church. According to a financial statement obtained by MinistryWatch, the church's fiscal year ending in August showed about $3.26-million in revenue, and a loss of more than $450,000 before adjustments.   
8. Plumber Reportedly Finds Cash and Checks in Walls of Joel Osteen's Lakewood Church
Did a plumber just discover a new clue in a seven-year-old burglary case at Joel Osteen's megachurch? A caller on a Houston-area radio show Thursday (Dec. 2), claimed he found hundreds of envelopes full of cash and checks in a wall while fixing a loose toilet at Osteen's Lakewood Church in the city. During a morning show segment on radio station 100.3 The Bull, hosts were asking listeners if they'd ever found something of value. One call-in guest told the hosts he'd been working on the plumbing at the church on Nov. 10, when, he said, "I moved some insulation away, and about 500 envelopes fell out of the wall."
7. Bruxy Cavey, Pastor of One of Canada's Largest Churches, Accused of Sexual Misconduct
A pastor at one of Canada's largest churches has been accused of sexual misconduct and has been placed on leave while the church undertakes an external investigation. Bruxy Cavey, who grew The Meeting House into a megachurch with some 5,000 people attending 19 campuses in the larger Toronto metropolitan area, was accused of sexual misconduct by a woman who reported it to the church's Overseers Board, or board of directors. In a brief statement, Maggie John, chair of the Meeting House board, wrote: "Bruxy has now been placed on a leave of absence while an external investigation takes place. We take these allegations very seriously and are committed to a thorough and transparent process. We are praying through this situation."
6. Marcus Lamb, Anti-COVID Vaccine Christian Broadcaster, Dies at 64
Marcus Lamb, a prominent Christian broadcaster known for his outspoken opposition to COVID-19 vaccines, has died after contracting the virus. He was 64. "This morning at 4 a.m. the president and founder of Daystar and the love of my life went to be with Jesus," said his wife, Joni, on a Tuesday (Nov. 30) morning broadcast. "I wanted you to hear from me that he's with the Lord." Marcus Lamb was co-founder and CEO of the Daystar Television Network, a network popular with evangelical and charismatic Christians. In the weeks leading up to his death, friends and supporters had been praying for his recovery from the virus, seeing it as a spiritual attack because of his advocacy against vaccines and push for alternate treatments.
5. Christian Finance Expert Dave Ramsey Sued for Religious Discrimination
A former employee of Christian finance guru Dave Ramsey is suing his former boss for religious discrimination, claiming he was fired for "heeding[ing] the advice of science" instead of relying on prayer during the COVID-19 pandemic. Lawyers for Brad Amos filed a complaint Dec. 13 in U.S. District Court for the Middle District of Tennessee, alleging there was a "cult-like" environment at the Lampo Group LLC, the company Ramsey leads near Nashville. The complaint claims Lampo, better known as Ramsey Solutions, violated Title VII of the Civil Rights Act by requiring employees to abide by Ramsey's religious beliefs about COVID-19.
Access to MinistryWatch content is free.  However, we hope you will support our work with your prayers and financial gifts.  To make a donation, click here.
4. Televangelist Perry Stone 'Acted Inappropriately' with Female Employees
Perry Stone has been a steady presence on Christian television networks for the past decade. But in recent months (in 2020), he has not been a steady presence in his own ministry. His Cleveland, Tennessee-based ministry, Voice of Evangelism, announced in July (2020) that he had taken a leave of absence after admitting that he had acted inappropriately with female employees. The Chattanooga Times Free Press obtained an audio recording of Stone at a "small, in-person group of church members" on which Stone said women in his ministry had brought concerns about his words and actions to the board of the organization.  The board asked him to step aside and receive counseling.
3. Giving to Kentucky Tornado Relief
Devastating tornados struck Arkansas, Missouri, Tennessee, and Kentucky over the weekend.  As many as 100 people are feared dead. It is no surprise to me that MinistryWatch readers want to help. We have had a number of requests from our readers for recommendations. Which organizations are most effective in these post-disaster situations? Below you will find a list of organizations from the MinistryWatch 1000 database. We have not checked with these ministries to see if they are working in Kentucky now, but all the ministries below specialize in disaster relief, and they have a 3-, 4-, or 5-star rating for Financial Efficiency. They also have an "A" Transparency Grade. That means you can be sure that they are a solid Christian ministry, with a clear evangelical statement of faith, and that the money you give will go to its intended purpose, which is to directly help people who have been affected by disaster.
2. MinistryWatch Names Shining Light Ministries for 2021
Each month, MinistryWatch.com publishes lists of interest to donors and non-profit executives.  But once each year we publish a very special list, a list of what we call our "Shining Lights." The Bible says we are to let our lights shine so that others may see our good works and glorify our Father in heaven. (Matthew 5:16) These ministries do just that. To become a MinistryWatch "Shining Light," a ministry must have earned a 5-star rating on MinistryWatch's 5-star Financial Efficiency rating, and must receive an "A" Transparency Grade. That narrows down the list of more than 1000 ministries in our database to about 60. Those ministries are listed below.
Radiant Israel is a ministry that was founded as a business—meaning the true nature of its work and finances is unknown to all but founder Gilad Rosinger. The group received a major boost in November thanks to a $300,000 check from Global Vision Bible Church, the congregation founded by pugnacious pro-Trump pastor Greg Locke. "We gave Radiant Israel in one check $300,000," said Locke in a YouTube video. A Christian who attends Locke's church via Zoom alerted MinistryWatch to the large gift, saying, "Gilad isn't even a real minister. People need to know the truth! He was a travel tour guide until COVID hit! And now he is getting hundreds of thousands of dollars from Greg for 'Israel.' I feel like I was duped! And so were so many others!"