Christian Colleges, Universities, and Seminaries in the MinistryWatch Database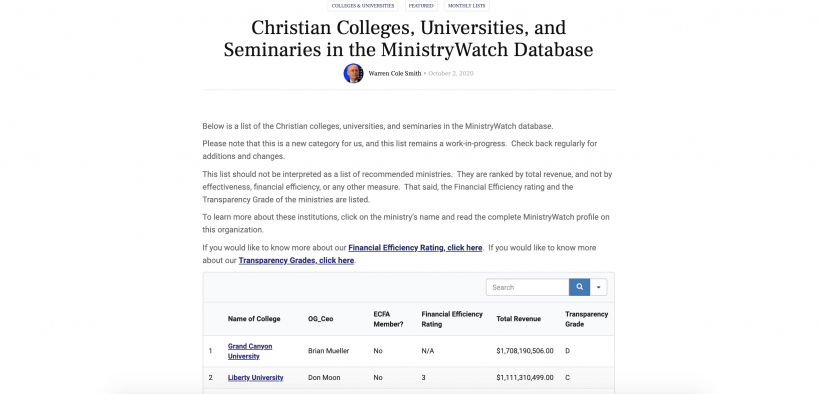 Below is a list of the Christian colleges, universities, and seminaries in the MinistryWatch database.
Please note that this is a new category for us, and this list remains a work-in-progress.  Check back regularly for additions and changes.
This list should not be interpreted as a list of recommended ministries.  They are ranked by total revenue, and not by effectiveness, financial efficiency, or any other measure.  That said, the Financial Efficiency rating and the Transparency Grade of the ministries are listed.
To learn more about these institutions, click on the ministry's name and read the complete MinistryWatch profile on this organization.
If you would like to know more about our Financial Efficiency Rating, click here.  If you would like to know more about our Transparency Grades, click here.
| | Name of College | OG_Ceo | ECFA Member? | Financial Efficiency Rating | Total Revenue | Transparency Grade |
| --- | --- | --- | --- | --- | --- | --- |
| 1 | Grand Canyon University | Brian Mueller | No | N/A | $1,708,190,506 | D |
| 2 | Liberty University | Don Moon | No | 3 | $1,111,310,499 | C |
| 3 | Baylor University | Linda Livingstone | No | 3 | $1,017,828,223 | C |
| 4 | Pepperdine University | Andrew B Kenton | No | 2 | $500,820,310 | C |
| 5 | Azusa Pacific University | Paul R. Ferguson | Yes | 3 | $320,695,476 | A |
| 6 | High Point University | Nido Qubein | No | 2 | $278,132,499 | C |
| 7 | Campbell University | J. Bradley Creed | No | 3 | $241,540,179 | C |
| 8 | Samford University | Andrew Westmoreland | No | 3 | $232,026,789 | C |
| 9 | Indiana Wesleyan University | David Wright | No | 3 | $225,099,742 | C |
| 10 | Biola University | Barry H. Corey | No | 3 | $223,270,949 | C |
| 11 | Abilene Christian University | Phil Schubert | No | 1 | $210,458,073 | C |
| 12 | Lipscomb University | L. Randolph Lowry | No | 2 | $205,283,951 | C |
| 13 | Wheaton College | Philip Graham Ryken | Yes | 3 | $173,359,454 | A |
| 14 | Messiah University | Kim S Phipps | No | 3 | $143,079,714 | C |
| 15 | Dallas Baptist University | Adam Wright | No | 2 | $137,203,412 | C |
| 16 | Cedarville University | Thomas White | No | 3 | $126,916,822 | C |
| 17 | Regent University | Stephen Bruce | Yes | 3 | $122,784,123 | A |
| 18 | Moody Bible Institute | Mark Jobe | Yes | 2 | $116,134,505 | A |
| 19 | Colorado Christian University | Donald W. Sweeting | Yes | 3 | $114,550,185 | A |
| 20 | Houston Baptist University | Robert B Sloan Jr. | No | 2 | $110,428,371 | C |
| 21 | College of the Ozarks | Charles F Hughes | No | 3 | $100,879,597 | C |
| 22 | Charleston Southern University | Dondi E Costin | No | 3 | $95,790,845 | C |
| 23 | Anderson University | Evans P Whitaker | No | 3 | $94,410,210 | C |
| 24 | Gordon College | D. Michael Lindsay | Yes | 2 | $93,390,806 | A |
| 25 | Union University | Dub Oliver | Yes | 3 | $92,552,196 | A |
| 26 | Eastern University | Ronald A. Matthews | No | 3 | $87,373,826 | C |
| 27 | Oklahoma Christian University | John E. deSteiguer | No | 3 | $70,087,967 | C |
| 28 | Fuller Theological Seminary | Mark Labberton | No | 2 | $66,616,721 | C |
| 29 | Dordt University | Erik Hoekstra | No | 3 | $66,007,447 | C |
| 30 | North Greenville University | Gene Fant | No | 3 | $64,813,042 | C |
| 31 | LeTourneau University | Dale Lunsford | Yes | 3 | $64,072,432 | A |
| 32 | Covenant College | J Derek Halvorson | No | 3 | $56,270,730 | C |
| 33 | Asbury University | Sandra Gray | No | 3 | $54,746,280 | C |
| 34 | King University | Alexander W. Whitaker | No | 3 | $51,288,142 | C |
| 35 | Columbia International University | Mark Smith | Yes | 3 | $45,242,810 | A |
| 36 | Dallas Theological Seminary | Mark M. Yarbrough | Yes | 1 | $41,548,199 | A |
| 37 | Milligan College | Bill Greer | No | 2 | $41,385,668 | C |
| 38 | Erskine College | Robert Gustafson | No | 2 | $34,440,973 | C |
| 39 | Gordon Conwell Theological Seminary | Dennis P Hollinger | Yes | 2 | $32,733,685 | A |
| 40 | Southern Wesleyan University | Todd Voss | No | 2 | $27,963,006 | C |
| 41 | Montreat College | Paul J. Maurer | No | 3 | $26,025,705 | C |