Ministry Leaders and Pastors Who Left Us In 2021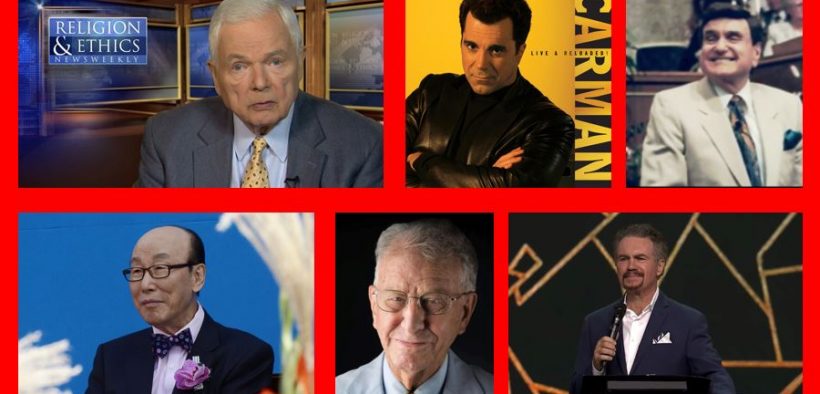 I have always been fascinated by obituaries, and my experience as a journalist tells me I'm not alone.  I used to think it was because they reminded me of my mortality.  Even the Bible says it is better to go to a funeral than to a banquet (Ecclesiastes 7:2), because it sets our minds on eternal things.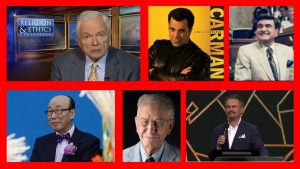 I think the obituaries of famous people add an even deeper understanding to this verse.  John Calvin famously said the human heart is an idol making factory.  Remembering that we are all subject to physical death – all of us, even the mighty — is a partial antidote to the kind of idol making Calvin described.
On the other hand, it's also important to remember what C.S. Lewis once wrote: "You have never met a mere mortal?"  What he meant by that is that we all live forever.  I think that's also what I find fascinating about obituaries:  not just that they remind me of my mortality, but that they remind me of my duty – daily, even minute-by-minute — to live fully coram deo:  before the face of God.  On earth as it is in heaven.
With that in mind, we remember ministry leaders, pastors, and others who died in 2021, presented in alphabetical order.  If MinistryWatch did a more extensive obituary during the year, that link is included.
Bob Abernethy died May 2. He was 93.  Abernethy retired from NBC and, in his retirement, launched Religion & Ethics NewsWeekly to examine the spiritual aspects of the news.  The award-winning show lasted for almost 20 years and was a staple on PBS.
William "Billy" Abraham was a Methodist scholar whose more than 20 books influenced a generation of Methodist pastors.  He died on Oct. 7 at age 73.  He also founded the Wesley House of Studies at Baylor's Truett Seminary.
Ernest Angley, a controversial televangelist, died May 7.  He was 99.  Angley's ministry dated back to the 1950s, and he gained worldwide exposure with a syndicated television program that began in 1972.  His faith-healing claims, distinctive speaking cadence, and controversial views often made him the subject of ridicule and sometimes put him on the wrong side of the law.
Access to MinistryWatch content is free.  However, we hope you will support our work with your prayers and financial gifts.  To make a donation, click here.
Ole Anthony, 82, president of Dallas-based Trinity Foundation Inc. and a thorn in the side of "prosperity gospel" televangelists, died Friday, April 16.  He was known as a fierce critic of TV preachers like Robert Tilton, Benny Hinn, and Jan and Paul Crouch, and was often seen in news interviews critiquing their lavish lifestyles.  Anthony also served as the founding elder of a small congregation that modeled itself on first-century Christianity in lifestyle and mission, meeting in homes and gathering often. In the 1990s the foundation began the Dallas Project, taking homeless people into the homes of members and encouraging other religious groups to do the same. The church continues to provide low-cost housing for needy families on the East Dallas block where many of the members live.
John Baker died Feb. 23.  He was 72.  Baker co-founded Celebrate Recovery, a Christian 12-step program.  He was a recovering alcoholic himself when he proposed the idea to Rick Warren, pastor of Saddleback Church. It now has chapters in more than 30,000 churches and works with Prison Fellowship.
Melvin Banks died Feb. 13.  He was 86.  He founded Urban Ministries after graduating from Moody Bible Institute and Wheaton College.  According to WORLD, "He realized that the black church needed teaching materials with positive images of black people, so he set out to publish them."
Frank Barker, one of the "founding fathers" of the Presbyterian Church in America, died on Dec. 27.  He was 89.  Barker led Birmingham's Briarwood Presbyterian Church from a storefront start-up to more than 4,000 people.
David B. Calhoun died April 9.  He was 83.  Calhoun was professor of church history at Covenant Seminary for 30 years.  In that role he taught a generation of pastors and missionaries in the Presbyterian Church in America.  He also served as a missionary in Jamaica.
Carman died Feb. 16 after a long battle with cancer.  He was 65.  Carman filled arenas in the 1980s and 90s, and was inducted into the Gospel Music Hall of Fame.  He pioneered music videos and elaborate stage shows in the Christian music world.
Ralph Carmichael has been called the "father of contemporary church music."  He died on Oct. 18 at age 94.  In addition to writing more than 300 gospel songs, he also worked with secular artists such as Rosemary Clooney, Bing Crosby, and Nat King Cole.
David Yonggi Cho, the founder of one of the world's largest churches, died Sept. 14.  He was 85.  Cho's Yoido Full Gospel Church claimed hundreds of thousands of members, and Cho and his churches techniques influenced churches around the world.
Robert E. Cooley died April 1.  He was 91.  Archaeologist and former president of Gordon Conwell Theological Seminary, he was one of the founding board members of the Museum of the Bible.
Larry Crabb was the author of more than 25 books, and had a significant influence on the Christian counseling industry.  He was also a professor at Colorado Christian University.  He died on Feb. 28 at age 77.
Bill Glass died Dec. 5.  He was 86.  Glass played college football for Baylor University, and was elected to the College Football Hall of Fame.  His 11-year NFL career included stints with the Detroit Lions and Cleveland Browns.  But he spent most of his adult life involved in prison ministry.  Bill Glass Behind The Walls has discipled thousands of incarcerated people.
Marcus Lamb was the founder of the Daystar Television Network.  He was also a Covid vaccine skeptic who often promoted false or disputed information about the vaccine on his network.  He died after contracting the virus on Nov. 30.  He was 64.
Richard Longenecker was an evangelical New Testament scholar who wrote Paul, Apostle of Liberty and commentaries on Galatians and Romans. He died on June 7 at age 90.
Stephen Lungu was sometimes called the "Billy Graham of Africa."  After a dramatic conversion experience, he went to Bible college and preached in Malawi, his home country, and ultimately around the globe.  He was 78 when he died on Jan. 18.
Evelyn Mangham died on Oct. 5 at age 98.  She began her career as a Christian and Missionary Alliance missionary who, in the aftermath of the Vietnam War, worked with evangelical churches to help resettle refugees from Vietnam, Laos, and Cambodia. She and her husband co-founded World Relief's refugee resettlement program, which was originally a part of the National Association of Evangelicals and grew to one of the largest organizations of its kind in the world.
Thomas McKenzie, rector of a prominent Anglican congregation in Nashville, and his daughter were killed in a car crash on Aug. 23.  McKenzie was 50.  McKenzie's book The Anglican Way has helped many evangelicals migrate toward more liturgical and sacramental forms of worship, and was widely used in confirmation classes throughout the Anglican denomination.
Wade Morris, a popular Southern Baptist youth speaker who was hospitalized with COVID-19, died in early August.  He was 51.  A native of Birmingham, Alabama, Morris was a graduate of Samford University and Southwestern Baptist Theological Seminary. After serving at several churches, he became a full-time itinerant speaker, spending about 200 days a year on the road, according to his ministry's website. He was known for the Journey Bible Study Series and for speaking at youth camps and conferences.
Luis Palau, a Christian evangelist known for his smile and hearty laugh and described by some as "the Latino Billy Graham," died March 11 at his Portland, Oregon, home. He was 86.  Over the past half-century, the Luis Palau Association, based in Beaverton, Oregon, estimates that it has reached 30 million people in 75 countries. Under its Argentine-born founder's leadership, the association "has coordinated hundreds of citywide campaigns in dozens of nations, including major evangelistic festivals on five continents."  In the process, he worked with thousands of churches in hundreds of cities around the world, with gatherings in London, Hong Kong, Singapore, Chicago, Moscow, Madrid, Mexico City, Buenos Aires, Washington, and elsewhere.
Frederick K.C. "Fred" Price, a prominent Los Angeles pastor who built one of the largest church buildings in the country, died in February at 89, after contracting the COVID virus. Price was a prosperity gospel preacher who was the longtime pastor of the Crenshaw Christian Center, which he founded in 1973 and grew into a megachurch that claims 28,000 members.
Phil Saviano was a sexual abuse survivor whose relentless advocacy for fellow survivors eventually led to justice for thousands of people who had been abused by Catholic clergy.  His courage led to other whistleblowers coming forward to expose scandals in evangelical church and the Boy Scouts of America.  He died on Nov. 28 at age 69.
Walter Wangerin Jr. won the National Book Award for his Book of the Dun Cow, an achievement that brought him to the attention of the broader literary world.  However, he often said he wanted to be remembered most as a father and pastor.  He died on Aug. 5 at age 77.