MinistryWatch Names Shining Light Ministries for 2021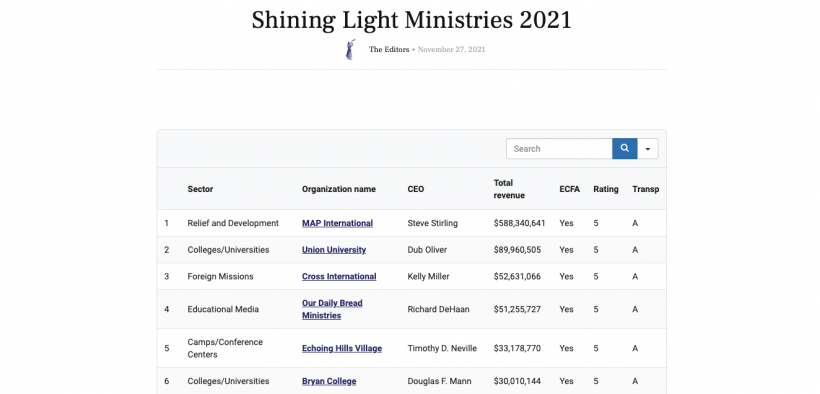 Each month, MinistryWatch.com publishes lists of interest to donors and non-profit executives.  But once each year we publish a very special list, a list of what we call our "Shining Lights." The Bible says we are to let our lights shine so that others may see our good works and glorify our Father in heaven.  (Matthew 5:16)  These ministries do just that.
To become a MinistryWatch "Shining Light," a ministry must have earned a 5-star rating on MinistryWatch's 5-star Financial Efficiency rating, and must receive an "A" Transparency Grade.  That narrows down the list of more than 1000 ministries in our database to about 60.  Those ministries are listed below.
| | Sector | Organization name | CEO | Total revenue | ECFA | Rating | Transp |
| --- | --- | --- | --- | --- | --- | --- | --- |
| 1 | Relief and Development | MAP International | Steve Stirling | $588,340,641 | Yes | 5 | A |
| 2 | Colleges/Universities | Union University | Dub Oliver | $89,960,505 | Yes | 5 | A |
| 3 | Foreign Missions | Cross International | Kelly Miller | $52,631,066 | Yes | 5 | A |
| 4 | Educational Media | Our Daily Bread Ministries | Richard DeHaan | $51,255,727 | Yes | 5 | A |
| 5 | Camps/Conference Centers | Echoing Hills Village | Timothy D. Neville | $33,178,770 | Yes | 5 | A |
| 6 | Colleges/Universities | Bryan College | Douglas F. Mann | $30,010,144 | Yes | 5 | A |
| 7 | Rescue Missions/Homeless Shelters | Open Door Mission | Candace L Gregory | $28,245,037 | Yes | 5 | A |
| 8 | Rescue Missions/Homeless Shelters | Rescue Mission Alliance | Gary W. Gray | $27,363,364 | Yes | 5 | A |
| 9 | Colleges/Universities | University of the Nations Kona | Loren Cunningham | $24,732,592 | Yes | 5 | A |
| 10 | Rescue Missions/Homeless Shelters | Knox Area Rescue Ministries | Burt Rosen | $22,883,471 | Yes | 5 | A |
| 11 | Evangelism Support | Commission to Every Nation | Bill Barthelemy | $20,810,919 | Yes | 5 | A |
| 12 | Foreign Missions | English Language Institute in China | Tim Davis | $20,773,179 | Yes | 5 | A |
| 13 | Community Development | Good Samaritan Health Center of Cobb | Cyrl Kitchens | $19,023,751 | Yes | 5 | A |
| 14 | Community Development | Apartment Life | Pete Kelly | $18,805,168 | Yes | 5 | A |
| 15 | Advocacy | Family Research Council | Tony Perkins | $18,177,498 | Yes | 5 | A |
| 16 | Community Development | Eastern Christian Childrens Retreat | Daryl Rogers | $17,757,314 | Yes | 5 | A |
| 17 | Christian Growth | Crown Financial Ministries | Chuck Bentley | $15,867,157 | Yes | 5 | A |
| 18 | Community Development | Good Samaritan Network of Hamilton County | Nancy S. Chance | $14,671,105 | Yes | 5 | A |
| 19 | Colleges/Universities | Council for Christian Colleges and Universities | Shirley V. Hoogstra | $12,611,265 | Yes | 5 | A |
| 20 | K-12 Schools/Academies | Lionheart Children's Academy | Stan Dobbs / Donna McClintock | $12,606,261 | Yes | 5 | A |
| 21 | Fellowship Evangelism | Youth for Christ International | Dave Brereton | $11,524,434 | Yes | 5 | A |
| 22 | K-12 Schools/Academies | Colorado Springs Christian Schools | Roland DeRenzo | $9,138,441 | Yes | 5 | A |
| 23 | Christian Growth | Lifeline Christian Mission | Ben Simms | $9,071,748 | Yes | 5 | A |
| 24 | Rescue Missions/Homeless Shelters | Mercy Multiplied America | Nancy Alcorn | $8,547,889 | Yes | 5 | A |
| 25 | Evangelism Support | Launch Global | Robert McNabb | $8,038,576 | Yes | 5 | A |
| 26 | Evangelism Support | Global Service Network | Marc Mullin | $7,996,077 | Yes | 5 | A |
| 27 | Colleges/Universities | Emmaus Bible College | Philip Boom | $7,668,486 | Yes | 5 | A |
| 28 | Colleges/Universities | Richmont Graduate University | Timothy Quinnan | $7,658,174 | Yes | 5 | A |
| 29 | Community Development | AGAPE Network | Claudio M. Perez | $7,530,890 | Yes | 5 | A |
| 30 | Relief and Development | Kinship United | Craig Muller | $7,419,513 | Yes | 5 | A |
| 31 | Colleges/Universities | Shepherds College | Tracy Terrill | $7,360,744 | Yes | 5 | A |
| 32 | Colleges/Universities | Grace School of Theology | Dave Anderson | $6,649,833 | Yes | 5 | A |
| 33 | Rescue Missions/Homeless Shelters | Modesto Gospel Mission | Jason Conway | $6,522,780 | Yes | 5 | A |
| 34 | Rescue Missions/Homeless Shelters | Tri-City Union Gospel Mission | Andrew Porter | $6,118,147 | Yes | 5 | A |
| 35 | Foreign Missions | Asia Harvest | Paul Hattaway | $5,858,864 | Yes | 5 | A |
| 36 | Adoption/Foster Care | Starry | Richard Singleton | $5,459,814 | Yes | 5 | A |
| 37 | Evangelism Support | Faith and Learning International | Thomas Lavanchy | $5,383,621 | Yes | 5 | A |
| 38 | Leadership Training | Development Associates International | Jane Overstreet | $5,315,930 | Yes | 5 | A |
| 39 | Relief and Development | Outreach Aid to the Americas / ECHOCuba | Teo A Babun | $4,962,232 | Yes | 5 | A |
| 40 | Foreign Missions | Modern Day Missions | Elias Reyes | $4,885,405 | Yes | 5 | A |
| 41 | Evangelism | Lamb & Lion Ministries | Tim Moore | $4,081,468 | Yes | 5 | A |
| 42 | Adoption/Foster Care | Orphanos Foundation | Wayne Sneed | $3,982,353 | Yes | 5 | A |
| 43 | Radio/ TV Stations | Media Dream / Alkarma TV | Samuel Estefanos | $3,959,967 | Yes | 5 | A |
| 44 | Foreign Missions | Africa Renewal Ministries | Jay Mathis | $3,627,998 | Yes | 5 | A |
| 45 | Foreign Missions | International Outreach Ministries | Michael T. McCarty, Sr. | $3,558,606 | Yes | 5 | A |
| 46 | Foreign Missions | First Love International Ministries | Tom Clinton | $3,517,035 | Yes | 5 | A |
| 47 | Colleges/Universities | African Bible Colleges | Paul D. Chinchen | $3,230,177 | Yes | 5 | A |
| 48 | Rescue Missions/Homeless Shelters | Jesus House | Jared Frazier | $3,199,473 | Yes | 5 | A |
| 49 | Foreign Missions | Free the Oppressed dba Free Burma Rangers | David Eubank | $2,652,935 | Yes | 5 | A |
| 50 | Community Development | Christian Health Service Corps | Greg and Candi Seager | $2,490,179 | Yes | 5 | A |
| 51 | Christian Growth | Forge | Dwight Robertson | $1,932,834 | Yes | 5 | A |
| 52 | Relief and Development | Nazarene Compassionate Ministries | Nell Becker Sweeden | $1,595,902 | Yes | 5 | A |
| 53 | Fellowship Evangelism | Moms In Prayer International | Sally Burke | $1,450,406 | Yes | 5 | A |
| 54 | Rescue Missions/Homeless Shelters | Mission of Hope Ministries | Branden Rogers | $1,120,032 | Yes | 5 | A |
| 55 | Evangelism | Across Nations | Chuck Harper | $911,601 | Yes | 5 | A |
| 56 | Rescue Missions/Homeless Shelters | Crossroads Rescue Mission | Myra Garlit | $894,092 | Yes | 5 | A |
| 57 | Adoption/Foster Care | Children of Promise International | Robert Egimann | $822,483 | Yes | 5 | A |
| 58 | Foreign Missions | Zion Evangelical Ministries of Africa | Greg Seghers | $767,754 | Yes | 5 | A |
| 59 | Foreign Missions | Mission on the Move | Thomas E Sizemore | $734,450 | Yes | 5 | A |
| 60 | Rescue Missions/Homeless Shelters | Lighthouse Outreach Center | Errol Hada | $412,786 | Yes | 5 | A |
| 61 | Evangelism Support | Pacific Island Ministries | Mr. Douglas Heidema | $380,794 | Yes | 5 | A |
| 62 | Fellowship Evangelism | Christian Military Fellowship | Robert Flynn | $358,340 | Yes | 5 | A |