MinistryWatch's Top 10 Stories for the Month of October
The following stories had the most page views at the MinistryWatch website during the month of October. We present them here in a "countdown" format, from 10 to 1. The first few sentences of each story are reproduced below. To read the entire story, click on the link. To read the Top 15 stories of 2021, click here.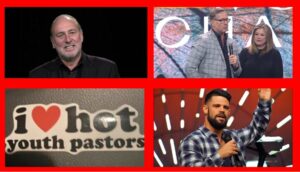 NFL star Brett Favre has become the public face of the Mississippi scandal over misspent welfare money. Favre received $1.1 million in misappropriated funds, which were used to build a volleyball stadium at the University of Southern Mississippi, which is his alma mater and the school where his daughter played volleyball. He has since paid the money back. Meanwhile, the family of Ted DiBiase, a former WWE wrestler who fought as the Million Dollar Man and now operates a Christian ministry called Heart of David, received more than $10 million in welfare funds. The money went to Ted and his two ex-wrestler sons, Teddy Jr. and Brett, and their various companies.
The pastor of a New Orleans church has been charged with money laundering. According to court documents, the charge relates to the electronic transfer of approximately $100,000 from a bank account to an individual investment account in Rev. Charles Southall III's name. Court documents did not speculate where the money may have come from but called for Rev. Southall to forfeit approximately $100,000 held in a J.P. Morgan investment account as well as a 2017 Mercedes Benz sedan. The charging document shows the transfer occurred in March 2020, around the time several executives of a defunct bank with which Southall had connections were indicted for fraud.
The student pastor at a South Carolina church has been placed on administrative leave after reportedly giving out stickers to students that read "i (heart) hot youth pastors." The stickers caught attention online after they appeared in a social media post from someone who claimed their 14-year-old sister had received the sticker from her 35-year-old youth pastor, who had given them out to students. Fairview Baptist Church, a Southern Baptist congregation in Greer, South Carolina, announced Oct. 9 its student pastor, Cory Wall, has been placed on administrative leave and will not be involved in student leadership while it conducts an investigation.
Access to MinistryWatch content is free.  However, we hope you will support our work with your prayers and financial gifts.  To make a donation, click here.
Elevation Church's worship group, Elevation Worship, is going on a West Coast tour, which includes stops in San Diego, Las Vegas, Oakland, Sacramento, Seattle, and Los Angeles. Called "Elevation Nights," the tour will feature appearances from Elevation Church senior pastor Steven Furtick. "It's gonna be me, Holly, Elevation Worship…Unbelievable, these nights," Furtick said as he stood alongside his wife, Holly Furtick, in a promotional video. Many have expressed excitement that Elevation Worship, an award-winning musical collective whose songs are used in church worship services around the nation every weekend, is coming to a city near them. However, after attempting to purchase tickets, some have been left reeling from sticker shock.
Let me get a bit controversial and talk about why we should consider paying church, ministry, and nonprofit leaders more money. In my opinion, we need to evolve from the idea that the mission is all that matters, and people who are called are there because of bigger purposes than a mere salary.Yes – some of that is true. Obviously a pastor, ministry or nonprofit leader is primarily there because of the mission, but when is that an excuse not to pay them what they're worth?
Brian and Bobbie Houston, former leaders of Hillsong Church based in Sydney, Australia, will be holding an event called "An Evening with Bobbie and Brian" in Sydney on Wednesday, Nov. 9. The event will take place shortly before Brian Houston is scheduled to appear in court to face charges that he concealed his father's sexual abuse. "An Evening with Bobbie and Brian" will take place at the Pioneer Theater in Castle Hill, a suburb of Sydney. Brian Houston, who resigned as global senior pastor of Hillsong Church earlier this year, said in the video that the initial announcement about the event (which is free and was scheduled for 7 p.m. AEDT) was met with such enthusiasm that available seats were filled in under two hours. As a result, organizers changed the time to 7:30 p.m. and added another slot at 5:30 p.m.
A former youth pastor from New York has been sentenced to more than a decade in prison for the sexual abuse of a Missouri teenager in 2013. Jesse Vargas, now 38, met Molly Rodgers of St. Louis at a religious camp in Michigan where he worked when she was 11 years old. He had sexual contact with her four years later when she was 15 and he was 29, officials said. At the sentencing Sept. 29, the victim said Vargas "played with my family and I like frogs in a pot" over the course of the four years she knew him, "slowly increasing the temperature of his manipulation until we each were unaware of the water we had been submerged in, let alone its suddenly scalding temperature."
Although public information on The Lodge Retreat Center has lessened since the public announcement in September 2021, updated photos shared with MinistryWatch show that construction is underway on Alabama's Church of the Highlands Grants Mill campus. The Lodge, funded by the church's Legacy donations, is a $4.5 million retreat center where pastors, leaders, and their families will be, according to an original pamphlet, "mentored, counseled, refreshed, and restored." The program is the vision of Highlands Senior Pastors Chris Hodges and Dino Rizzo. Both are co-founders of the Association of Related Churches (ARC). The project sparked concern over how Highlands and ARC reinstate morally-fallen pastors to the pulpit with seemingly minimal consequences.
Steve Greisen, a Christian filmmaker and veteran of the Jesus movement's 1970s-era music scene, was arrested last month in Colorado Springs following "a summer long collaborative effort to identify and arrest child sexual predators" involving local and federal investigators. The Gazette reported the arrests on Oct. 1. Greisen, 68, has operated two film companies in Monument, a small town north of Colorado Springs. Greisen was among 12 men arrested following investigations coordinated by the Colorado Springs Police Department and El Paso County Sheriff's Office joint Internet Crimes Against Children Unit and Special Agents from the U. S. Dept. of Homeland Security.
A Dallas-area church with more than 6,500 members said it will disaffiliate with the United Methodist Church and will remain independent while it investigates alliances with other Methodist denominations. Senior Pastor Arthur Jones of St. Andrew United Methodist Church of Plano, along with Kathy King, chair of the church's executive committee, said in a post on the church's website that founding pastor Robert Hasley began to consider disaffiliation "years ago" and asked a group of lay leaders to "monitor the inevitable fragmenting of the United Methodist Church."