Weekly Review

2020 Giving Increases, Kay Warren, ECFA Database Changes, and How To Read A Form 990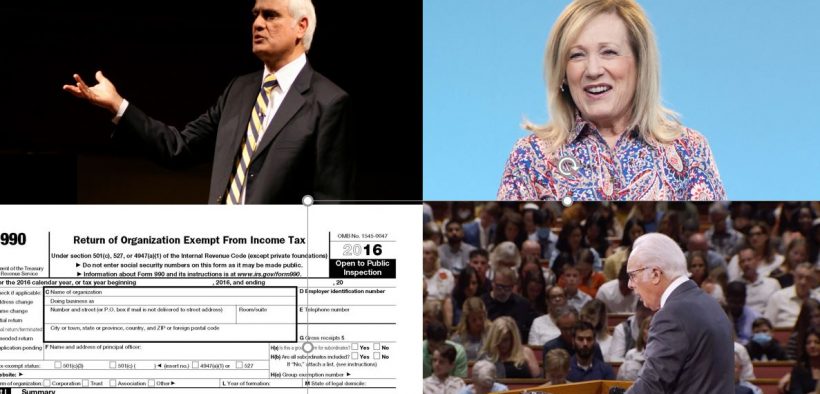 Giving Increases Despite Pandemic.  A global pandemic and near historic unemployment hasn't put a damper – yet – on charitable giving.  It increased by almost 7.5 percent during the first half of 2020, compared to the first half of 2019, according to data in the Fundraising Effectiveness Project's 2020 Second Quarter Report.  The Non-Profit Times reports: "A 19.2-percent increase in smaller donations (less than $250) during the second quarter was an important driver for this turnaround. The overall number of donors increased by 7.2 percent with new donors increasing by 12.6 percent, showing a renewed interest in supporting the work of nonprofits.  Giving during the first quarter of 2020 was 6 percent behind first quarter giving in 2019, and many charity officials were worried that the data didn't yet show the impact of the pandemic because COVID-19 had not spread significantly by the end of March."
How To Read A Form 990.  MinistryWatch is slowly learning a new trick during this Age of COVID, and that is the art of the on-line webinar.  We did a webinar a couple of weeks ago about my new book Faith-Based Fraud that was well received.  If you attended that webinar, thanks for being a part of it.  During that webinar I promised those in attendance a webinar in the near future on the topic of "How To Read a Form 990."  A Form 990 is a form that non-profit ministries have to fill out every year.  It has a lot of helpful information on it, and we here at MinistryWatch look at them just about every day.  In fact, we think ALL donors should examine a ministry's Form 990 before they donate to that ministry.  But a lot of donors have told me they don't even know where to find them, or what to look for once they do find them.  So we're going to do a free webinar on that topic.  This free webinar will take place on Wednesday, Oct.28, at 3 pm ET.  You can sign up here.
On Today's MinistryWatch Podcast.  Each week, Natasha Smith and I bring you news about Christian ministries, as well as the latest in charity and philanthropy, news that we examine from a Christian worldview perspective.  Our goal is to help us become better stewards of the resources God has entrusted to us.  On today's program, updates on previous stories involving Ravi Zacharias and John MacArthur.  We'll also have a story about a non-profit organization that provides alternative funding sources for African-American churches.  And the latest in our ongoing "Shining Light" series.  This week, a Denver, Colorado, ministry with ties to Southeast Asia.  You can hear the podcast on iTunes, Spotify, Stitcher, and other podcast apps, or you can simply click here.
Faith-Based Fraud.  Speaking of Faith-Based Fraud:  I did an interview about the book with the Pilgrim Radio Network's Bill Feltner.  You can hear that interview here.  You can also get a copy of the book by clicking here.
MinistryWatch Extra with Kay Warren.  On this week's MinistryWatch Extra podcast, a special presentation of my conversation with Kay Warren. Kay Warren, the co-founder of Saddleback Church with her husband, Rick, is a speaker, best-selling author, and Bible teacher.  She is perhaps best known as an advocate for those living with mental illness and HIV & AIDS.  Following the death of her son Matthew by suicide, in 2013, Kay became an advocate for suicide prevention, and she serves on the board of the National Action Alliance for Suicide Prevention.  It was one year ago this week that Kay spoke about both her own sexual abuse and the death of her son by suicide at the Caring Well conference hosted by the Southern Baptist Convention.  I was at that conference and recorded this week's conversation. Little did I know then that the issues we discuss would become even more pressing in the year ahead.  Here at MinistryWatch, we've had to report on the suicide of at least two high-profile pastors, and the mental health concerns of many others – concerns exacerbated by the COVID crisis.  Plus, the sexual abuse crisis has not abated.  This Caring Well conference was supposed to be a turning point in the way the church deals with sexual abuse, and maybe it was, but that hasn't stopped stories from hitting the news, stories that in the past year alone have involved more scandals in Southern Baptist churches, plus prominent organizations such as Ravi Zacharias International Ministries, Wheaton College, Cedarville University, and Mercy Corps.  It's important to note that these are not fringe organizations. These are organizations that are at the very heart of evangelical culture.  To pretend that this is someone else's problem – such as the Boy Scouts, or the Catholic Church — is a position that is no longer tenable.  All of this is why my conversation with Kay is more relevant today than ever.  You can hear that conversation here.
ECFA Changes.  The following organizations have had membership status changes in the Evangelical Council for Financial Accountability.  ADDITIONS:  Horizons International (Boulder, Colo.), Teamwork City of Hope (Martinsville, Va.), Alianza Cristiana y Misionera Distrito de Puerto Rico (Sabana Hoyos, P.R.), Pregnancy Help Center of Concho Valley (San Angelo, Tex.), Teen Challenge North Carolina Adolescent Program (Conover, N.C.), Victory Ministries of Alaska (Wasilla, Ak.), Children Rescue Mission (Redding, Calif.)  REMOVALS: None