MinistryWatch's Top 10 Stories for the Month of November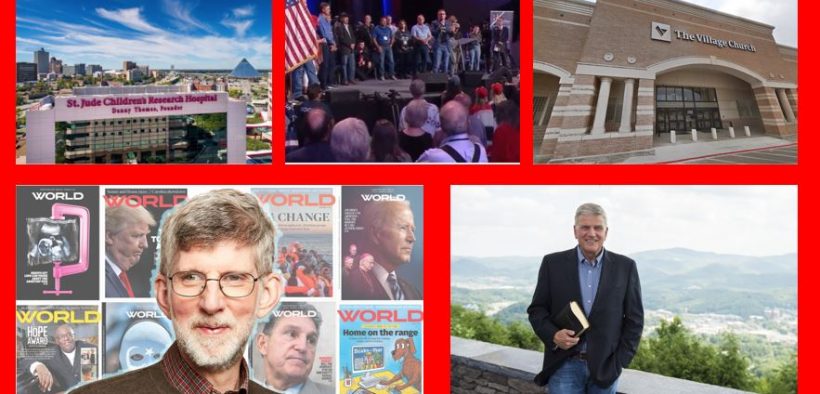 The following stories had the most page views at the MinistryWatch website during the month of November. We present them here in a "countdown" format, from 10 to 1. The first few sentences of each story are reproduced below. To read the entire story, click on the link. To read the Top 10 stories of 2020, click here.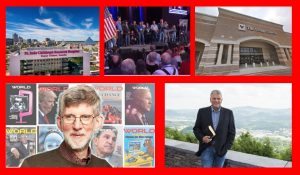 10. The Village Church Completes Transition Away from Multi-Site Model
In 2017, The Village Church in Flower Mound, Texas, led by Pastor Matt Chandler shifted directions. It determined to spin off its multi-site locations into independent congregations in a move it named "Multiply." In July of this year, the last of the sites became its own independent congregation. According to one of the lead pastors, Josh Patterson, The Village Church had become a large multi-site church, sometimes with 15,000 people attending services each weekend. "We spent a lot of time managing the complexities of the multi-site model," he told MinistryWatch in an interview. Transitioning allowed them to shift their focus "toward church planting and raising missionaries." But transitioning five locations into separate congregations was no small undertaking. Patterson described a complex process that involved identifying pastors, leadership, and membership for each congregation.
9. Ministries with a Negative Net Worth
This is a list of ministries in the MinistryWatch 1000 database that have a negative net worth. That means that the amount of their liabilities exceeds the value their assets. In most but not all cases, a ministry with a negative net worth is in a precarious situation. It means that the organization has financial obligations – usually debt or accounts payable – that it doesn't have the current ability to pay. A negative net worth is not always an indication of future trouble. Organizations that operate in a frugal manner might intentionally refrain from accumulating assets, and a temporary dip into negative territory could be a natural consequence of such a strategy. But even for these organizations, a negative net worth should be a temporary condition.
8. Indigenous Groups in Amazon Sue to Stop Missionaries from Illegal Visits
The vast Amazon basin has long drawn missionaries seeking to reach people who haven't yet heard the Gospel of Christ. The killing of Jim Elliott and four other missionaries in 1956 in Ecuador inspired decades of initiatives to remote and potentially dangerous villages. But now, missionaries working with New Tribes Mission Brazil and other groups are facing a formidable foe: indigenous groups backed by laws that protect small, isolated tribes from both pandemics and proselytizing.
7. Virginia Beach Megachurch Pastor Charged with Soliciting Minors Online for Sex
A Virginia Beach pastor was one of several men arrested after local police conducted a sting operation to catch suspects who thought they were chatting with minors online to solicit sex. The Chesterfield County Police arrested John Blanchard, 51, along with 16 other suspects who "communicated with people they believed to be underage members of our community and arranged to meet them at a location to have sexual relations," according to a news release quoted by the Virginian-Pilot. Blanchard and his wife Robin Blanchard are the senior pastors of the Rock Church in Virginia Beach.
6. Franklin Graham Undergoes Heart Surgery at Mayo Clinic
Evangelist Franklin Graham successfully underwent a specialized heart surgery to treat a condition which had developed in recent months, a spokesman said. Mark Barber, a spokesman for North Carolina-based Samaritan's Purse, said in a news release that Graham underwent the procedure at Mayo Clinic in Rochester, Minnesota. In recent months, according to the news release, the son of the late evangelist Billy Graham had developed constrictive pericarditis, inflammation, and hardening of the sac around the heart that compresses the heart and prevents it from working properly. The surgery involved removing the pericardium, the statement said. Graham's doctors expect a full recovery and assured him that he should be able to return to his normal activity and ministry schedule.
Access to MinistryWatch content is free.  However, we hope you will support our work with your prayers and financial gifts.  To make a donation, click here.
5. Alabama Pastor Arrested on Sodomy Charges
The former pastor of an Alabama church has been arrested on charges of sodomy. Danny Duane Pitts, age 58, of Hartselle, Alabama, was arrested Nov. 5 and charged with sodomy in the first and second degrees, according to a Facebook post made by the Hartselle Police Department. Pitts, who was formerly a pastor at GracePoint Church in Decatur, was indicted by the Morgan County Grand Jury, per Al.com. In August, News 19 reported that social media reports had been circulating alleging that a pastor at the church had "groomed and abused" individuals. One alleged victim, a former worship leader at the church, posted a video on TikTok detailing his abuse at the hands of the pastor, and said it brought responses from "dozens" of others who had similar experiences.
4. WORLD Magazine Editor-in-Chief Marvin Olasky Resigning over Media Nonprofit's New Direction
Longtime editor of WORLD Magazine Marvin Olasky has resigned, saying the media company's decision to launch an opinions section on its website without his backing was effectively a "vote of no confidence." Olasky, who has led the publication since 1994 as editor-in-chief, told the New York Times he is not interested in working at a "conservative opinion magazine." "There are lots out there already and that's not my vision of WORLD," he told the Times in a phone interview. Olasky handed in his resignation November 1 and said he plans to leave the organization in January after WORLD's annual Roe v. Wade issue.
3. San Antonio Rally Attracts a Who's Who of the New Christian Right
You don't come to the Rev. John Hagee's church only to hear about the amazing grace of God. On Nov. 13, a crowd packed the sanctuary of Cornerstone Church in San Antonio, Texas, to sing hymns to Jesus but also listen to a Who's Who of Christian nationalists, anti-vaxxers, Trump loyalists and conspiracy theorists tell President Biden to go to hell.
2. Maryland Gov Offers 100k for Information on Church Killing
Maryland Gov. Larry Hogan offered a $100,000 reward for information leading to the arrest and conviction of whoever is responsible for the death of an elderly woman in a Baltimore church. Hogan said he has directed the Maryland State Police and all state law enforcement agencies to assist the Baltimore Police Department with its investigation and to provide enhanced visibility patrols "in an all-hands-on-deck effort." The 69-year-old grandmother's death inside an East Baltimore church "has shaken city residents and community leaders to the core," Hogan, a Republican, said in a news release.
1. St. Jude Hoards Billions while Many of its Families Drain Their Savings
St. Jude is the largest and most highly regarded health care charity in the country. Each year, the Memphis hospital's fundraisers send out hundreds of millions of letters, many with heart-wrenching photographs of children left bald from battling cancer. Celebrities like Jennifer Aniston and Sofia Vergara sing the hospital's praises in televised advertisements…St. Jude makes a unique promise as part of its fundraising: "Families never receive a bill from St. Jude for treatment, travel, housing or food — because all a family should worry about is helping their child live." But for many families, treatment at St. Jude does not relieve all the financial burdens they incur in getting care for their children, including housing, travel and food costs that fall outside the hospital's strict limits, a ProPublica investigation has found.