Ministries With A Negative Net Worth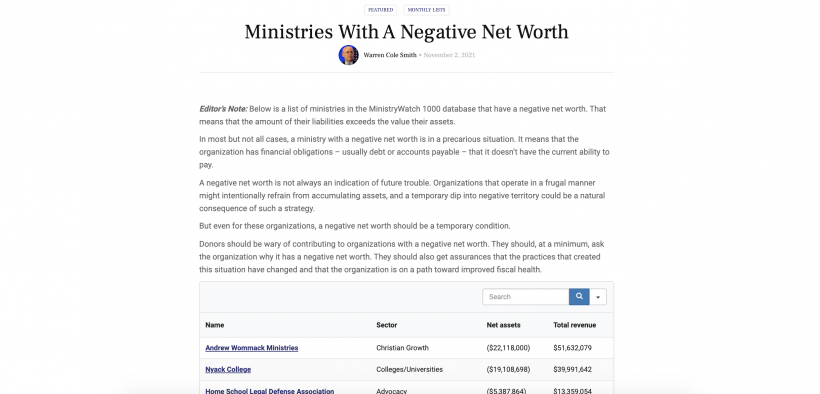 Editor's Note: Below is a list of ministries in the MinistryWatch 1000 database that have a negative net worth. That means that the amount of their liabilities exceeds the value their assets.
In most but not all cases, a ministry with a negative net worth is in a precarious situation. It means that the organization has financial obligations – usually debt or accounts payable – that it doesn't have the current ability to pay.
A negative net worth is not always an indication of future trouble. Organizations that operate in a frugal manner might intentionally refrain from accumulating assets, and a temporary dip into negative territory could be a natural consequence of such a strategy.
But even for these organizations, a negative net worth should be a temporary condition.
Donors should be wary of contributing to organizations with a negative net worth. They should, at a minimum, ask the organization why it has a negative net worth. They should also get assurances that the practices that created this situation have changed and that the organization is on a path toward improved fiscal health.
| Name | Sector | Net assets | Total revenue |
| --- | --- | --- | --- |
| Andrew Wommack Ministries | Christian Growth | ($22,118,000) | $51,632,079 |
| Nyack College | Colleges/Universities | ($19,108,698) | $39,991,642 |
| Home School Legal Defense Association | Advocacy | ($5,387,864) | $13,359,054 |
| Arrow Child & Family Ministries | Adoption/Foster Care | ($3,948,405) | $4,674,040 |
| Village Missions | Evangelism | ($2,132,889) | $7,337,957 |
| Group Cares | Community Development | ($1,074,150) | $5,617,937 |
| Sunday Breakfast Mission | Rescue Missions | ($925,579) | $5,767,340 |
| Trinity Rescue Mission | Rescue Missions | ($548,583) | $1,263,039 |
| YWAM Ships Kona | Foreign Missions | ($380,317) | $14,151,032 |
| Promise Keepers | Fellowship Evangelism | ($351,644) | $2,210,322 |