San Antonio Rally Attracts a Who's Who of the New Christian Right

A Texas megachurch was host to 'Stop the steal' and anti-vaccine rally — one in a series of events drawing crowds around the country.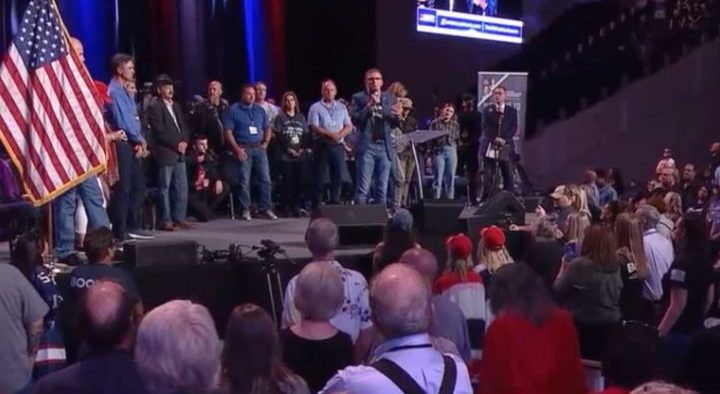 You don't come to the Rev. John Hagee's church only to hear about the amazing grace of God. On Saturday (Nov. 13), a crowd packed the sanctuary of Cornerstone Church in San Antonio, Texas, to sing hymns to Jesus but also listen to a Who's Who of Christian nationalists, anti-vaxxers, Trump loyalists and conspiracy theorists tell President Biden to go to hell.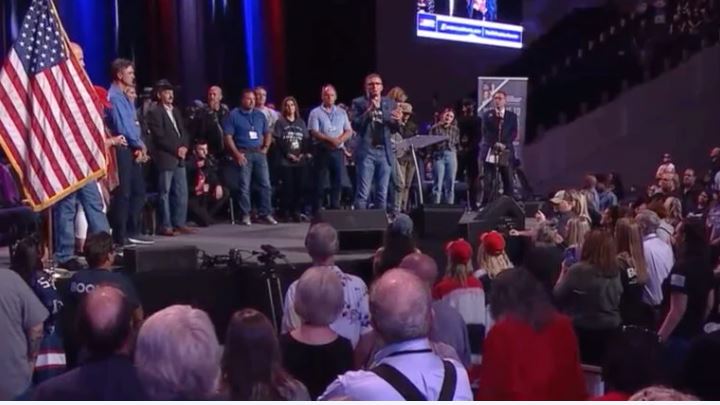 While it made headlines thanks to former Trump National Security Adviser Michael Flynn urging the United States to "embrace one religion," the three-day event and the latest stop of the "Reawaken America Tour," was remarkable in itself for its collection of election conspiracy theorists, such as My Pillow CEO Michael J. Lindell and Flynn, alongside Alex Jones of Info Wars and anti-vaxx champion Sherri Tenpenny.
Attendance was filled out by Q-Anon true believers and pro-Trump preachers and activists, all of whom periodically filled the air with chants of "Let's Go Brandon" — a workaround for an obscene anti-Biden chant. 
The Reawaken America tour — which began in Tulsa in the spring of 2021 and ends in mid-January in Phoenix — is organized by Clay Clark, host of the Thrivetime Show podcast.  
Speaking to the audience at Cornerstone, Flynn, who was subpoenaed last week by a House select committee investigating the Jan. 6 attack, said, "If we are going to have one nation under God, which we must, we have to have one religion. One nation under God, and one religion under God." 
Jones, who was found liable on Monday (Nov. 15) for damages for spreading misinformation about the Sandy Hook, Connecticut, school shooting, told a cheering crowd that the end-times prophecies of the Book of Revelation were playing out before their eyes and that they were living in the most important time on earth since Jesus walked the earth.
Jones added that he had come to Texas to interview Flynn and Patrick Byrne, the former CEO of Overstock.com, to lay out a "future blueprint of victory for America over the New World Order."
"We are going to stand in their way and we've got God on our side," he said from the church's stage. "God Bless you all. Thank you for being here. God wins. God wins."
Access to MinistryWatch content is free.  However, we hope you will support our work with your prayers and financial gifts.  To make a donation, click here.
Amanda Grace of Ark of Grace Ministries, which focuses on doling out online prophecies about current events, appeared onstage in a Jewish-themed prayer shawl to blow a ritual horn known as a shofar. The instrument, made from a ram's horn and traditionally used in Jewish worship, has become a staple of Pentecostal gatherings since being featured prominently in the Jericho March, a post-election protest held in the run-up to the Jan. 6 Capitol attack.
Grace told the gathering that the shofar was a "spiritual weapon" that played part in great biblical victories like the battle of Jericho, where the city's walls fell down after the shofar was blown over a series of seven days. When the shofar is sounded, she said, God's power is unleashed.
"It's an announcement to the enemy that his stronghold is about to fall," she said. "Demons tremble at the sound of the shofar."
The Reawaken America Tour was in many respects a reprise of Bards Fest, a smaller-scale event held in September at a drive-in movie and events space in St. Louis, which combined Christian worship, nationalist rhetoric, election conspiracies and COVID-19 vaccine resistance. As in St. Louis, Grace and other speakers were joined in San Antonio by Trump-backer and COVID-skeptic Greg Locke, a controversial Tennessee pastor recently banned from Twitter for sharing disinformation.
Locke has also spoken at similar Pentecostal-themed God and country, anti-mask and anti-vaxxer events, like America's Revival, held in Frisco, Texas, in August, where Lindell also promoted his election conspiracies. 
The worship music in San Antonio was led by Sean Feucht, a Christian singer and failed candidate for California's state legislature who has traveled the country during COVID-19, holding concerts that flaunt local COVID-19 restrictions.
A former worship leader at Bethel, a charismatic California megachurch whose leaders promoted prophecies about Trump's reelection and criticized the state's approach to the pandemic, Feucht posted video over the weekend of Jones shouting "God Wins" as well as a selfie with Flynn on his social media. 
Feucht is promoting a new movie called "Let Us Worship" that opens with news clips about the pandemic followed by images of worship events at a Nashville courthouse, on a beach, from a Portland, Oregon, park and the streets of Minneapolis. 
"There's a remnant rising across America," Feucht posted on social media, with his arm around Flynn.