MinistryWatch's Top 10 Stories for the Month of January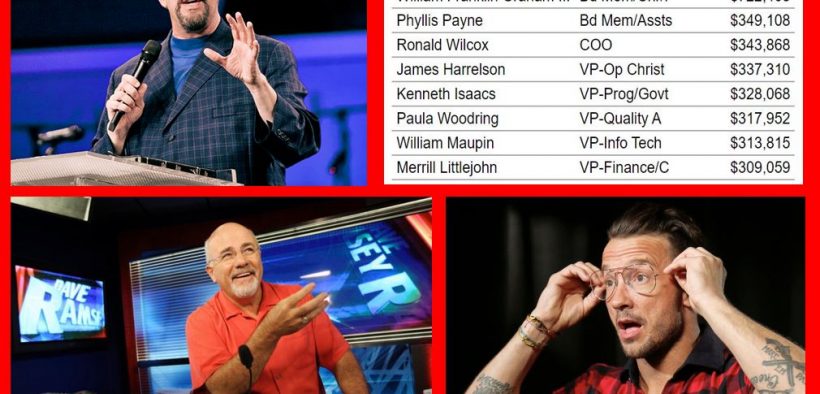 The following stories had the most page views at the MinistryWatch website during the month of January.  We present them here in a "countdown" format, from 10 to 1.  The first few sentences of each story are reproduced below.  To read the entire story, click on the link.  To read the Top 10 stories of 2020, click here.
10.  Televangelist Perry Stone Acted Inappropriately With Female Employee
Perry Stone has been a steady presence on Christian television networks for the past decade.  But in recent months, he has not been a steady presence in his own ministry.  His Cleveland, Tennessee-based ministry, Voice of Evangelism, announced in July that he had taken a leave of absence after admitting that he had acted inappropriately with female employees.  (Editor's Note:  This story was originally published in September.)
9.  MinistryWatch Adds Compensation Data To Ministry Profiles
MinistryWatch has added salary information for 2,865 senior leaders to the profiles of its database.  These salaries come from the Form 990s of 558 ministries.  "This salary information will help donors make informed decisions about the ministries they want to support," said MinistryWatch President Warren Cole Smith.  "This new feature is another indication of our commitment to bring increased transparency and accountability to the ministry marketplace."
8.  Ministries That Acquired Jets in 2020
The Dallas-based Trinity Foundation has compiled this list of jets either acquired by or registered by Christian ministries in 2020.  Trinity Foundation compiled this list by searching the Federal Aviation Administration (FAA) aircraft registry as part of an in-depth investigation into ministry travel expenses.  The goal of this research is to equip donors with financial information so they can practice wise stewardship in their charitable giving.  Christian ministries acquired at least ten jets in 2020. Once a jet is purchased, the Federal Aviation Administration requires the aircraft be certified. After the certification process is complete, the aircraft is listed in the FAA registry.
Access to MinistryWatch content is free.  However, we hope you will support our work with your prayers and financial gifts.  To make a donation, click here.
7.  Southern Baptists After Critical Race Theory Document Causes Controversy
Southern Baptist Convention officials admitted it would have been better if they'd contacted Black leaders of their denomination before issuing a statement decrying critical race theory, which led to the departure of several Black pastors.  In response to weeks of reaction to the statement and a request for a meeting from the SBC's National African American Fellowship, the denomination's seminary presidents and fellowship leaders met on Wednesday (Jan. 6).
6.  When Money and Ministry Collide:  Inside Dave Ramsey's Empire
Dave Ramsey has spent the past three decades trying to build what he calls the best place to work in America.  But inside the company's $42 million headquarters, which opened in 2019 in Franklin, Tenn., Ramsey's orchestration of what he calls a "predictable and reliable and safe and godly" company has been under stress from COVID-19, and Ramsey demands unquestioning loyalty.  Ramsey's intolerance for dissent has created what former employees call a cult-like environment, where leaders proclaim their love for staff and then fire people at a moment's notice.  Ramsey Solutions, former employees and their spouses say, is run more like a church than a business. A review of court documents, company emails and recordings of staff meetings backs up these sources' claims that company leaders attempt to exert control over employees' personal lives.
5.  Hillsong Dallas Pastors Resign
The lead pastors of Hillsong Dallas church have resigned, adding to two months of transition and turmoil in the global megachurch.  On Sunday (Jan. 3), Reed Bogard announced his and his wife's resignation in a prerecorded message that aired during the church's streaming worship service.  "The last 10 years of being in church planting mode has really taken a bit of a toll on Jess and I and our family," Bogard said. "We just really feel like it's time to transition off of our staff and take some time. Remain healthy, get healthy, and really see what this next season holds for us."
4.  Ministry Leaders React To Capitol Mob
As a mob of supporters of President Donald Trump stormed the U.S. Capitol on Wednesday (Jan. 6), American religious leaders reacted quickly to a chaotic and unprecedented scene.
From succinct prayers to calls for Trump to ask the rioters to halt, the faith leaders' statements mostly appealed for unity. But some who have affirmed the current president expressed their support for protesters they considered to be peaceful or made unsubstantiated claims that members of the mob might be related to far-left leaning militants of the antifa movement.
3.  The Way Back for Ravi Zacharias International Ministries
Ravi Zacharias International Ministries (RZIM) has a big mess on its hands.
In 2017, MinistryWatch was one of the first organizations to raise questions about Ravi Zacharias and Ravi Zacharias International Ministries.  We raised concerns about sexual misconduct by Zacharias.  We questioned his educational credentials.  Since then, we and other media organizations have expressed concern that RZIM does not release its Form 990s to the public, thereby creating an environment of secrecy.  We have also questioned the senior leadership roles of Zacharias family members in the ministry.
2.  Charismatics At War Over Failed Trump Prophesies
A day of reckoning has come for modern-day "prophets" in the Pentecostal/charismatic movement who falsely foretold a victory for President Trump in 2020.  One charismatic leader calls it a "rebuke from the Lord."  A major speaker in the movement calls it "the largest scale deception I've seen in 49 years of following Jesus."  And yet another pastor is blasting parts of the movement as being "sick."  Privately and on social media, these prophets and their thousands of followers are slugging it out in an orgy of self-blame, recriminations, and fantastical hopes that somehow before Jan. 20, God will bring about a victory for Trump.
The information was derived from the Form 990 prepared by the ministry itself.  We are not calling this list the "Highest Paid Christian Ministry Executives" because we know that many pastors and other church leaders who might make more are not on this list, because churches are not required to make their Form 990s available to the public.  It's also important to note some differences between this year's list and last year's list.  Last year's list included only about 50 executives.  This year, we expanded the list to 100 executives.  We made this change for a variety of reasons, but the main reason was this:  The MinistryWatch database has enlarged significantly in the past year — from 450 ministries to 750 ministries.  We had much more data, so we wanted to pass along some of that new information to you.