Monthly List – January 2021 – 100 Highly Paid Ministry Executives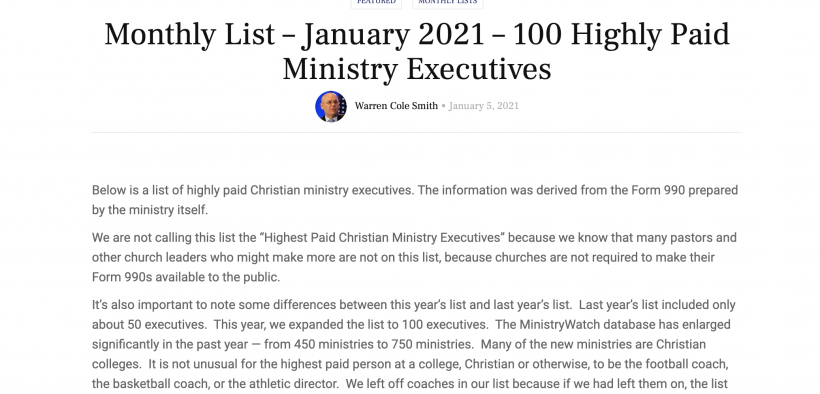 Below is a list of highly paid Christian ministry executives. The information was derived from the Form 990 prepared by the ministry itself.
We are not calling this list the "Highest Paid Christian Ministry Executives" because we know that many pastors and other church leaders who might make more are not on this list, because churches are not required to make their Form 990s available to the public.
It's also important to note some differences between this year's list and last year's list.  Last year's list included only about 50 executives.  This year, we expanded the list to 100 executives.  We made this change for a variety of reasons, but the main reason was this:  The MinistryWatch database has enlarged significantly in the past year — from 450 ministries to 750 ministries.  We had much more data, so we wanted to pass along some of that new information to you.
Another important note concerns colleges and universities on our list.  It is not unusual for the highest paid person at a college, Christian or otherwise, to be the football coach, the basketball coach, or the athletic director.  We left off coaches in our list because if we had left them on, the list would be dominated by them.
A third important note is this:  MinistryWatch has identified a growing and disturbing trend among Christian ministries to identify as churches and thereby withhold their Form 990s. (For more on this topic, click here.)   Large Christian ministries that have made this election include: CRU/Campus Crusade for Christ, The Navigators, Gideons International, Wycliffe Associates, Willow Creek Association, Billy Graham Evangelistic Association, Joyce Meyer Ministries, and Ethnos360/New Tribes Mission. In addition, many megachurches and their related radio and television ministries. These organizations and individuals include: Joel Osteen, David Jeremiah, Benny Hinn, Creflo Dollar, and Kenneth Copeland.
A word about timing: This information comes from the most recent Form 990 available on Guidestar.org, Charity Navigator, Pro Publica, and other sources. For some ministries the most recent year available was 2017. For most ministries, the most recent year available was 2018 or 2019.  That means that some people on this list are no longer in their positions.  That is why in this year's list we have included the fiscal year-end date for each ministry.
It's also important to note that in the case of Franklin Graham, only his Samaritan's Purse compensation is listed. He also serves as president of the Billy Graham Evangelistic Association and (for the reason cited above) we were not able to determine what compensation he receives from BGEA.
In the case of the Inspiration Networks:  Some executives receive their salaries from a for-profit subsidiary.  The for-profit subsidiary, INSP LLC, is wholly owned by the non-profit organization The Inspirational Networks, Inc.
| Rank | Person name | Title | Organization name | Period ending | Salary | Other Comp | Total Comp |
| --- | --- | --- | --- | --- | --- | --- | --- |
| 1 | David Cerullo | President & CEO | The Inspiration Networks | 12/31/2018 | $481,490 | $2,768,508 | $3,249,998 |
| 2 | Dale Ardizzone | General Counsel | The Inspiration Networks | 12/31/2018 | $0 | $1,739,794 | $1,739,794 |
| 3 | Marc Favaro | Former Officer | The Inspiration Networks | 12/31/2018 | $0 | $1,722,687 | $1,722,687 |
| 4 | Nido Qubien | President | High Point University | 5/31/2019 | $1,147,225 | $504,845 | $1,652,070 |
| 5 | Michael Novak | CEO | Educational Media Foundation (K-Love) | 12/31/2019 | $1,228,701 | $3,387 | $1,232,088 |
| 6 | Larry Arnn | President | Hillsdale College | 6/30/2019 | $990,498 | $93,706 | $1,084,204 |
| 7 | Jerry Falwell Jr. | Chancellor/President | Liberty University | 6/30/2018 | $1,010,087 | $57,243 | $1,067,330 |
| 8 | Andrew Benton | President & CEO | Pepperdine University | 7/31/2018 | $574,154 | $360,326 | $934,480 |
| 9 | Colby May | Director | Trinity Broadcasting Network | 12/31/2018 | $891,815 | $0 | $891,815 |
| 10 | Yechiel Eckstein | President & CEO | International Fellowship of Christians & Jews | 12/31/2018 | $710,418 | $164,821 | $875,239 |
| 11 | Matthew Crouch | President | Trinity Broadcasting Network | 12/31/2018 | $670,457 | $192,677 | $863,134 |
| 12 | Hal Lindsey | President | Hal Lindsey Website Ministries | 12/31/2018 | $750,000 | $110,000 | $860,000 |
| 13 | Randall Smith | EVP & COO | Liberty University | 6/30/2018 | $812,738 | $40,365 | $853,103 |
| 14 | Randy Lowry III | President | Lipscomb University | 5/31/2019 | $721,829 | $112,924 | $834,753 |
| 15 | Ronald Ellis | President | California Baptist University | 6/30/2019 | $756,387 | $66,309 | $822,696 |
| 16 | Kevin Washington | President and CEO | YMCA of the USA | 12/31/2019 | $733,130 | $53,008 | $786,138 |
| 17 | Franklin Graham | President | Samaritan's Purse | 12/31/2019 | $661,199 | $61,204 | $722,403 |
| 18 | Rick Marrs | Provost | Pepperdine University | 7/31/2018 | $410,535 | $289,723 | $700,258 |
| 19 | Shawn Nicholson | Former Officer | The Inspiration Networks | 12/31/2018 | $0 | $691,965 | $691,965 |
| 20 | Roy Brian Webb | Vice President | Baylor University | 5/31/2018 | $633,536 | $46,765 | $680,301 |
| 21 | Linda Livingstone | President | Baylor University | 5/31/2018 | $515,555 | $153,281 | $668,836 |
| 22 | Michael Adams | Chancellor | Pepperdine University | 7/31/2018 | $428,409 | $236,701 | $665,110 |
| 23 | Randal O'Rear | President | University of Mary Hardin-Baylor | 5/31/2018 | $519,137 | $131,312 | $650,449 |
| 24 | Mark Kang | Former Officer | The Inspiration Networks | 12/31/2018 | $0 | $641,211 | $641,211 |
| 25 | Paul McEntire | EVP & COO | YMCA of the USA | 12/31/2019 | $584,130 | $51,325 | $635,455 |
| 26 | Adam Wright | President | Dallas Baptist University | 5/31/2019 | $532,174 | $100,735 | $632,909 |
| 27 | John Russo | Former Officer | The Inspiration Networks | 12/31/2018 | $0 | $619,202 | $619,202 |
| 28 | Gordon Robertson | CEO | Christian Broadcasting Network | 3/31/2019 | $581,991 | $29,668 | $611,659 |
| 29 | Richard Stearns | President Emeritus | World Vision | 9/30/2019 | $501,854 | $105,731 | $607,585 |
| 30 | Lee Royce | Former President | Mississippi College | 5/31/2019 | $582,353 | $18,944 | $601,297 |
| 31 | Daniel Martin | President | Seattle Pacific University | 6/30/2018 | $383,290 | $208,952 | $592,242 |
| 32 | Barry H Corey | President | Biola University | 6/30/2018 | $504,312 | $85,044 | $589,356 |
| 33 | Charles Pippin | SVP & CIO | Pepperdine University | 7/31/2018 | $440,447 | $141,578 | $582,025 |
| 34 | Jon Wallace | President | Azusa Pacific University | 6/30/2019 | $402,653 | $169,500 | $572,153 |
| 35 | Gary Hanson | EVP & COO | Pepperdine University | 7/31/2018 | $344,500 | $225,154 | $569,654 |
| 36 | Robert Sloan | President | Houston Baptist University | 5/31/2019 | $550,516 | $16,523 | $567,039 |
| 37 | Carlos Campo | President | Ashland University | 5/31/2018 | $449,762 | $115,941 | $565,703 |
| 38 | Gary Cook | Chancellor | Dallas Baptist University | 5/31/2019 | $441,109 | $119,496 | $560,605 |
| 39 | L Gregory Jones | EVP | Baylor University | 5/31/2018 | $522,871 | $29,541 | $552,412 |
| 40 | Thomas Minaghan | Sr. Counsel | American Center for Law and Justice | 3/31/2019 | $514,376 | $29,544 | $543,920 |
| 41 | Charles Stanley | President | In Touch Ministries | 9/30/2019 | $530,255 | $12,767 | $543,022 |
| 42 | Philip G Ryken | President | Wheaton College | 6/30/2019 | $371,617 | $167,563 | $539,180 |
| 43 | Theron Andrew Westmoreland | President | Samford University | 6/30/2019 | $354,744 | $183,380 | $538,124 |
| 44 | Jairy C Hunter Jr | President | Charleston Southern University | 5/31/2018 | $496,424 | $41,241 | $537,665 |
| 45 | Roger Parrott | President | Belhaven University | 6/30/2019 | $423,405 | $110,210 | $533,615 |
| 46 | Reagan Ramsower | SVP & COO | Baylor University | 5/31/2018 | $477,129 | $50,668 | $527,797 |
| 47 | John Cervini | Vice President | Hillsdale College | 6/30/2019 | $469,165 | $57,820 | $526,985 |
| 48 | Keith Woodard | Former Officer | The Inspiration Networks | 12/31/2018 | $0 | $518,347 | $518,347 |
| 49 | Neal Keny-Guyer | CEO | Mercy Corps | 6/30/2019 | $473,219 | $41,374 | $514,593 |
| 50 | Kevin Lutz | SVP & CIO | YMCA of the USA | 12/31/2019 | $464,522 | $49,973 | $514,495 |
| 51 | David Garland | Interim President | Baylor University | 5/31/2018 | $394,646 | $113,741 | $508,387 |
| 52 | Cris Doornbos | CEO | David C. Cook | 5/31/2019 | $491,353 | $16,791 | $508,144 |
| 53 | Kent Ingle | President | Southeastern University | 5/31/2019 | $301,275 | $206,216 | $507,491 |
| 54 | Evans P Whitaker | President | Anderson University | 5/31/2019 | $452,176 | $48,114 | $500,290 |
| 55 | Alan Mason | President | Educational Media Foundation (K-LOVE) | 12/31/2019 | $466,368 | $33,239 | $499,607 |
| 56 | Yael Eckstein-Farkas | EVP | International Fellowship of Christians and Jews/ Rabbi Yechiel Eckstein | 12/31/2018 | $413,036 | $83,511 | $496,547 |
| 57 | Jaqueline Gordon | EVP | YMCA of the USA | 12/31/2019 | $441,760 | $49,716 | $491,476 |
| 58 | Robert McPhee | Former Officer | The Inspiration Networks | 12/31/2018 | $0 | $487,688 | $487,688 |
| 59 | Robert Brace | CFO | The Inspiration Networks | 12/31/2018 | $0 | $487,038 | $487,038 |
| 60 | Bruce Wilkinson | President & CEO | Catholic Medical Mission Board | 9/30/2018 | $419,205 | $66,145 | $485,350 |
| 61 | Edgar Sandoval | President | World Vision | 9/30/2019 | $419,343 | $65,159 | $484,502 |
| 62 | Jerry Davis | President | College of the Ozarks | 5/31/2019 | $435,313 | $41,525 | $476,838 |
| 63 | Santiago H Mellado | President & CEO | Compassion International | 6/30/2019 | $419,184 | $57,634 | $476,818 |
| 64 | Pierre Ferrari | CEO | Heifer Project International | 6/30/2019 | $443,745 | $29,553 | $473,298 |
| 65 | J. Bradley Creed | President | Campbell University | 5/31/2019 | $441,902 | $28,850 | $470,752 |
| 66 | Robin G Mahfood | President & CEO | Food For The Poor | 12/31/2018 | $445,463 | $24,191 | $469,654 |
| 67 | Michael Farris | President & CEO | Alliance Defending Freedom | 6/30/2019 | $432,840 | $25,980 | $458,820 |
| 68 | Newton Crenshaw | President & CEO | Young Life | 9/30/2019 | $399,765 | $58,553 | $458,318 |
| 69 | Dave Rosselli | Vice President | Baylor University | 5/31/2018 | $408,654 | $49,370 | $458,024 |
| 70 | Rexella Van Impe | Secretary | Jack Van Impe Ministries | 12/31/2019 | $298,756 | $156,384 | $455,140 |
| 71 | Roy L Peterson | President & CEO | American Bible Society | 6/30/2019 | $389,777 | $64,116 | $453,893 |
| 72 | Samuel Hinkle | SVP | Pepperdine University | 7/31/2018 | $253,848 | $199,992 | $453,840 |
| 73 | Chris Holmes | General Counsel | Baylor University | 5/31/2018 | $347,733 | $104,354 | $452,087 |
| 74 | Phillip Bowen | CEO | In Touch Ministries | 9/30/2019 | $438,900 | $10,250 | $449,150 |
| 75 | Philip Schubert | President | Abilene Christian University | 5/31/2019 | $331,018 | $117,989 | $449,007 |
| 76 | George Mamo | COO | International Fellowship of Christians and Jews/ Rabbi Yechiel Eckstein | 12/31/2018 | $356,110 | $91,347 | $447,457 |
| 77 | Deryck Janse Van Rensburg | Dean | Pepperdine University | 7/31/2018 | $436,114 | $10,761 | $446,875 |
| 78 | Jack Rich | President | Abilene Christian University | 5/31/2019 | $395,855 | $44,081 | $439,936 |
| 79 | Alan Sears | Founder | Alliance Defending Freedom | 6/30/2019 | $404,395 | $33,880 | $438,275 |
| 80 | William Horan | COO | Operation Blessing | 3/31/2019 | $414,638 | $20,718 | $435,356 |
| 81 | Cary Summers | Chief Relationship Officer | Museum of the Bible | 6/30/2019 | $406,981 | $27,887 | $434,868 |
| 82 | Paul McNulty | President | Grove City College | 6/30/2019 | $365,676 | $66,851 | $432,527 |
| 83 | John Kauffman | Dean | Campbell University | 5/31/2019 | $403,104 | $29,060 | $432,164 |
| 84 | Anna Goddard | President | ChildFund / Christian Children's Fund | 6/30/2019 | $375,000 | $56,897 | $431,897 |
| 85 | John Casoria | Asst. Secretary | Trinity Broadcasting Network | 12/31/2018 | $429,972 | $0 | $429,972 |
| 86 | William Fleming | President | Palm Beach Atlantic University | 6/30/2019 | $394,902 | $34,852 | $429,754 |
| 87 | James Ackerman | President & CEO | Prison Fellowship Ministries | 6/30/2019 | $392,700 | $35,812 | $428,512 |
| 88 | Robin Baker | President | George Fox University | 6/30/2019 | $386,874 | $39,116 | $425,990 |
| 89 | Henry Rush | President & CEO | Star of Hope Mission | 12/31/2019 | $395,182 | $28,941 | $424,123 |
| 90 | Paul Lasiter | VP & CFO | Pepperdine University | 7/31/2018 | $240,435 | $183,577 | $424,012 |
| 91 | Nancy L Owens | SVP | YMCA of the USA | 12/31/2019 | $374,725 | $48,958 | $423,683 |
| 92 | Kim S Phipps | President | Messiah University | 6/30/2018 | $345,597 | $75,868 | $421,465 |
| 93 | D Michael Lindsay | President | Gordon College | 6/30/2018 | $348,410 | $72,199 | $420,609 |
| 94 | William M Wilson | President | Oral Roberts University | 4/30/2019 | $302,166 | $117,524 | $419,690 |
| 95 | Rebecca Bowen | EVP | YMCA of the USA | 12/31/2019 | $369,719 | $48,902 | $418,621 |
| 96 | Hal Donaldson | President | Convoy of Hope | 12/31/2019 | $368,516 | $48,360 | $416,876 |
| 97 | Dale Lunsford | President | LeTourneau University | 6/30/2019 | $384,329 | $30,599 | $414,928 |
| 98 | Mark Howe | Vice President | California Baptist University | 6/30/2019 | $355,250 | $53,486 | $408,736 |
| 99 | Jonathan Reckford | CEO | Habitat for Humanity International | 6/30/2019 | $361,442 | $46,955 | $408,397 |
| 100 | Deanell Tacha | Dean Emeritus | Pepperdine University | 7/31/2018 | $376,969 | $30,300 | $407,269 |