MinistryWatch Adds Compensation Data To Ministry Profiles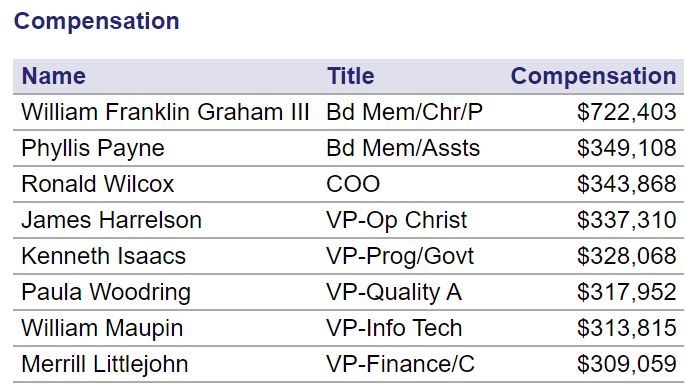 MinistryWatch has added salary information for 2,865 senior leaders to the profiles of its database.  These salaries come from the Form 990s of 558 ministries.
"This salary information will help donors make informed decisions about the ministries they want to support," said MinistryWatch President Warren Cole Smith.  "This new feature is another indication of our commitment to bring increased transparency and accountability to the ministry marketplace."
Rusty and Carol Leonard began MinistryWatch in 1998.  Investors and philanthropists themselves, they were frustrated by the lack of information about Christian ministries available to donors.  MinistryWatch began as a way to present key financial information about the 500 largest Christian ministries in the country.  MinistryWatch has expanded to include investigative stories, as well as breaking news on ministries, charity, and philanthropy.
Since MinistryWatch's founding, millions of donors, journalists, ministry leaders, and others have used the information.  The site had 1.5-million page views in 2020 alone.
The MinistryWatch database has expanded to include more than 750 Christian ministries, representing more than $30-billion in annual charitable donations.  Each ministry profile includes five years of financial information, plus MinistryWatch's Financial Efficiency Rating and Transparency Grade.
Access to MinistryWatch content is free.  However, we hope you will support our work with your prayers and financial gifts.  To make a donation, click here.
(To see how MinistryWatch calculates its Financial Efficiency Rating, click here.  To see how we determine a Transparency Grade, click here.)
"The database's ministry profiles were already robust resources for donors," Smith said.  "Now, with this salary information, we hope donors will be both better equipped to make giving decisions, and more bold about asking questions to the leaders of their favorite ministries.  Restoring credibility to the Christian ministry marketplace is not up to MinistryWatch alone.  It is up to each individual donor to be a good steward.  But, in the aggregate, Christian donors have great power to create positive change in the ministry world."
Editor's Note:  To see the compensation information, go to the ministry profile and scroll down.  It is immediately below "Change in Net Assets" portion of the profile.