MinistryWatch's Top 10 Stories for the Month of February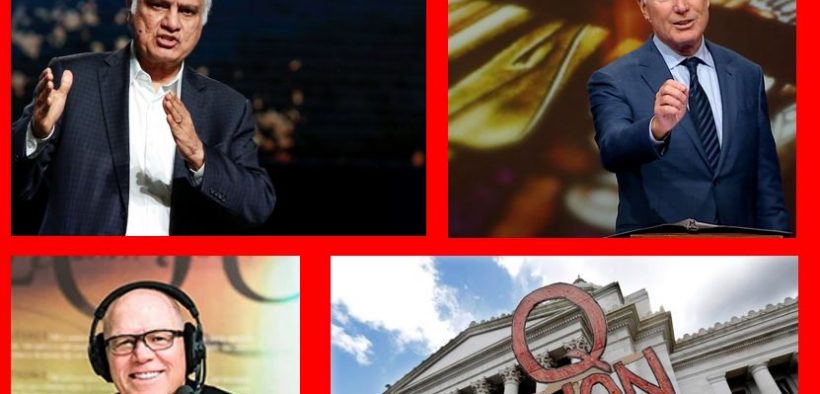 The following stories had the most page views at the MinistryWatch website during the month of February.  We present them here in a "countdown" format, from 10 to 1.  The first few sentences of each story are reproduced below.  To read the entire story, click on the link.  To read the Top 10 stories of 2020, click here.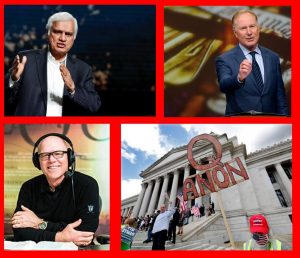 10. Survey: A Quarter of White Evangelicals Believe QAnon Conspiracy Theory
A new survey by the American Enterprise Institute says more than a quarter of white evangelical Protestants believe a QAnon conspiracy theory that purports former President Donald Trump is secretly battling a cabal of pedophile Democrats. Roughly half express support for the false claim that antifa was responsible for the recent insurrection at the U.S. Capitol. However, the survey was based on self-identification, with no definition of what "evangelical" means.
9. Southern Baptist Convention Puts Atlanta Church on Notice for Welcoming LGBTQ Members
After extending church membership to a gay couple and their three children, Senior Pastor Jim Conrad of Kennesaw, Georgia's, Towne View Baptist Church received an email from the Southern Baptist Convention credentials committee questioning the church's "decision to extend membership to practicing LGBTQ congregants," The Atlanta Journal Constitution reported. The church was then told in a Feb. 8 letter from the committee that its actions were "not in friendly cooperation with the convention."
Access to MinistryWatch content is free.  However, we hope you will support our work with your prayers and financial gifts.  To make a donation, click here.
8. Pastors at the Capitol on Jan. 6 Face Consequences, Defend Actions
A roundup of pastors who were present on January 6 at the Capitol, the defenses they have made for their involvement, and the various consequences they face. Some have lost their jobs as pastors while another has received death threats. "Absolutely, 100 percent, they'll go after Christians for this," said one pastor in a Newsweek article, which described how evil people have persecuted the church since "way back to (Emperor) Nero."
7. Allies Stand Behind Focus on the Family after Twitter Ban
Family Policy Alliance is leading groups rallying behind Focus on the Family after its The Daily Citizen was blocked from Twitter for "hateful" content. FPA is asking Twitter via a letter and petition to reinstate the Citizen, a publication of Focus on the Family, which was blocked from the site after posting a tweet about President Biden's appointment of Dr. Rachel Levine as assistant secretary for health at the Department of Health and Human Services. The tweet read, in part, "Dr. Levine is a transgender woman, that is, a man who believes he is a woman." The Citizen said it is being blocked because of a religious belief that God created two genders, male and female, an action that is against Twitter's own discrimination rules.
6. Ministries with an 'F' Transparency Grade from MinistryWatch
MinistryWatch stands for transparency and accountability. That's why MinistryWatch assigns a Transparency Grade to each of the nearly 800 ministries in its database. We use three criteria. Does the organization release its Form 990? Does it get a reviewed or audited financial statement? Is it a member of the Evangelical Council for Financial Accountability? If the answer to all three questions is "Yes," then that ministry gets an "A" grade. But if the answer to all three questions is "No," that ministry gets an "F" Transparency Grade. The following ministries received an "F" Transparency Grade because the answer to all three questions was "No."
5. Max Lucado Apologizes for Language about Homosexuality after National Cathedral Backlash
Evangelical megachurch pastor Max Lucado has apologized for language he used in a 2004 sermon on same-sex marriage after the LGBTQ community objected to him acting as guest pastor at Washington National Cathedral Feb. 7, saying it contradicted the Episcopal Church's stance supporting LGBTQ inclusion. More than 1,600 people signed a petition protesting the Cathedral's decision to host Lucado, citing the earlier sermon in which Lucado called homosexuality a "sexual sin" and said "the Bible never minces words regarding God's feelings toward homosexual activity."
4. Pastors Charged with Child Sex Crimes Scar Victims, Shock Congregations
Among the recent "spate of arrests" in Florida cited by The New York Times was a pastor. In fact, nearly a dozen pastors and church workers in Florida and elsewhere have been charged with possessing child pornography and/or other sex crimes against children in recent months. When clergy sex crimes come to light, the scars extend far beyond the individuals who are sexually exploited. Church members experience shock and grief, and congregations can be permanently weakened or destroyed. Anguished wives and children are thrust into the spotlight. Communities experience broken trust. Parents strategize ways to discuss horrific topics with their children. Everyone who knows—or thought they knew—the perpetrator asks, Did I miss the signs? Is there something I could've done to prevent all of this?
3. Christian Research Institute, Home of Bible Answer Man, Resigns from ECFA
The ECFA listed the reason for the resignation as "voluntary."  That means the Christian Research Institute was not under review by the ECFA, nor was it found to be out of compliance with the ECFA's standards for financial integrity.  However, the Christian Research Institute had been a member of the ECFA since 1996, so its departure is a significant move. The Christian Research Institute had 2019 revenue of approximately $2.8-million. This figure is significantly lower than 2015 revenue of about $4.3-million. In early 2005, Christian Research Institute posted revenue in excess of $8-million. The long slide for CRI may be the result of developments in the life of the ministry's leader, Hank Hanegraaff.
2. LGBTQ Community Organize Petition Against Max Lucado Preaching at Washington National Cathedral
More than 1,600 people signed a petition protesting the Washington National Cathedral's decision to host evangelical megachurch pastor Max Lucado as a guest preacher earlier this month (Feb 7), saying the move contradicted the Episcopal Church's stance supporting LGBTQ inclusion. The petition attempted to pressure the Cathedral to rescind its invitation ahead of the event, specifically citing a 2004 article Lucado authored titled, "What God Says About Gay Marriage," in which he calls homosexuality a "sexual sin" and says "the Bible never minces words regarding God's feelings toward homosexual activity."
1. Report: Ravi Zacharias Guilty of Sexual Misconduct
Evangelical apologist, author and speaker Ravi Zacharias engaged in a pattern of sexual misconduct—including groping spa workers and asking them to massage his genitals, according to a new report commissioned by Ravi Zacharias International Ministries to investigate allegations of sexual misconduct by its founder, who died in May 2020. Among the report's other findings were romantic emails Zacharias sent to a woman in South Korea and a massage therapist in Thailand whom he called his "angel" and a collection of more than 200 selfies—some of them explicit—from younger women.