SBC Executive Committee Rejects Request for System-Wide Abuse Inquiry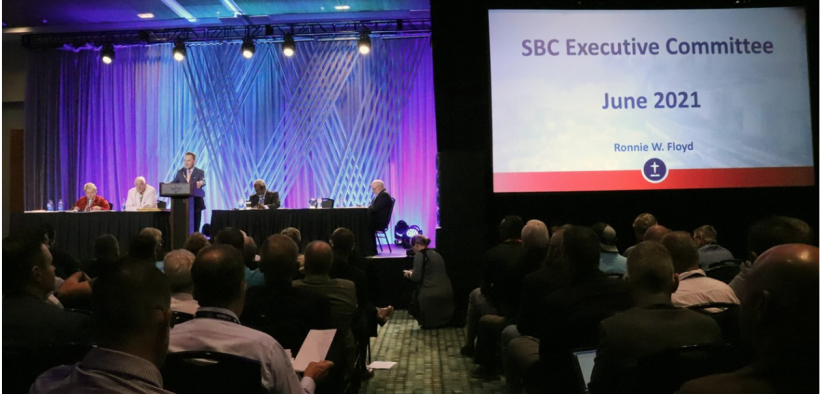 As the delegates to the Southern Baptist Convention's annual meeting gathered on Monday (June 14) in Nashville, Tennessee, for the next day's opening gavel, the denomination's Executive Committee rejected a request to broaden an inquiry into its handling of sexual abuse allegations to include all the entities of the SBC.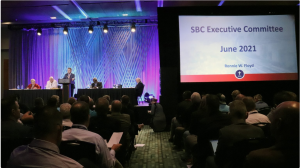 Committee member Jared Wellman made the motion calling for the committee to allow the messengers, as delegates to the meeting are known, to expand the scope of an independent review by Guidepost Solutions of Executive Committee activities to all paid, elected, and appointed leaders or staff of the denomination and its entities.
The inquiry had been announced by Executive Committee President Ronnie Floyd on Friday (June 11).
Wellman, a pastor of an Arlington, Texas, church, said, "There should be no limit to who can be interviewed."
Another committee member, Joe Knott, argued against Wellman's request.
Access to MinistryWatch content is free.  However, we hope you will support our work with your prayers and financial gifts.  To make a donation, click here.
"In most cases, most of our churches are 100, 150 people; the children's Sunday schools are run by the mothers of the children and their grandmothers," said Knott, a Raleigh, North Carolina, lawyer. "There's no safer place on earth than most Southern Baptist churches for children. If there is a problem, we can address it without hiring a third party and giving them unlimited access to our people."
After a show of hands, Executive Committee Chairman Rolland Slade ruled that there was not a two-thirds vote in favor of Wellman's request. A supermajority of the voting members was required because the agenda for the meeting had already been set.
A day earlier, eight well-known survivors of sexual abuse in the SBC likewise called for a denomination-wide investigation. The survivors' statement was in support of a motion that Todd Benkert, an Indiana pastor, said he hopes to make from the floor of the two-day meeting.
During the Executive Committee meeting, Floyd noted that Southern Baptists are expected to vote for a second and final time this week to amend the SBC constitution to explicitly expel churches that mishandle cases of abuse or racial discrimination.
He also said he is confident in the process his committee is beginning with Guidepost.
"We will cooperate with their work and be transparent with them," said Floyd, who became the committee's president in 2019. "We are not aware of any ongoing situations and certainly none within my time here," he added, referring to any allegations of abuse that may have been mishandled.
The most recent accusations about mishandling of abuse arose from two letters written by Russell Moore, who has resigned as president of the SBC's Ethics and Religious Liberty Commission, that were leaked to the press over the past two weeks.
In addition to voting on Wellman's motion, the 79 Executive Committee members in attendance, after two rounds of voting, elected Erik D. Cummings, a Miami pastor, as chair of the convention events committee. After the second round, Rod Martin, a noted Moore critic, removed his name from consideration, clearing the way for Cummings, who was put forward by Slade.
Slade himself was re-elected to a second year as chairman after no one else was nominated for the role of chair.
Committee member Dwight Easler pointed to what the two-hour meeting said about the Executive Committee's willingness to address problems in the denomination.
"At the end of the day, I want us to be fully aware that what's coming out of this room is we can debate nominations but we cannot debate or discuss how we're going to investigate the way we handle sexual abuse," said Easler, a pastor from Gaffney, South Carolina. "That's very, very telling about our situation."
Outgoing President J.D. Greear, during his time to speak during the meeting, also seemed to be concerned about outward appearances of Southern Baptists' actions this week.
"What happens over the next few days has not just an impact on our fellowship together," he said, just before leading the committee in prayer for the two-day meeting ahead, "it has an impact on the witness that we give and to a watching world."