Pastors at Jan. 6 Events Face Consequences, Defend Actions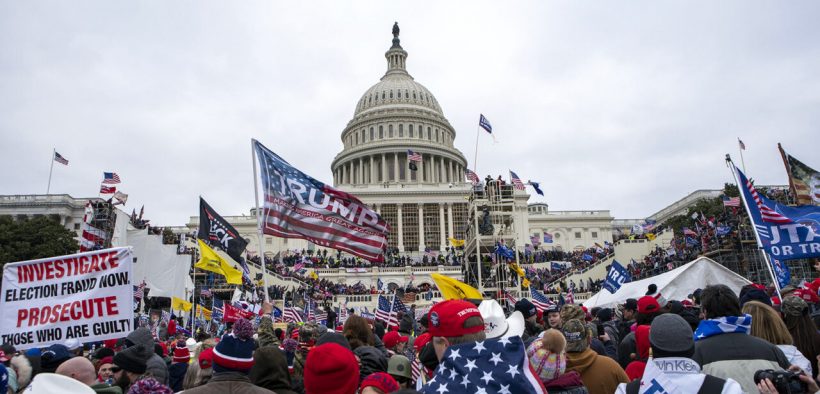 Tyler Ethridge was a star football player for the Coyotes of Richland Springs High School in central Texas, where his 10,000 yards passing yards in the 2008 season set a record that still stands for six-man teams.
In 2017, he graduated from the Practical Government School at Andrew Wommack's Charis Bible College in the mountains west of Colorado Springs, and landed a job as a youth pastor at Christ-Centered Church of Tampa, a congregation in Dover, Fla., led by a fellow former Charis student.
On Jan. 6, 2021, Tyler attended the Stop the Steal rally near the Capitol, along with other Trump-supporting evangelical pastors. He followed the crowd and illegally entered the Capitol, filming himself amid the violence, destruction, and chaos and posting the video to Parler.
"Just to let you know, I'm not involved in this," he says in the video he shot from inside the Capitol. "I'm just observing…I don't want to say that what we're doing is right. But if the election is being stolen, what is it going to take?"
He went on to say:  "I'm probably going to lose my job as a pastor after this." 
Access to MinistryWatch content is free.  However, we hope you will support our work with your prayers and financial gifts.  To make a donation, click here.
Ethridge was right. Christ-Centered Church announced on Jan. 19 that Ethridge no longer worked there.
In a later Twitter post, Ethridge doubled down on his innocence, and issued a warning to those who might engage in violence against him.
"I reported myself to the FBI to prove I have nothing to hide," Ethridge tweeted. "I also strongly warn anyone inciting violence against me or CCC of Tampa. I will use every source out there as evidence if anyone incites violence against me and my family."
Ethridge is not the only pastor facing consequences for his actions on Jan. 6.
Tommy Ferrell had served as the lead pastor at Briarlake Church in greater Decatur, Ga., for 16 years. Last Sunday, he announced that he would be moving on from the 2,300-member Southern Baptist congregation.  "In order to find a good in-person public school option for our youngest child, we are in the process of moving to Gwinnett County," he said in a statement to the church.
Left unsaid was the turmoil that arose after Ferrell was spotted in photos on social media showing him at the Jan. 6 rally before the attack. When a reporter at the news outlet Decaturish asked Ferrell about his activities, he grew testy.
"I was not at the Capitol," he said in a Facebook message. "Do not fallaciously misrepresent the facts or me or you will find yourself under a lawsuit for libel. We still have First Amendment rights and if mine are violated, you will be sued."
Ferrell, who blamed the Capitol attack on QAnon, Antifa, and the left, not Trump supporters, echoed Trump's post-Charlottesville comments about "very fine people on both sides." During a sermon, Ferrell said this of the Capitol attackers: "There's some good people in there. There's some bad people in there."
Ferrell's claims that Joe Biden's election was fraudulent raised consternation in predominantly-blue DeKalb County, where Briarlake Church serves as a polling location.
Steve Berger attended the Jan. 6 rally, and on Jan. 17 he announced he is stepping away as senior pastor of the church he founded, Grace Chapel in Franklin, Tenn., which is attended by the state's governor Bill Lee.
Brian Gibson is a pastor, but we never learn anything about which church he pastors in an 1,800-word diatribe about pastors receiving death threats because they were in D.C. on Jan. 6. The article was published in Newsweek, which is now owned by associates of controversial Korean Christian leader David Jang.
A TV report by 44News in Evansville, Indiana, identified Gibson as the pastor of HIS Church, a multi-campus church in Owensboro, Kentucky.
"Absolutely, 100 percent, they'll go after Christians for this," said Gibson in the article, which described how evil people have persecuted the church since "way back to (Emperor) Nero." Gibson said Biden had stolen the election with the help of Dominion Software.
The article also quoted Jeff Myers, president of Summit Ministries in Colorado Springs. "It's very easy to find the worst of your opponents and position them as if they characterize the whole group," Myers said. "I'll be very curious to see when the FBI starts indicting people, how many are chosen for their Christian convictions."
Ronnie Owens, pastor of Higher Ground Baptist Church in Kingsport, Tenn., went to the Jan. 6 rally with four church members. Owens said he experienced the presence of the Holy Spirit at the rally, saying he "broke down crying several times."