Largest Christian Ministries In The U.S.

World Vision retains #1 spot, but Samaritan's Purse passes Compassion International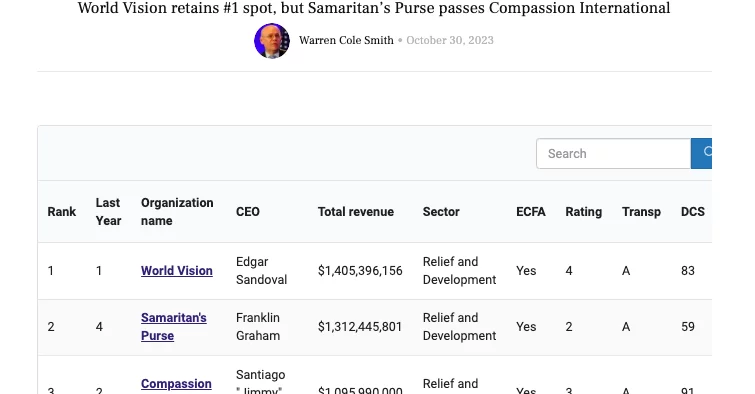 Below is a list of the largest Christian ministries in the MinistryWatch database.  We have included every ministry with revenue of $100-million or greater. That's approximately 45 ministries.
Note that this list does not include colleges and universities. You can find the list of the largest Christian colleges and universities in the United States here.
These 45 ministries represent a total of about $14.1 billion in annual revenue.
This list is based on revenue from the most recently available Form 990 from the IRS. The column on the far right indicates the most recent year for which we have financial information.  As we have written elsewhere, the IRS is experiencing a significant backlog in its processing of Form 990s.  This backlog means that in a few cases the revenue figures have not changed since last year.
But in some cases, the data is outdated because the ministry itself refuses to file its Form 990. This failure to file a Form 990 is both dangerous to the ministry itself and a compromise of that organization's financial integrity. (You can read more about MinistryWatch's position on this issue here.) Among the organizations that have made this choice are the Billy Graham Evangelistic Association, Cru, and Compassion International.
Access to MinistryWatch content is free.  However, we hope you will support our work with your prayers and financial gifts.  To make a donation, click here.
Note too that we have also included the rank this ministry held last year. We generally see little movement on this list from year to year. However, this year we have seen significant movement. Samaritan's Purse grew by more than $400 million in a single year, and that growth moved it from #4 to #2 on our list.
Several new organizations moved above the $100 million threshold and are included on this year's list. They include:  Church World Service (29), In Touch Ministries (32), World Relief (35), Trinity Broadcasting Network (38), Turning Point for God (43), Alliance Defending Freedom (44), and Charity: Water (45).
We see several "big movers" on this year's list. They include Mercy Ships, which added $100 million in revenue and jumped from 35 to 17 on the list. Other big movers include Waterstone (20) and Children's Hunger Fund (23).
Young Life (9) is worth a special note. Though it moved up only a few spots, it added more than $110 million in revenue in a single year. That allowed it to leapfrog Habitat for Humanity, Convoy of Hope, and other behemoth organizations.
MinistryWatch has 19 categories of ministry in our database.  The category with the most representatives on this list is "Relief and Development." Twenty-two of the 45 ministries on this list fall into that category. In February we published a list of the 50 largest relief and development organizations. You can find that list here.
This list should not be interpreted as a list of recommended ministries.  They are ranked by total revenue, and not by effectiveness, financial efficiency, or any other measure.  That said, the Financial Efficiency rating and the Transparency Grade of the ministries are listed.
To learn more about these institutions, click on the ministry's name and read the complete MinistryWatch profile on this organization.
If you would like to know more about our Financial Efficiency Rating, click here.  If you would like to know more about our Transparency Grades, click here.