100 Highly Paid Ministry Executives – 2023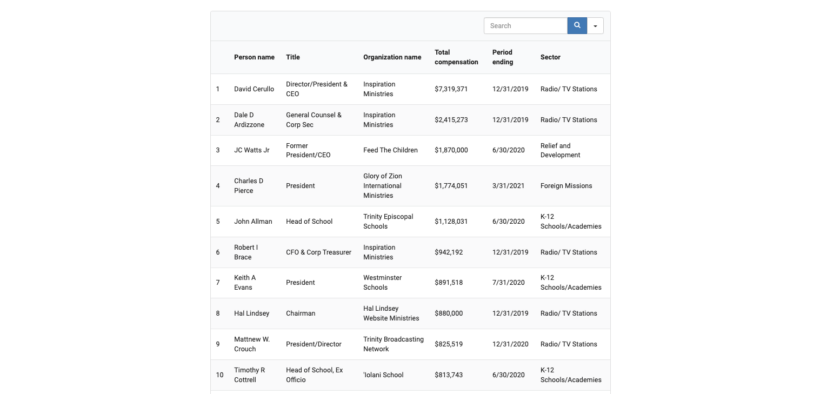 Below is a list of 100 highly paid Christian ministry executives. The information was derived from the latest available Form 990 prepared by the ministry itself.
We are not calling this list the "Highest Paid Christian Ministry Executives" because we know that many pastors and other church leaders who might make more are not on this list, because churches are not required to make their Form 990s available to the public.
Also, MinistryWatch has identified a growing trend among Christian ministries to identify as churches and thereby withhold their Form 990s. Among the MinistryWatch 1000 ministries in the country who have made this election include: CRU/Campus Crusade for Christ, The Navigators, Gideons International, Willow Creek Association, Billy Graham Evangelistic Association, Joyce Meyer Ministries, Denison Forum, and Ethnos360/New Tribes Mission.
In addition, many megachurches and their related radio and television ministries also withhold their Form 990s. These organizations and individuals include: Joel Osteen, David Jeremiah, Benny Hinn, Creflo Dollar, and Kenneth Copeland.
MinistryWatch has gone on record repeatedly, and we do so again here, with our view that withholding Form 990s is an unwise practice.  You can read a more complete explanation of our position here.
A word about timing: This information comes from the most recent Form 990 available from the Internal Revenue Service. For most ministries, they come from the year 2021 or 2020.  However, the IRS has been slow in processing Form 990s for more than a year.  (We have written about this backlog here.)  That means 2019 is the most recent year for some of the ministries on this list.
In the case of Franklin Graham, only his Samaritan's Purse compensation is listed. He also serves as president of the Billy Graham Evangelistic Association and (for the reason cited above) we were not able to determine what compensation he receives from BGEA.
In the case of the Inspiration Networks:  Some executives receive their salaries from a for-profit subsidiary.  The for-profit subsidiary, INSP LLC, is wholly owned by the non-profit organization The Inspirational Networks, Inc.
Also note that this list does NOT include salaries from Christian colleges and universities.  We will include these salaries in a separate list to be published later this week.