Stock Market Correction Hits Religious Foundations

Distributions Outpacing Contributions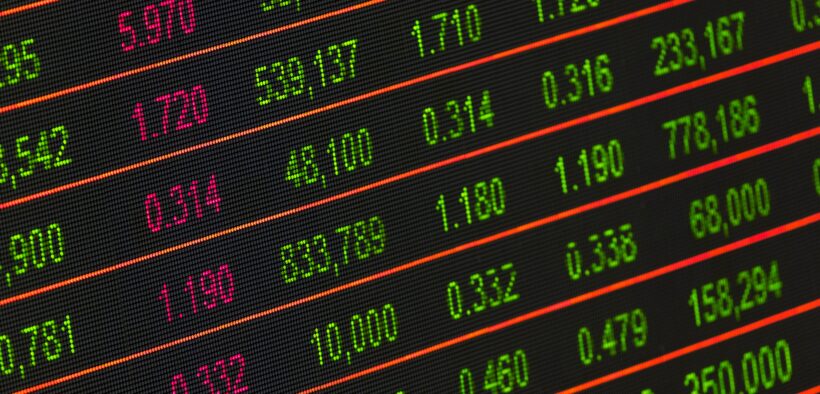 Foundations and donor-advised funds (DAFs) are witnessing a natural self-correction from the last few years of elevated stock market gains and unprecedented donations. This comes after DAFs posted significant growth across grants, contributions and charitable assets in 2021, according to a report released last November by the National Philanthropic Trust, which examined nearly 1,000 charities that sponsor or manage DAFs and report at least $1 billion in assets.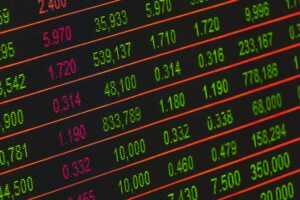 Amid 2021's stock market surges, DAFs charted a 46.6% rise in contributions and the highest grant payout rate on record (27.3%) as grants to charities jumped 28%. DAFs' charitable assets also grew about 40% to $234 billion.
Fast-forward a year, and other metrics paint a darker picture, as foundation assets fell from a record $1.3 trillion at the end of 2021 to $1.05 trillion last December.
Models from FoundationMark show a $250 billion drop in foundation asset levels last year—a return to 2019's position—based on data across contributions, outgoing grants/expenses and investment performance. FoundationMark's Grantmaker Investment Value Index, which estimates monthly foundation returns based on reported asset allocations and market returns, was down 15.5% in 2022. This came as every major asset class (except cash) fell last year, including the S&P 500 (down 18.1%), international stocks (also around -18%) and high-grade bonds (-13%).
Private foundations and DAFs, two of the most popular forms of charitable giving, face the same impacts of the post-COVID financial correction, record inflation and supply chain turbulence tied to the war in Ukraine.
MinistryWatch reached out to the biggest Christian foundations/DAFs to see if they're witnessing the same phenomenon. While they're still finalizing their 2022 totals, they report increased grantmaking but little change in donor contributions. Meanwhile, their investment pool performance trended down, consistent with the broader market.
One is the Georgia-based National Christian Foundation (NCF), a quiet but sizable provider of donor-advised funds that has distributed over $16 billion to 71,000 charities and churches since its founding in 1982. While it hasn't released its 2022 financials yet, NCF Vice President of Communications Steve Chapman tells MinistryWatch that, like the sector as a whole, charitable donations of public securities to NCF fell in 2022 "likely due to economic volatility and other market conditions."
Still, Chapman says NCF givers donated $2.5 billion in various types of assets to NCF in 2022 and made $2.1 billion in grants to more than 30,000 charities, its highest one-year grant total ever. Chapman says this shows "how these generous individuals and families desire to mobilize money quickly for the charities and causes that need it most."
Previously, NCF saw modest growth in 2021 across its contributions/revenue and assets, according to its latest audited statement. It closed the year with $7.4 billion in net assets, compared to $5.2 billion in 2020, while its total contributions (including noncash contributions but excluding other revenue) grew from $2.1 billion to $3.4 billion. Chapman says NCF doesn't have a final total for its contributions at this time, but he can report that NCF received a "record-breaking" amount of complex gifts (such as business interests and real estate) totaling more than $650 million, up 15% over 2021.
Reflecting broader market conditions, returns are down in NCF's traditional investment pools, where donors can choose to invest their fund balance for growth. According to its latest quarterly investment performance report, NCF's traditional pools returned -1.8% to -5.1% in the third quarter of 2022, citing equity selloffs, interest rate hikes, inflation and other economic factors.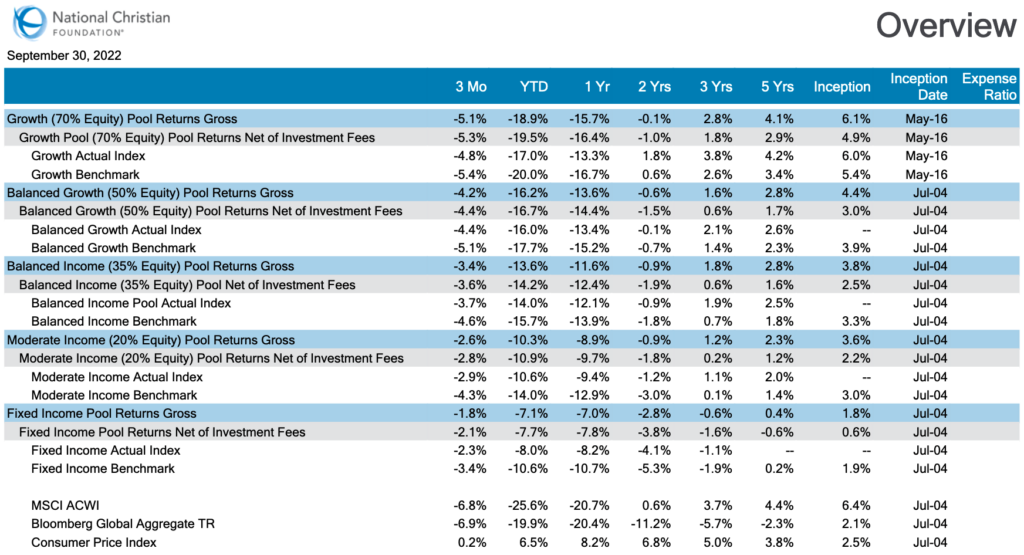 Source: NCF's third-quarter performance report for its traditional investment pools.
The Signatry, a Kansas-based DAF sponsor that has awarded around $4 billion in grants since its founding in 2000, says it's still finalizing its 2022 numbers, but the trend looks like a record year for grants—outpacing 2021's total of $472 million. Already, it has made $248 million in grants through the third quarter, according to its latest impact report. The organization's website boasts a 68% lifetime grant flow-through rate, meaning most of its dollars are given away in the same year.
However, The Signatry's vice president of marketing, Ben Martin, says the organization isn't expecting a dramatic change in contributions, which totaled $899 million in 2021. So far, its 2022 contributions totaled $124 million through the third quarter, but that doesn't count its busiest season of late-year fundraising.
"Historically, Q4 is our busiest time of year," Martin says. "We have not finalized numbers for 2022 yet, but we are confident that our total contributions received in 2022 will be very near to our 2021 total."
Like NCF, The Signatry's investment pool performance declined overall in 2022, though Martin says the fourth quarter brought some growth. Its latest (third-quarter) performance report shows quarterly and year-to-date drops across all of its investment pools. Comparatively, its third- and fourth-quarter investment reports in 2021 showed moderate growth spanning most of its pools.
"The performance of our investments generally hews to the trends of investment markets overall, so as one might expect, our investment pools are down for the year, though there was positive traction in the fourth quarter," Martin said.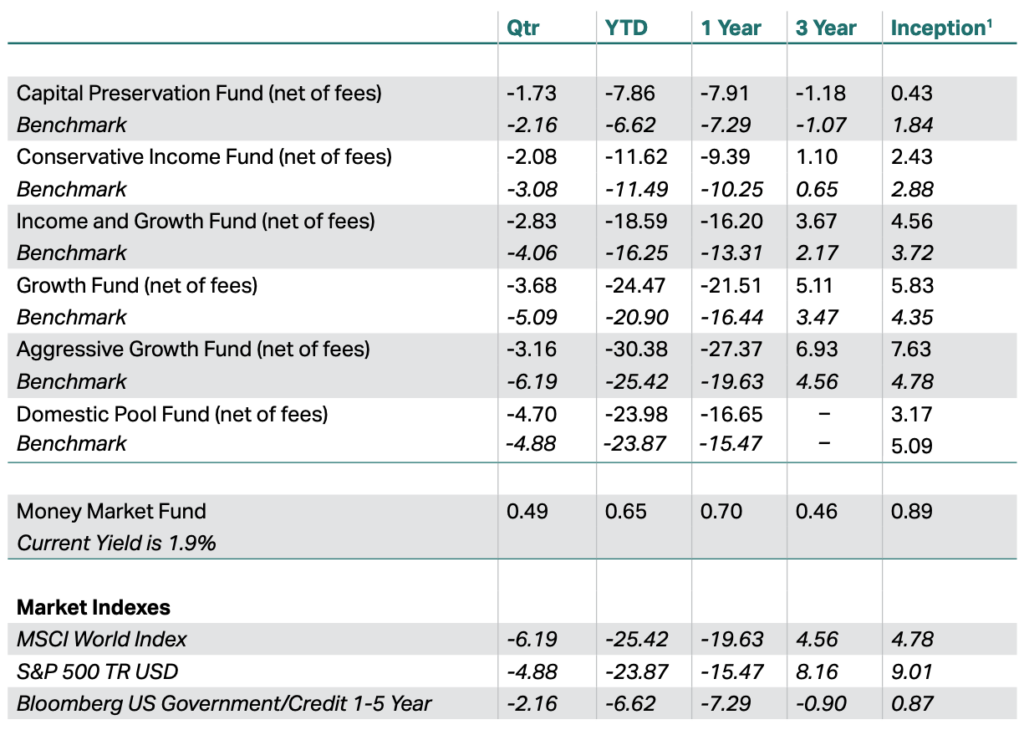 Image source: The Signatry's third-quarter performance report for its "Biblically Responsible Investment Options."
Meanwhile, Colorado-based WaterStone continues to grow despite COVID, the post-COVID downturn and through recent market corrections, says Rick von Gnechten, the foundation's chief operating officer and chief gift strategist.
As MinistryWatch previously reported, WaterStone was an early pioneer in donor-advised funds when it was established in 1980. Since then, it has drawn nearly $2 billion in contributions and distributed around $1 billion in grants, giving out $2 million per week on average, per data listed in its winter 2022 newsletter. Working with about 7,500 charities worldwide, the foundation has sent out over $100 million in grants each of the past two years, says von Gnechten.
According to its latest audit report (covering the year ending on March 31, 2022), WaterStone's total net assets grew to $630 million in its 2022 fiscal year from $513 million a year earlier.
However, von Gnechten notes that WaterStone also manages charitable trusts that aren't reflected in its audited financials but bring its total assets under advisement to over $950 million.
"We have more than doubled in size the last two years," said von Gnechten after noting that WaterStone is known for its expertise in helping donors gift complex assets (including real estate, businesses, oil and gas, and agricultural commodities), in addition to cash and marketable securities. Complex assets account for more than 50% of its annual donations.
Still, WaterStone's net investment return declined dramatically from $88.8 million in 2021 to $12.9 million last year. Von Gnechten says WaterStone uses an open architecture platform working with over 400 investment advisors from across the country, so these market returns "are reflective of all our donors' investment advisors that manage the funds in DAFs and charitable trusts."
At the same time, WaterStone's donors keep giving, though the foundation expects less growth than in previous years. Its contributions more than doubled last year to $217 million, compared to $106 million in its 2021 fiscal year. Von Gnechten says the foundation is still finalizing its latest numbers (covering March 2022 through next month), but its contributions are "the same or more than last year's."
Main photo: Image via Pixabay.