25 States With The Most Christian Ministries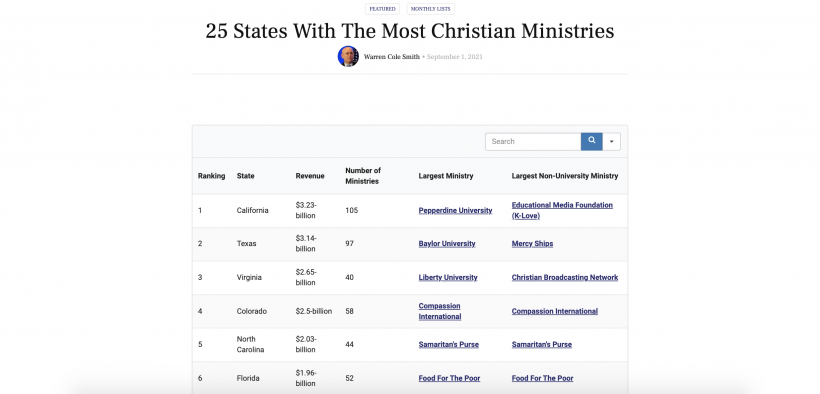 Christian ministries make a significant economic contribution to the American economy.  They serve the poor, provide disaster relief, feed the hungy, and much more.  The nearly 1000 ministries in the MinistryWatch database take in more than $37-billion in revenue annually.  The fast majority of these funds go directly into ministry activities.  This number does not include the tens of millions of hours donated by volunteers to these ministries.
Christian ministries thrive in all 50 states, but some states have become known for their Christian ministry activity.  Colorado Springs is home to hundreds of ministries that contribute more than $1-billion to the local economy.  Orlando and Charlotte also have large ministry populations.
MinistryWatch mined its database to identify the states that were home to the most ministries.  The list of the top 25 states is below.  We ranked the states by revenue, not by the number of ministries located in that state.  We also included the name of the largest ministry in that state.  Because the largest ministry in many states was a college or university, we also included the largest non-college ministry.  And please note that these rankings are based on the ministries in our database, not on the more than 1-million religious non-profits in this country.  But we think this ranking does include the largest ministries in the country and gives a good idea of significant contributions ministries are making to the various states and to our nation.