Largest Christian Relief and Development Ministries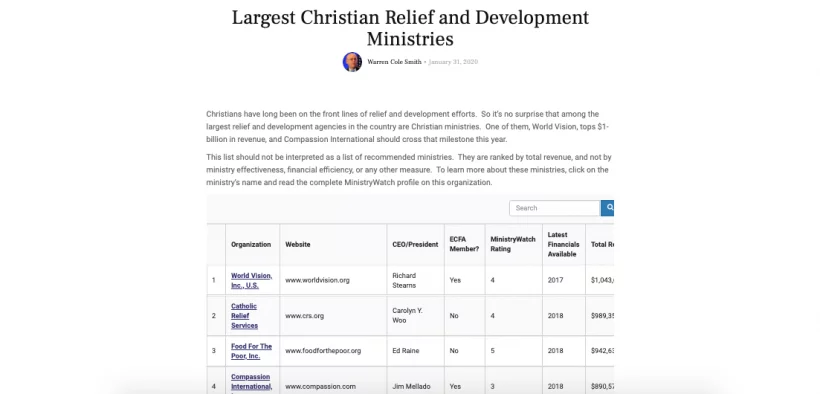 Christians have long been on the front lines of relief and development efforts. So it's no surprise that among the largest relief and development agencies in the country are Christian ministries. One of them, World Vision, tops $1-billion in revenue, and Compassion International should cross that milestone this year.
This list should not be interpreted as a list of recommended ministries. They are ranked by total revenue, and not by ministry effectiveness, financial efficiency, or any other measure. To learn more about these ministries, click on the ministry's name and read the complete MinistryWatch profile on this organization.
| | Organization | CEO/President | ECFA Member? | MinistryWatch Rating | Latest Financials Available | Total Revenue |
| --- | --- | --- | --- | --- | --- | --- |
| 1 | World Vision, Inc., U.S. | Richard Stearns | Yes | 4 | 2017 | $1,043,654,000 |
| 2 | Catholic Relief Services | Carolyn Y. Woo | No | 4 | 2018 | $989,355,000 |
| 3 | Food For The Poor, Inc. | Ed Raine | No | 5 | 2018 | $942,636,264 |
| 4 | Compassion International, Inc. | Jim Mellado | Yes | 3 | 2018 | $890,571,000 |
| 5 | Samaritan's Purse/ Operation Christmas Child/ Franklin Graham | Mr. W. Franklin Graham III | Yes | 3 | 2017 | $800,823,590 |
| 6 | Catholic Medical Mission Board / CMMB | Mr. John F. Galbraith | No | 5 | 2018 | $740,082,285 |
| 7 | MAP International | Mr. Steve Stirling | Yes | 5 | 2018 | $575,470,382 |
| 8 | Mercy Corps | Mr. Neal Keny-Guyer | No | 4 | 2019 | $489,285,000 |
| 9 | Feed The Children | Mr. Kevin Hagan | No | 5 | 2018 | $376,070,826 |
| 10 | Operation Blessing International/ OBI | Gordon Robertson | Yes | 5 | 2018 | $276,804,696 |
| 11 | Citihope International | Rev. Paul S. Moore, Sr. | No | 4 | 2017 | $253,449,629 |
| 12 | ChildFund / Christian Children's Fund/ CCF | Ms. Anne Goddard | No | 3 | 2018 | $223,719,600 |
| 13 | Covenant House | Sister Patricia A. Cruise, D.C. | No | 1 | 2018 | $198,856,814 |
| 14 | Convoy of Hope | Mr. Hal Donaldson | Yes | 4 | 2018 | $179,970,626 |
| 15 | Christian Blind Mission /CBM | Mr. Ron Nabors | Yes | 5 | 2018 | $151,646,693 |
| 16 | Christian Aid Ministries | Mr. David Troyer | Yes | 5 | 2018 | $144,111,107 |
| 17 | Food for the Hungry, Inc. | Mr. David Evans | Yes | 3 | 2018 | $143,994,004 |
| 18 | Unbound previously Christian Foundation for Children and Aging/ CFCA | Mr. Scott Wasserman | No | 4 | 2017 | $136,020,035 |
| 19 | Heifer Project International | Ms. Jo Luck | No | 1 | 2018 | $131,308,473 |
| 20 | Mercy Ships | Mr. Don Stephens | Yes | 1 | 2018 | $123,584,538 |
| 21 | Interchurch Medical Assistance, Inc. | Mr. Paul Derstine | No | 5 | 2018 | $94,201,869 |
| 22 | World Relief | Mr. Stephan Bauman | Yes | 4 | 2017 | $79,194,318 |
| 23 | Children's Hunger Fund / CHF | Mr. David Phillips | Yes | 5 | 2019 | $66,534,069 |
| 24 | Adventist Relief and Development Agency | Charles Sandefur | No | 3 | 2018 | $63,558,857 |
| 25 | Kingsway Charities | Mr. James Gregory | No | 5 | 2017 | $61,618,147 |
| 26 | Medical Teams International (MTI) | Mr. Jeff Pinneo | Yes | 4 | 2018 | $59,983,846 |
| 27 | Adventist Development & Relief Agency | Mr. Charles Sandefur | No | 3 | 2017 | $54,583,138 |
| 28 | Christian Relief Services Charities | Mr. Eugene L. Krizek | No | 2 | 2017 | $52,092,820 |
| 29 | Lutheran World Relief | Mr. John Nunes | No | 3 | 2018 | $48,428,424 |
| 30 | Opportunity International | Vicki Escarra | No | 2 | 2017 | $43,771,187 |
| 31 | Mennonite Central Committee | Mr. Robert Davis | No | 3 | 2018 | $39,838,357 |
| 32 | Water Mission | Dr. George Greene III, PhD, PE | Yes | 3 | 2018 | $32,861,049 |
| 33 | International Aid, Inc./ IA | Mr. Brian Anderson | Yes | 5 | 2018 | $31,756,603 |
| 34 | Living Water International | Michael J Mantel, Ph.D. | Yes | 3 | 2019 | $23,731,985 |
| 35 | American Leprosy Missions, Inc. | Mr. Bill Simmons | Yes | 1 | 2018 | $19,484,176 |
| 36 | One Child Matters formerly Mission of Mercy | David Perkin | Yes | 3 | 2018 | $16,358,671 |
| 37 | World Renew formerly Christian Reformed World Relief Committee Inc. | Roy Zuidema - U.S./ James Joose - Canada | Yes | 3 | 2017 | $14,700,344 |
| 38 | World Emergency Relief / Children's Food Fund | Kristy Scott | No | 5 | 2017 | $13,784,314 |
| 39 | Free Wheelchair Mission (FWM) | Mr. Don Schoendorfer, Ph D | Yes | 3 | 2018 | $10,254,206 |
| 40 | Christian Relief Fund | Dr. Milton Jones | Yes | 4 | 2017 | $8,446,329 |
| 41 | Plant With Purpose | Scott Sabin | Yes | 3 | 2018 | $8,213,827 |
| 42 | United Methodist Agency for the Retarded (UMAR) | Mr. Steve Sellers | No | 2 | 2017 | $7,895,440 |
| 43 | Blessings International | Barry Ewy, PharmD, JD, MHA | Yes | 3 | 2018 | $5,187,580 |
| 44 | Childcare Worldwide/ Childcare International | Dr. G. M. Lange | Yes | 3 | 2018 | $4,432,613 |
| 45 | Echo, Inc. | Mr. Stan Doerr | Yes | 3 | 2018 | $4,181,022 |
| 46 | AMOR Ministries, Inc. | Mr. Scott Congdon | No | 4 | 2017 | $4,175,086 |
| 47 | Alfalit International, Inc. | Rev. Roberto Perez | Yes | 4 | 2017 | $4,135,230 |
| 48 | Mercy Medical Angels (previously Mercy Medical Airlift) | Mr. Edward Boyer | No | 5 | 2018 | $4,040,994 |
| 49 | Luke Society, Inc., The | Mr. Stewart Odell | Yes | 3 | 2017 | $3,888,411 |
| 50 | Nazarene Compassionate Ministries, Inc. | Mr. Larry Bollinger | Yes | 5 | 2017 | $3,410,896 |
| 51 | Bright Hope International | Mr. C.H. Dyer | Yes | 3 | 2018 | $3,025,311 |