Church Offers Physical, Spiritual Help After Historic Flooding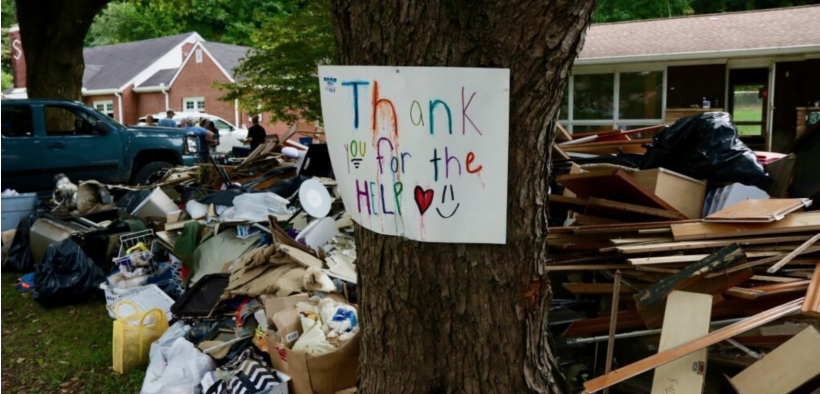 The Waverly Church of Christ's pews were packed Sunday—but not just with people.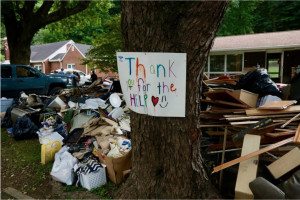 Clothing and stuffed animals covered several rows, just one sign of the 200-member congregation's effort to help victims after historic flooding.
Nearby, grocery items and mattresses filled the church's activity center, where about two dozen displaced residents have slept since a record rainfall—17 inches in one day—caused rivers and creeks to overflow Aug. 21.
"I've not just seen the congregation respond. I've seen the community respond," said preaching minister Jeff Keele, who, with his wife, Becky, stayed up all night Saturday working at the shelter.
Volunteers in bright red Churches of Christ Disaster Response Team T-shirts sat near the front of the auditorium. Boxes of food and emergency supplies delivered by Nashville-based Churches of Christ Disaster Relief Effort were piled high in the building.
Price White, a longtime church member, choked back tears before leading Sunday's closing prayer.
"Heavenly Father, we're especially thankful for those who have come from near and far to help those who have lost loved ones and who have lost everything," White prayed.
Access to MinistryWatch content is free.  However, we hope you will support our work with your prayers and financial gifts.  To make a donation, click here.
Church member among the victims
In this town of 4,300, about 65 miles west of Nashville, the flooding damaged or destroyed hundreds of homes. The elementary and junior high schools were flattened.
Worst of all, 19 people died—including 7-month-old twins torn from their father's arms by the raging torrent. (A 20th victim lived in Humphreys County, where Waverly is the county seat, but not in town limits.)
"It's amazing how all the different groups and organizations have come into town," church elder Ronnie Moore said. "There's an outpouring of love everywhere."
"I think of all the children that were lost—the little twins—and I can't wrap my mind around that," said Cathy Moore, Ronnie's wife, who is helping cook meals for survivors.
One of those who died was a member of the Waverly Church of Christ: 16-year-old Nathanal Whitsett.
Several members' homes flooded, and a handful of members lost all their possessions, church leaders said.
Whitsett, who was autistic, was "described as a Bible student who identified strongly with Moses, who was said to have a speech impediment," relatives told The Tennessean.
"He was always dreaming big and talking about plans for big things. He was a very, very neat kid," Kyle Mashburn, the church's youth and associate minister, told the Nashville newspaper.
'I thought I was going to die'
Thomas Erwin, 53, is one of the displaced residents staying at the church.
He said he awoke a week ago Saturday to "a little water" on his apartment floor.
"Five minutes later, it was all the way up to my chin," Erwin said. "I got to the highest ground I could and called 911."
Then he and his dog—a pit bull named Dundee—worked to rescue children and adults from the floodwater, he said.
Erwin said he is disabled after a double bypass heart surgery. He has spent the past eight days at the church.
"They've treated me fantastic," he said. "You couldn't ask for a better shelter than these people have."
He has welcomed the food, the clothing—and the prayers.
"If God didn't have a plan for me, I wouldn't be here right now," he said.
One of the people Erwin helped rescue was Annette Dombrowski, 52, who said an avalanche of water rushed into her duplex.
The water rose up to her nose as her 32-year-old son was washed away, she said. Her son eventually climbed onto a roof and sent help for her, she said.
"It was scary," Dombrowski said. "I thought I was going to die."
Like Erwin, she voiced appreciation for the church.
"They ask almost constantly if I need anything," she said. "I say, 'I'm good.'"
'Little did we know'
Like the Waverly church, another Humphreys County congregation—the McEwen Church of Christ—is serving as a disaster relief hub.
"The Heart of a Servant" was McEwen minister Hoby Grace's preplanned sermon title Sunday, coinciding with the congregation's installation of new deacons.
"Little did we know," Grace said, referring to the emergency food boxes and piles of clothing and shoes seen throughout the church building, about 11 miles east of Waverly. "God's providence. God's timing."
"We probably won't be having Bible class here for a while," he said of the fellowship hall, crowded with disaster relief items.
Almost every classroom was turned into a supply room, except for the newly painted and decorated room where Amy Tester teaches first- and second-graders. Tester and her husband, Dennis, lost their home in the flooding, and Grace didn't want to disrupt her classroom, too.
"Free Meals," said a sign outside the building, where Mike Baumgartner, president and CEO of Disaster Assistance CoC, parked his RV—his mobile headquarters.
The minister's wife, Bonniegene Grace, helped organize the relief effort and insisted on keeping it open Sunday, in case someone in need showed up.
"I don't know a word to describe it," Bonniegene Grace said of the deluge of donations. "It's amazing to see people give, even if they're just dropping off a bag of clothes."
As for the flooding victims, she said, "People come in. They don't know what to do. They've lost everything. Some people come in with the clothes they've had on since last Saturday."
Hoby Grace said the disaster relief effort has provided a reminder that church is not about "coming to a building three times a week."
"It's about allowing Jesus to be seen," Grace said.
'What do we need? Jesus'
At the Waverly church, Mashburn offered a similar message.
"What do the people of our community need? Jesus," he said in his Sunday sermon. "What do we need? Jesus."
After the service, Mashburn said he's proud of the congregation's response—handing out food and supplies, organizing crews to clean up damaged homes, welcoming state mental health teams and inviting residents to sign up for FEMA assistance at the church building.
"There's more work to be done, so we're trying to keep everyone uplifted and encouraged," he told The Christian Chronicle. "The adrenaline has kind of worn off at this point."
While Mashburn preached in the main assembly, Keele took the opportunity to present a biblical message to the shelter residents.
Some survivors are on edge, Keele noted, over forecasts that remnants from Hurricane Ida could bring up to 5 inches of rain to Middle Tennessee this week.
Keele told the Chronicle about praying with one woman who has had nightmares about the flooding.
"She needs the prayers to help her through the night," he said, describing prayers as Waverly's biggest need—even more important than financial assistance.
The lessons the flooding response has taught Keele?
"In all of this, what I've seen is…a disaster doesn't keep office hours," the preacher said. "And the other thing is, I have seen people reach out to other people regardless of who they are or where they came from because they recognize another human soul who just needs to be cared for."
Editor's Note: This article was originally posted at The Christian Chronicle. Bobby Ross Jr. is a columnist for Religion Unplugged and editor-in-chief of The Christian Chronicle. A former religion writer for The Associated Press and The Oklahoman, Ross has reported from all 50 states and 15 nations. He has covered religion since 1999.