50 Largest Media Ministries in the US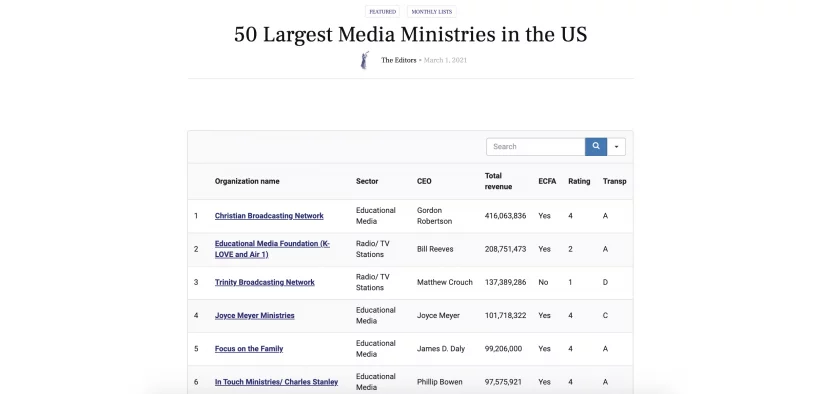 Below is a list of the largest media ministries in the country.
These days, almost all ministries have some media component,  Pastors write books.  Journalists have podcasts.  However, the list below is a list of those ministries whose work is primarily media-driven.  They include media organizations — such as television and radio networks — as well as "teaching and preaching ministries" whose presence is primarily on radio and television.
It is important to note that this list does NOT include a number of for-profit organizations, including the Salem Radio Network and the Bott Radio Network.
Also, MinistryWatch has identified a growing trend among Christian ministries to identify as churches and thereby withhold their Form 990s.  Many of these organizations have a significant media presence.  Indeed, some of them are primarily media organizations.  They include: Joel Osteen, David Jeremiah, Benny Hinn, Creflo Dollar, and Kenneth Copeland.
A word about timing: This information comes from the most recent Form 990 available. For most ministries on this list, the most recent year available was 2019. For a few ministries, the most recent year is 2018 or older.  To read the complete profile of the ministries, click on the name of the ministry.  That link will take you to the ministry's profile in the MinistryWatch database.
| | Organization name | Sector | CEO | Total revenue | ECFA | Rating | Transp |
| --- | --- | --- | --- | --- | --- | --- | --- |
| 1 | Christian Broadcasting Network | Educational Media | Gordon Robertson | 416,063,836 | Yes | 4 | A |
| 2 | Educational Media Foundation (K-LOVE and Air 1) | Radio/ TV Stations | Bill Reeves | 208,751,473 | Yes | 2 | A |
| 3 | Trinity Broadcasting Network | Radio/ TV Stations | Matthew Crouch | 137,389,286 | No | 1 | D |
| 4 | Joyce Meyer Ministries | Educational Media | Joyce Meyer | 101,718,322 | Yes | 4 | C |
| 5 | Focus on the Family | Educational Media | James D. Daly | 99,206,000 | Yes | 4 | A |
| 6 | In Touch Ministries/ Charles Stanley | Educational Media | Phillip Bowen | 97,575,921 | Yes | 4 | A |
| 7 | Eternal Word Television Network | Educational Media | Michael Warsaw | 64,946,744 | No | 3 | D |
| 8 | Turning Point for God | Radio/ TV Stations | David Jeremiah | 64,040,975 | No | 4 | C |
| 9 | Life Outreach International Association of Churches | Educational Media | James Robison | 55,835,138 | Yes | 2 | C |
| 10 | Our Daily Bread Ministries | Educational Media | Richard DeHaan | 49,041,750 | Yes | 5 | A |
| 11 | Ravi Zacharias International Ministries | Educational Media | Ravi Zacharias | 36,819,475 | Yes | 3 | C |
| 12 | Inspirational Network/ Inspiration Ministries | Radio/ TV Stations | David Cerullo | 31,653,274 | No | 1 | D |
| 13 | Lutheran Hour Ministries | Educational Media | Kurt Buchholz | 30,948,421 | No | 1 | D |
| 14 | Ligonier Ministries | Educational Media | Chris Larson | 28,577,147 | Yes | 2 | A |
| 15 | Radio Training Network | Radio/ TV Stations | James Campbell | 26,689,631 | Yes | 4 | A |
| 16 | Grace to You | Educational Media | John F. MacArthur, Jr. | 25,056,859 | Yes | 4 | C |
| 17 | Thru the Bible Radio Network | Radio/ TV Stations | Gregg Harris | 24,345,832 | No | 4 | C |
| 18 | Messianic Vision, Inc. | Educational Media | Sid Roth | 22,572,443 | Yes | 4 | C |
| 19 | Leading The Way with Dr. Michael Youssef | Educational Media | Michael Youssef | 19,762,908 | Yes | 3 | A |
| 20 | Insight for Living/ Chuck Swindoll | Educational Media | Cynthia Swindoll | 17,377,961 | Yes | 2 | A |
| 21 | KSBJ Educational Foundation | Radio/ TV Stations | Joe Paulo | 15,075,856 | Yes | 3 | A |
| 22 | Bible Broadcasting Network | Radio/ TV Stations | Barbara Redemann | 14,529,494 | No | 3 | D |
| 23 | Truth For Life | Educational Media | Alistair Begg | 14,420,447 | Yes | 3 | A |
| 24 | The Urban Alternative | Educational Media | Anthony T. Evans | 14,349,411 | Yes | 2 | A |
| 25 | Three Angels Broadcasting Network Inc | Radio/ TV Stations | Greg Morikone | 14,146,278 | No | 3 | D |
| 26 | Precept Ministries International | Educational Media | David Arthur | 11,713,875 | Yes | 3 | A |
| 27 | Family Life Communications | Radio/ TV Stations | Randy Carlson | 10,244,359 | Yes | 4 | A |
| 28 | God's World Publications | Educational Media | Kevin Martin | 10,198,580 | No | 3 | C |
| 29 | Christianity Today International | Educational Media | Timothy Dalrymple | 9,720,997 | Yes | 3 | A |
| 30 | It Is Written | Educational Media | Mark Finley | 9,099,925 | No | 5 | D |
| 31 | ReFrame Ministries | Educational Media | Kurt Selles | 8,761,385 | Yes | 1 | C |
| 32 | SAT 7 | Radio/ TV Stations | Rex M. Rogers | 8,715,817 | Yes | 3 | A |
| 33 | Jack Van Impe Ministries | Educational Media | Dr. Jack Van Impe | 8,253,407 | No | 2 | D |
| 34 | Family Radio / Family Stations, Inc. | Radio/ TV Stations | Thomas Evans | 7,200,953 | No | 2 | C |
| 35 | God TV | Radio/ TV Stations | Ward Simpson | 7,104,094 | No | 3 | D |
| 36 | Family Life Ministries | Educational Media | Dick Snavely | 6,281,607 | Yes | 2 | A |
| 37 | Ankerberg Theological Research Institute | Educational Media | Dr. John Ankerberg | 6,042,560 | Yes | 3 | A |
| 38 | Love Worth Finding Ministries | Educational Media | Cary E. Vaughn | 5,694,429 | Yes | 2 | A |
| 39 | Hal Lindsey Website Ministries | Radio/ TV Stations | Hal Lindsey | 5,651,022 | No | 3 | D |
| 40 | Voice of Prophecy | Educational Media | Shawn Boonstra | 5,621,770 | No | 4 | D |
| 41 | D. James Kennedy Ministries | Educational Media | Dr. Frank W. Wright | 4,580,358 | Yes | 3 | A |
| 42 | Cornerstone Televison Network, Inc. | Radio/ TV Stations | Steve Johnson | 4,378,461 | Yes | 1 | C |
| 43 | The Christian Network, Inc./ CNI/ WORSHIP Network/ PRAISE TV Network | Radio/ TV Stations | Mr. Dustin Rubeck | 4,370,884 | No | | F |
| 44 | Back to the Bible/ Good News Broadcasting Association | Educational Media | Mr. Arnie Cole | 4,282,420 | No | 2 | C |
| 45 | Quiet Hour | Educational Media | Rev. William Tucker | 3,493,547 | No | 1 | C |
| 46 | Haven Ministries | Educational Media | Charles Morris | 3,411,985 | Yes | 4 | C |
| 47 | Impact Productions | Educational Media | Mr. Thomas Newman | 3,389,305 | No | 3 | D |
| 48 | Touching Lives/ James Merritt | Educational Media | Dr. James Merritt | 2,373,570 | Yes | 4 | A |
| 49 | Alberto Mottesi Evangelistic Association, Inc. | Educational Media | Mr. Alberto Mottesi | 2,352,503 | No | 3 | D |
| 50 | Lowell Lundstrom Ministries, Inc. | Educational Media | Rev. Lowell Lundstrom | 2,342,689 | Yes | | |