50 Largest Relief and Development Organizations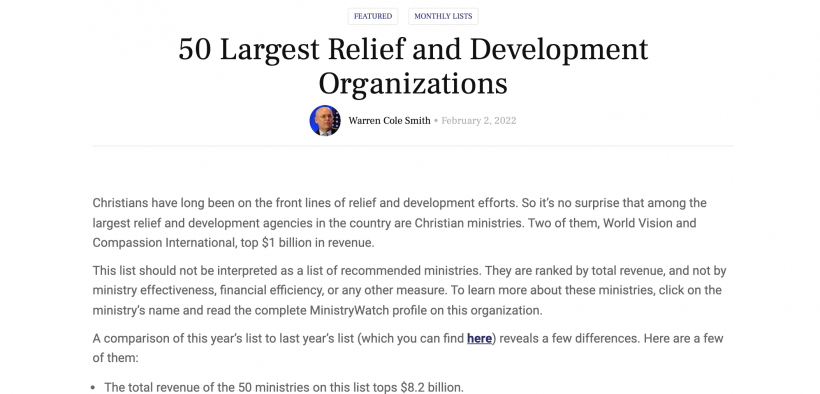 Christians have long been on the front lines of relief and development efforts. So it's no surprise that among the largest relief and development agencies in the country are Christian ministries. Two of them, World Vision and Compassion International, top $1 billion in revenue.
This list should not be interpreted as a list of recommended ministries. They are ranked by total revenue, and not by ministry effectiveness, financial efficiency, or any other measure. To learn more about these ministries, click on the ministry's name and read the complete MinistryWatch profile on this organization.
A comparison of this year's list to last year's list (which you can find here) reveals a few differences. Here are a few of them:
The total revenue of the 50 ministries on this list tops $8.2 billion.
Most of the ministries have grown significantly. World Vision grew by $200 million.
Last year, annual revenue of $3 million would land you on this list. This year, it took $5 million in revenue to make it into the top 50.
| | Organization name | CEO | Total revenue | ECFA Member? | Financial Efficiency Rating | Transparency Grade |
| --- | --- | --- | --- | --- | --- | --- |
| 1 | World Vision | Edgar Sandoval Sr. | $1,233,320,000 | Yes | 4 | A |
| 2 | Compassion International | Santiago "Jimmy" Mellado | $1,001,200,000 | Yes | 2 | A |
| 3 | Samaritan's Purse | Franklin Graham | $898,666,165 | Yes | 2 | A |
| 4 | Food For The Poor | Ed Raine | $755,148,642 | No | 5 | C |
| 5 | MAP International | Steve Stirling | $588,340,641 | Yes | 5 | A |
| 6 | Mercy Corps | Tjada D'Oyen McKenna | $512,419,000 | No | 3 | C |
| 7 | Feed The Children | Travis Arnold | $470,448,326 | No | 4 | C |
| 8 | Convoy of Hope | Hal Donaldson | $369,328,524 | Yes | 4 | A |
| 9 | Covenant House | Kevin Ryan | $248,436,666 | No | 1 | C |
| 10 | ChildFund | Anne Goddard | $222,115,634 | No | 2 | C |
| 11 | Food for the Hungry | Mark Viso | $170,113,048 | Yes | 3 | A |
| 12 | Interchurch Medical Assistance | Daniel Speckhard | $144,545,933 | No | 4 | C |
| 13 | Unbound | Scott Wasserman | $142,204,164 | No | 4 | C |
| 14 | Christian Aid Ministries | David Troyer | $132,527,123 | Yes | 4 | A |
| 15 | Heifer Project International | Pierre Ferrari | $131,411,859 | No | 1 | C |
| 16 | Kingsway Charities | James Gregory | $123,296,786 | No | 5 | C |
| 17 | Mercy Ships | Tom Stogner / Rosa Whitaker | $120,046,483 | Yes | 1 | A |
| 18 | Adventist Development & Relief Agency | Michael Kruger | $86,510,622 | No | 4 | C |
| 19 | Operation Blessing | Gordon Robertson | $85,328,208 | Yes | 4 | A |
| 20 | Church World Service | Richard L. Santos | $73,964,335 | No | 3 | C |
| 21 | World Relief | Tim Breene | $71,106,952 | Yes | 3 | A |
| 22 | Medical Teams International | Martha Newsome | $66,454,190 | Yes | 3 | A |
| 23 | Children's Hunger Fund | David Phillips | $66,442,879 | Yes | 4 | A |
| 24 | Christian Relief Services Charities | Brian Krizek | $64,511,275 | No | 2 | D |
| 25 | Love a Child | Sandra Hazelip | $56,488,165 | Yes | 4 | A |
| 26 | Lutheran World Relief | Daniel V. Speckhard | $52,023,478 | No | 2 | C |
| 27 | Feed My Starving Children | Mark Crea | $49,545,510 | No | 3 | C |
| 28 | Mennonite Central Committee | Ann Graber Hershberger | $36,949,796 | No | 2 | D |
| 29 | Citihope International | Paul Moore II | $34,516,125 | No | 5 | D |
| 30 | Water Mission | George C. Greene | $32,883,896 | Yes | 3 | A |
| 31 | Living Water International | Michael J Mantel | $24,951,247 | Yes | 2 | A |
| 32 | World Hope International | John Lyon | $21,685,571 | Yes | 4 | A |
| 33 | Opportunity International | Atul Tandon | $21,615,780 | No | 1 | C |
| 34 | OneChild | Scott C. Todd | $17,803,809 | Yes | 3 | A |
| 35 | World Renew | Carol Bremer-Bennett / Ida Kaastra-Mutoigo | $14,417,304 | Yes | 1 | A |
| 36 | American Leprosy Missions | Bill Simmons | $10,800,179 | Yes | 1 | A |
| 37 | Christian Relief Fund | Milton Jones | $10,482,152 | Yes | 4 | A |
| 38 | World Emergency Relief | Kristy Scott | $10,162,978 | No | 5 | C |
| 39 | Free Wheelchair Mission | Don Schoendorfer | $9,947,671 | Yes | 2 | A |
| 40 | Christian Blind Mission | Peter Schiel | $8,104,908 | Yes | 4 | A |
| 41 | UMAR Services | Marilyn Garner | $8,035,307 | No | 1 | D |
| 42 | Eagle Ranch | John Shackelford | $7,452,210 | Yes | 2 | A |
| 43 | Kinship United | Craig Muller | $7,419,513 | Yes | 5 | A |
| 44 | Engineering Ministries International | John Dallman | $7,137,776 | Yes | 2 | A |
| 45 | MANNA Worldwide | Bruce O'Neal | $6,803,691 | Yes | 4 | A |
| 46 | Lifewater International | Justin Narducci | $6,673,966 | Yes | 3 | A |
| 47 | Water4 | Matt Hangen | $5,826,084 | Yes | 1 | A |
| 48 | Barnabas Aid / Barnabas Fund Inc | Jeremy Frith | $5,476,362 | Yes | -2 | A |
| 49 | Cedar Ridge Childrens Home and School | Paula Shatzer | $5,194,853 | Yes | 3 | A |
| 50 | International Disaster Emergency Service | David Stine | $5,192,324 | Yes | 2 | A |