Weekly Review

ECFA Membership Changes, MinistryWatch Database Changes, On This Date At MinistryWatch.com, Family Radio, Hillsong, SBC on the Podast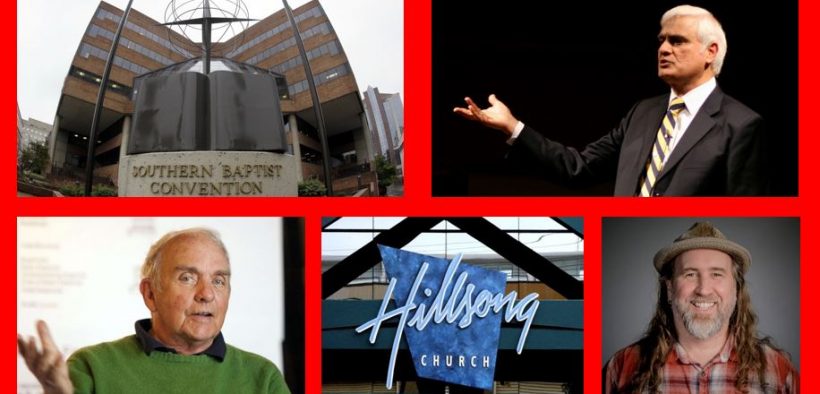 MinistryWatch 1000 Database Changes.  MinistryWatch now has more than 1,000 ministries in its database. These ministries represent more than $37-billion in total revenue, most of that donor revenue from evangelicals. The following ministries have their profiles updated with the most recent year's financial data. The Financial Efficiency rating of each ministry is in parenthesis. If this rating represents a change from the previous year, that change is noted: English Language Institute in China (Down 5 to 4 Stars, Transparency Grade: A, DCS: 85), Africa Inland Mission International (4 Stars, Transparency Grade: C, DCS: Up 60 to 65), Awana (2 Stars, Transparency Grade: A, DCS: Up 90 to 95), Biblical Ministries Worldwide (Up 4 to 5 Stars, Transparency Grade: D, DCS: 40), CSI Ministries Inc.  (2 Stars, Transparency Grade: From A to C, DCS: Down 80 to 70), Elim Christian Services (4 Stars, Transparency Grade: A, DCS: Up 80 to 95), Erskine College (3 Stars, Transparency Grade: C, DCS: Up 60 to 65), Holt International Children's Services (1 Star, Transparency Grade: A, DCS: Up 70 to 75), International Cooperating Ministries (4 Stars, Transparency Grade: A, DCS: Down 90 to 85), International Messengers (Up 3 to 4 Stars, Transparency Grade: A, DCS: 95), Ligonier Ministries / R.C. Sproul (1 Star, Transparency Grade: A, DCS: Up 60 to 65), Open Door Mission (5 Stars, Transparency Grade: A, DCS: Up 80 to 90), Operation Mobilization (3 Stars, Transparency Grade: C, DCS: Up 65 to 70), Phoenix Rescue Mission (2 Stars, Transparency Grade: A, DCS: Up 95 to 100), Radio Training Network, Inc.  (3 Stars, Transparency Grade: A, DCS: Down 95 to 90), SIL International (Down 3 to 2 Stars, Transparency Grade: A, DCS: 80), Star of Hope Mission (1 Star, Transparency Grade: A, DCS: Up 85 to 90), University of the Nations Kona (5 Stars, Transparency Grade: A, DCS: Up 65 to 70). The following ministry has been added to the MinistryWatch database with the most recent year's financial data: Christ for All Peoples (2 Stars, Transparency Grade: D, DCS: 55), Far Reaching Ministries (3 Stars, Transparency Grade: D, DCS: 60)
On the Podcast:  Harold Camping and Family Radio, Hillsong, the United Methodist Church, and the Feds Investigate the SBC.  On today's program, in the 1990s and 2000s, radio preacher Harold Camping wrongly predicted the return of Jesus.  The ministry he founded has spent the last decade recovering.  We'll have an update.  And the Department of Justice has launched an investigation into the Southern Baptist Convention.  We'll have the latest.  We begin today with a lawsuit against Hillsong Church by one of its key employees.  The lawsuit says the church misled donors and evaded taxes.  You can hear the podcast on iTunes, Spotify, Stitcher, and other podcast apps, or you can simply click here.
ECFA Changes.  The following organizations have had membership status changes in the Evangelical Council for Financial Accountability.  ADDITIONS:  Pregnancy Help 4 U (Keller, Tex.), Veritas Foundation (Sammamish, Wash.), Every Mother's Advocate (Pompano Beach, Fla.), Mission Adelante (Kansas City, Mo.), Cary Christian Center (Cary, Miss.), Hope Community Church of NC (Raleigh, N.C.), Bush Mission International (Jonesboro, Ark.),
REMOVALS:  Helping Hands Ministry of Belton (Belton, Tex.), Destiny Church (St. Louis, Mo.), Cornerstone Lodge (Plano, Tex.), The Dallas Dream Team (Carrolton, Tex.)
On This Date At MinistryWatch.com.  EIGHT YEARS AGO:  Mark Driscoll, pastor of Seattle's Mars Hill Church, will relinquish leadership of the megachurch for at least six weeks while elders investigate charges against him. He announced that decision yesterday in a prepared statement he read before his congregation.  Read more here.  TWO YEARS AGO:  Pastor John MacArthur and Grace Community Church filed a lawsuit against California officials Wednesday, saying the state-issued health restrictions aimed at minimizing the spread of COVID-19 "violate the California Constitution."  The complaint claims California has applied the protections of the U.S. and state constitutions unequally:  "When many went to the streets to engage in 'political protests' against 'racism' and 'police brutality,' these protestors refused to comply with the pandemic restrictions. Instead of enforcing the public health orders, public officials were all too eager to grant a de facto exception for these favored protestors."  Read more here.
Send Us Your News Tips.  Do you have a story idea for MinistryWatch?  If so, send us an email.  A lot of the stories we do originate from our readers and listeners.  They send us news tips, press releases, emails, questions, and links.  So, if you have a story you'd like us to cover, or a ministry that you think needs a closer look, please email us.  Our email is [email protected].  That will come directly to my desk, and we'll take it from there.
Salary Data Now In MinistryWatch Database.  We now have salary information for nearly 6,000 executives from more than half of the ministries in the MinistryWatch 1000 database.  So check out this new addition by clicking on the red button at the top of this page, or click here.  That takes you to our database.  The search engine is right there, and you can type in the name of a ministry you're interested in and our profile will pop right up – now, with compensation information for the top executives.
75 Red Flags.  MinistryWatch has released a new free booklet, "75 Red Flags To Consider Before Donating For A Christian Ministry."  To read more, and to download your free, printable copy of the 18-page booklet, click here.
MinistryWatch Video.  A reminder that we have created a short (3.5 minutes) video that explains what we do here at MinistryWatch, and why.  If you're new to MinistryWatch, I hope you'll check it out.  To find it, click here.
Access to MinistryWatch content is free.  However, we hope you will support our work with your prayers and financial gifts.  To make a donation, click here