"75 Red Flags" Is A Guide For Donors Who Want To Dig Deep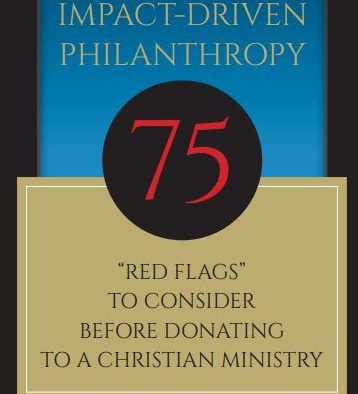 MinistryWatch, working in collaboration with Calvin Edwards & Company and Strategic Resource Group, have created a free guide for donors who want to do a deep analysis of Christian ministries before they give.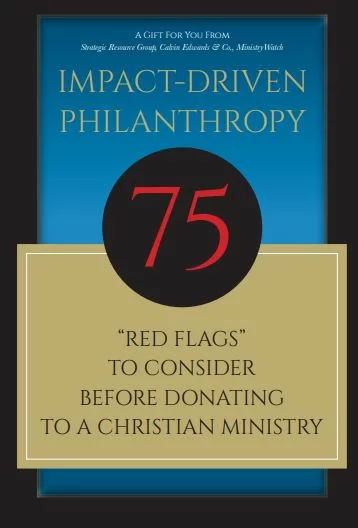 The booklet, available as a free download here, is "75 Red Flags To Consider Before Donating To A Ministry."
MinistryWatch President Warren Smith said, "Recent headlines have had far too many stories of scandal involving Christian ministries.  Even some of the most respected ministries, pastors, and teachers in the nation have been caught up in them."
Smith says, though, that these ministries – Ravi Zacharias International Ministries, Liberty University, Willow Creek Church, Mars Hill Church, Gospel for Asia, and many others – started flying "red flags" long before the scandals became national news.  But most donors didn't know what to look for.
This 18-page booklet asks 75 questions that both donors and ministry leaders can ask to make sure that the organizations they love operate with the highest of integrity.  The questions range from those asking whether a ministry has a biblical statement of faith to whether it has an independent board.  Does the ministry do an annual audit that makes available to the public?  Does the ministry refrain from financial relationships with board members?  Is the salary of executives set by the board based on the best available data regarding non-profit compensation?
"No ministry is going to answer all 75 of these questions in the affirmative," Smith said.  "But these questions can serve as a guide to identify areas in need of improvement for a ministry.  It is our hope that this checklist will serve not just donors, but ministry executives who want to lead their organizations to even higher levels of transparency, accountability, and credibility."
Calvin Edwards, of Calvin Edwards & Company, was the lead author of the checklist.  He received input from MinistryWatch and Strategic Resource Group.  SRG provided funding for the project.
The booklet is available as a printable PDF here.  MinistryWatch is also printing hard copies of the document.  For more information about getting hard copies, email:  [email protected]
Access to MinistryWatch content is free.  However, we hope you will support our work with your prayers and financial gifts.  To make a donation, click here.