MinistryWatch's Top 10 Stories for the Month of June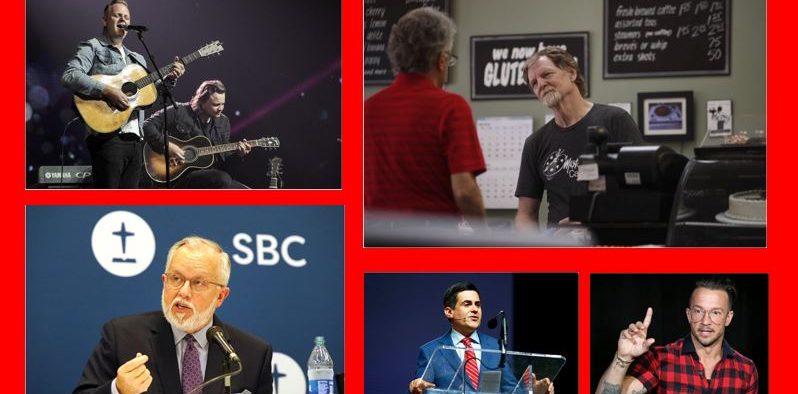 The following stories had the most page views at the MinistryWatch website during the month of June. We present them here in a "countdown" format, from 10 to 1. The first few sentences of each story are reproduced below. To read the entire story, click on the link. To read the Top 10 stories of 2020, click here.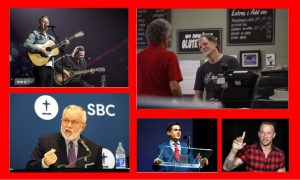 10.  Christian Musician Matthew West Deletes 'Modest Is Hottest' YouTube video After Pushback
Christian musician Matthew West thought he was poking fun at overprotective dads with a new song "Modest Is Hottest."  Instead, he stepped into a firestorm about evangelical purity culture.  The song, which he posted on his YouTube channel, featured lyrics like "Modest is hottest, the latest fashion trend. It's a little more Amish, a little less Kardashian," and claims that boys really love "a turtleneck and a sensible pair of slacks."  A video of the song showed West trying to cover up his teenage daughters, who greet his efforts with a series of eye rolls.  The lyrics also include a line about West grounding his daughters for wearing crop tops and a prayer asking God to make them "more like Jesus and less like Cardi B."
In a hotly contested election decided by just over 500 votes, Alabama pastor Ed Litton was elected president of the Southern Baptist Convention. Litton, the longtime pastor of Redemption Church in Saraland, Alabama, a congregation with 3,900 members, was considered a long shot in the presidential race. Two other candidates—Georgia pastor Mike Stone, a leader among critics of current SBC leaders, and Southern Baptist Theological Seminary President Al Mohler—had been considered the favorites.
A small Christian university outside Philadelphia shuttered its highly regarded social work program partly because school officials say the accrediting agency was attempting to impose sexuality and gender values that don't align with the university's religious mission. According to those officials, the decision by the Cairn University Board of Trustees on May 24 had been under consideration for almost a year because of funding and enrollment concerns. They say the accreditation language was only one factor. But representatives from the accrediting body—the Council on Social Work Education—said its sexuality and gender language had not changed substantially in a recent draft accreditation, although the language addressing race and inclusion was updated.  
Is a hand-designed cake a product? A work of art? An act of speech? When the U.S. Supreme Court ruled in 2018 that Colorado baker Jack Phillips had a right to refuse to create a cake for a gay wedding, his freedom of belief and speech were key to the decision. But in June, Denver District Judge A. Bruce Jones ruled that Phillips's refusal to create a transgender-themed birthday cake was about a product, not compelled speech.
Access to MinistryWatch content is free.  However, we hope you will support our work with your prayers and financial gifts.  To make a donation, click here.
These ministries are ranked last in their category in the MinistryWatch database. In simplest terms, MinistryWatch's Financial Efficiency Rating evaluates how much money contributed to a ministry actually goes to ministry work. If a ministry spends more money than its peers for management and fundraising, or holds more in endowment funds, or spends more it spends on buildings, then these ministries will likely have lower Financial Efficiency Ratings. Here at MinistryWatch, we are sensitive to the argument that no rating system is perfect. That's why we say that our Financial Efficiency Ratings should be just one of several tools donors should use to evaluate a ministry. We love to see ministries with a 5-star rating, but there are a lot of great 3- and 4-star ministries in our database. But 1-star ministries? That's another story. If your favorite ministry has a 1-star rating, you should be asking some tough questions of them before you give.
Ed Litton, senior pastor of Redemption Church in Saraland, Alabama, was elected president of the Southern Baptist Convention during a session of the SBC's annual meeting June 15. A relative unknown, Litton has made racial reconciliation a hallmark of his work since at least the 2014 riots after the killing of Michael Brown in Ferguson, Missouri. His election is considered a defeat for hard right conservatives in the Southern Baptist Convention's recent battles over race, sexual abuse, and gender roles.
A former Hillsong NYC staff member has come forward with allegations that the megachurch's former pastor Carl Lentz subjected her to "bullying, abuse of power and sexual abuse" over the course of seven years as she worked as a nanny in Lentz's home. "I felt trapped and silenced. I also felt so ashamed and I had been told not to say anything or tell anyone," Leona Kimes, 37, told Religion News Service via email May 30. In a statement published on Medium, Kimes, now a co-pastor of Hillsong's Boston location, claimed Lentz abused her sexually on multiple occasions. A legal representative for Carl and his wife, Laura Lentz, responding to Kimes' allegations, told RNS the Lentzes "vehemently deny the allegations and, in addition to that, have irrefutable proof the events did not happen as they are being described."
The Duke Endowment, a Charlotte-based private foundation with nearly $4 billion in assets, gives millions of dollars to United Methodist churches every year through its rural church grant programs. But the anticipated progressive-conservative denominational split in the church could put the fund in a tough spot going forward. The endowment operates according to the guidelines of its founder, the 20th-century industrial and tobacco business tycoon James Buchanan Duke, who set up the trust fund a year before his death in 1925. Raised in a Methodist family himself, Duke made funding rural Methodist churches in North Carolina a core part of the endowment's mission. 
For years before his resignation last month as president of the Southern Baptist Convention's Ethics and Religious Liberty Commission, the Rev. Russell Moore was considered the denomination's most outspoken "Never Trumper," and when he departed for a job at Christianity Today magazine, it was considered a victory for pro-Trump SBC forces. But in a letter written more than a year before his resignation, Moore explained his troubles with the SBC's leadership in bitterly frank terms, and Donald Trump hardly made an appearance. The root of the friction was not his opposition to Trump, Moore said, but the stands Moore had been taking on the SBC's race and sexual abuse issues, which had raised hackles with a "small minority" that Moore does not name but can be identified as key conservatives and members of the denomination's governing Executive Committee.
Saddleback Church pastor Rick Warren on June 6 announced the church will begin the official search for his successor, signaling he will retire after 40 years in his pulpit. "That's a big deal," Warren said, in a moment of characteristic understatement. Saddleback Community Church, which Warren founded in 1980, is the second-largest church in the Southern Baptist Convention, the largest Protestant denomination in the United States. "This is such a significant decision because I'm the only lead pastor our church family has ever had," Warren said during Sunday's online service.