Ed Litton, a Pastor Known for Racial Reconciliation, is Surprise Winner for SBC President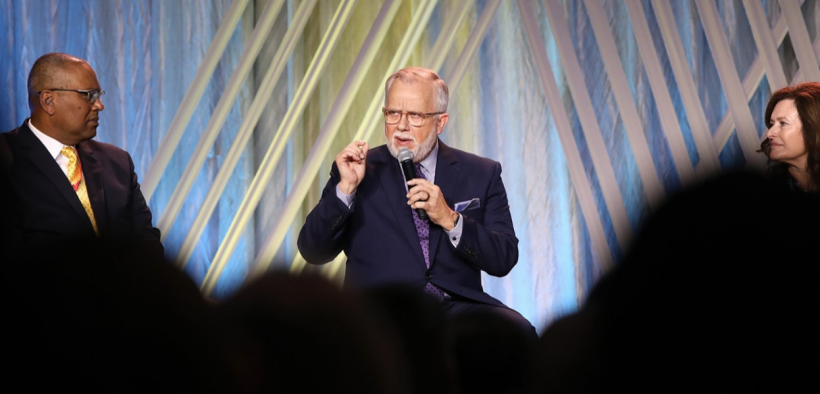 Ed Litton, senior pastor of Redemption Church in Saraland, Alabama, was elected president of the Southern Baptist Convention during a session of the SBC's annual meeting Tuesday (June 15).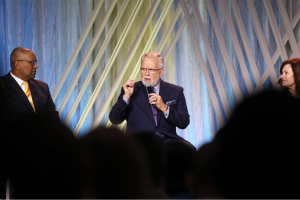 A relative unknown, Litton has made racial reconciliation a hallmark of his work since at least the 2014 riots after the killing of Michael Brown in Ferguson, Missouri. His election is considered a defeat for hard right conservatives in the Southern Baptist Convention's recent battles over race, sexual abuse, and gender roles.
Litton won in the second round of voting Tuesday, defeating conservative Georgia pastor Mike Stone, a former SBC Executive Committee chair and favorite of the Conservative Baptist Network, which has been critical of SBC leadership, saying it has become captive to liberal ideas.
In the first round, Stone and Litton each received about a third of the 13,181 votes cast, with Southern Baptist Theological Seminary President Albert Mohler Jr. drawing about a quarter of the vote. Randy Adams, an executive of the Northwest Baptist Convention, was a distant fourth.
Litton, who served as the SBC's first vice president in 2001, becomes the 63rd president of the SBC and will take over from J.D. Greear, pastor of The Summit Church in Durham, N.C., who served an extra year due to the cancellation of the 2020 annual meeting amid the coronavirus pandemic.
Fred Luter, the only Black pastor to serve as president of the SBC, from 2012 to 2014, announced in January that he would nominate Litton on Tuesday. The two have been friends for more than 20 years and met when they swapped pulpits for a "Racial Reconciliation Sunday" event.
Access to MinistryWatch content is free.  However, we hope you will support our work with your prayers and financial gifts.  To make a donation, click here.
"From there, our relationship developed to more than just colleagues to bring races together," Luter told Baptist Press, the SBC's official news organization. 
Luter and Litton were among the signers of "Justice, Repentance and the SBC," a December 2020 statement published after heads of six Southern Baptist seminaries issued a statement rejecting critical race theory.
Ahead of the election on Tuesday, Luter, pastor of Franklin Avenue Baptist Church, called Litton someone who could unite Southern Baptists and get them focused on evangelism, not fighting among themselves. "Take it from Fred, vote for Ed," Luter told the crowd of more than 15,000 eligible voters.
The 2021 SBC presidential election comes at a time of tension for the nation's largest Protestant denomination. The denomination has declined by close to 2 million members since 2006 and its rate of baptisms has been stagnant for years. Southern Baptists have also been divided over issues of race and immigration, support for former President Donald Trump, gender roles, and allegations of mishandling sexual abuse cases.
Dwight McKissic, a popular Black pastor of Cornerstone Baptist Church in Arlington, Texas, recently told the New Yorker magazine that he would leave the denomination if Stone or Mohler won.
After graduating from Grand Canyon University in 1983, and Southwestern Baptist Theological Seminary, Litton served in church and state convention posts in Texas and Arizona before helping to found Mountain View Baptist Church in Tucson. He became pastor at Redemption—then known as First Baptist North Mobile—in 1994. In 2007, his first wife and mother of their two children, Tammy was killed in a car accident. 
In 2009 he married Kathy Ferguson, who had lost her husband, also a pastor, in an auto accident seven years earlier.  
James T. Draper Jr., who supervised Litton in the 1980s, told Baptist Press in 2008 that he fully recognized the younger man's spiritual leadership the day of Litton's first wife's funeral.
"After the graveside service at the cemetery, people just kind of stood around in groups," Draper recalled. "Ed started moving from group to group, speaking to everybody, then finally spoke to the whole group. Here he was, at the most critical moment in his life, and yet he was comforting other people. In the midst of his grief, he was still the pastor.
"I thought, 'You know, being a pastor is not something he does; it's something he is," Draper said.
This story is developing and will be updated.