MinistryWatch's Top 10 Stories for the Month of December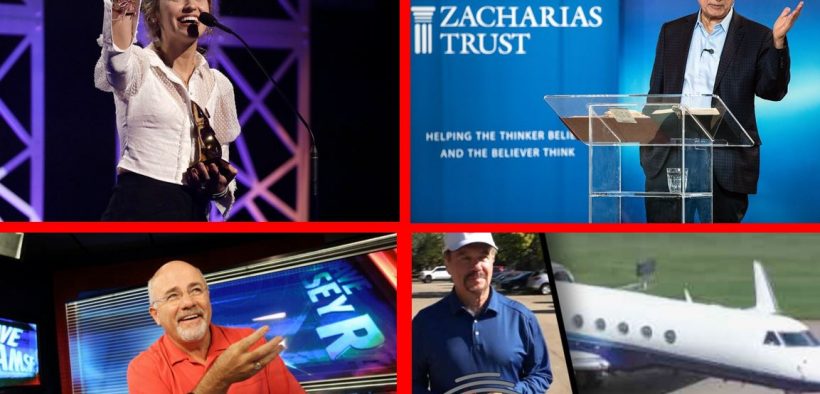 The following stories had the most page views at the MinistryWatch website during the month of December.  We present them here in a "countdown" format, from 10 to 1.  The first few sentences of each story are reproduced below.  To read the entire story, click on the link.  To read the Top 10 stories of 2020, click here.
Former Liberty University President Jerry Falwell Jr. has dropped a lawsuit in which he claimed the school he once led defamed him after he resigned this summer in the wake of a sex scandal.  According to the News & Advance, Falwell's lawyers informed the Lynchburg Circuit Court on Wednesday (Dec. 9) that he will not pursue his case against the school. The case revolved around allegations of a sexual relationship involving himself, his wife, and a former business associate that were repeated by school officials—allegations Falwell insists are false.
Christian pop star Lauren Daigle has been removed from the lineup of "Dick Clark's New Year's Rockin' Eve," the iconic musical countdown to the New Year on ABC, according to a report by New Orleans news station WDSU.  The move comes after New Orleans Mayor LaToya Cantrell raised concerns about Daigle's appearance at Sean Feucht's "Let Us Worship" rally and concert last month in the city, where Daigle lives and New Year's Rockin' Eve plans to film its countdown for the Central time zone.  In a letter to Dick Clark Productions, published by New Orleans radio station WWL, Cantrell wrote that she could not "in good conscience" support Daigle's involvement in the broadcast.  
In a statement released late today (Dec. 23) the board of Ravi Zacharias International Ministries (RZIM) has confirmed many of the allegations against Ravi Zacharias reported by MinistryWatch and other news outlets.  The statement from RZIM summarizes an interim report released by Miller & Martin, a firm hired to investigate the allegations.  It reads in part:
While the investigation remains ongoing and is not expected to be completed until January or February, yesterday we received a brief interim update on the investigation we felt we needed to share (attached). Sadly, the interim investigation update indicates this assessment of Ravi's behavior to be true—that he did indeed engage in sexual misconduct.
Access to MinistryWatch content is free.  However, we hope you will support our work with your prayers and financial gifts.  To make a donation, click here.
On the 20th anniversary of the adoption of the Southern Baptist Convention's message of faith—the Baptist Faith and Message 2000 (BFM)—a coalition of Southern Baptist seminary presidents released a statement condemning Critical Race Theory and calling it "incompatible" with the BFM.  "We stand together on historic Southern Baptist condemnations of racism in any form and we also declare that affirmation of Critical Race Theory, Intersectionality, and any version of Critical Theory is incompatible with the Baptist Faith & Message," the statement reads.
The statement itself does not clarify what makes Critical Theory incompatible with the core beliefs of Southern Baptists, but The Baptist Press published statements from the six seminary presidents alongside the original joint statement. 
A so-called international ministry based in Florida who didn't appear to do anything ministry related allegedly obtained millions by defrauding the Paycheck Protection Program, federal authorities say.  CNBC reports that U.S. Secret Service agents seized more than $7.5 million from accounts at Bank of America and another $868,000 from First American Trust from ASLAN International Ministry.  The information came from a civil forfeiture complaint filed in U.S District Court in Orlando, Fla.  "The website [for ASLAN International Ministry] contained generic business information believed to have been taken from other websites and generated as their own information," said the complaint, which was filed on Monday. "The links on that website that allowed for a user to give a donation or seek employment were inactive." 
The complaint asks a judge to sign off on the seized money being forfeited to the federal government "on the grounds that the funds are proceeds from bank fraud offenses."
For months, Trinity Foundation has investigated televangelists receiving Paycheck Protection Program forgivable loans.  The findings:  At least $78.6 million in loans were given to religious TV networks, independent religious TV stations, TV preachers, and churches/media ministries with national TV programs.  The total would exceed $82 million if we include churches with 24/7 streaming channels in the same class as television.
Though we published this list in August, recent news elevated it back into our Top 10 List.
Christian personal finance guru Dave Ramsey hopes his staff will spread peace and goodwill during the Christmas season.  They may also be spreading COVID-19.  Ramsey Solutions, the company founded by the bestselling author and radio host, plans to host "Boots & BBQ," a large in-person Christmas party, for hundreds of staff members at the company's Franklin, Tenn., headquarters, despite an outbreak of more than 50 cases at the company's headquarters as late as mid-November. 
An apologist with Ravi Zacharias International Ministries (RZIM) said the ministry needs to make "meaningful reparations" to the alleged sexual abuse victims of Ravi Zacharias, if the allegations are confirmed.
Dr. Max Baker-Hytch is a senior tutor with RZIM's  The Oxford Centre for Christian Apologetics (OCCA).  His five-page letter to RZIM's senior leaders said the ministry had lost trust "internally and externally" because of the recent scandals.  The letter was addressed to:  Sarah Davis, CEO of RZIM; Michael Ramsden, RZIM's President; and others in the senior leadership team.
In 2009, a conman bilked members at Bethel Church in Redding, California, out of more than $650,000. Now, two shysters peddling a Ponzi scheme have reportedly struck the controversial megachurch again—this time defrauding investors of $35 million from 2015 to 2020.  Accused in a recently unsealed 31-count indictment by the Department of Justice (DOJ) is 44-year-old Matthew Piercey and his alleged accomplice, 67-year-old Kenneth Winton. Piercey is a congregant of Bethel Church. And Winton describes himself as a "God Lover" on his Facebook page where he often posts Scripture and inspirational thoughts.