50 Largest Christian Colleges and Universities–2022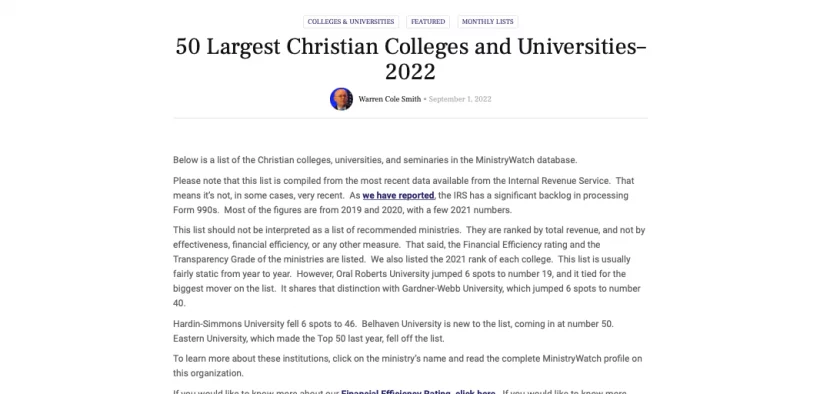 Below is a list of the Christian colleges, universities, and seminaries in the MinistryWatch database.
Please note that this list is compiled from the most recent data available from the Internal Revenue Service.  That means it's not, in some cases, very recent.  As we have reported, the IRS has a significant backlog in processing Form 990s.  Most of the figures are from 2019 and 2020, with a few 2021 numbers.
This list should not be interpreted as a list of recommended ministries.  They are ranked by total revenue, and not by effectiveness, financial efficiency, or any other measure.  That said, the Financial Efficiency rating and the Transparency Grade of the ministries are listed.  We also listed the 2021 rank of each college.  This list is usually fairly static from year to year.  However, Oral Roberts University jumped 6 spots to number 19, and it tied for the biggest mover on the list.  It shares that distinction with Gardner-Webb University, which jumped 6 spots to number 40.
Hardin-Simmons University fell 6 spots to 46.  Belhaven University is new to the list, coming in at number 50.  Eastern University, which made the Top 50 last year, fell off the list.
To learn more about these institutions, click on the ministry's name and read the complete MinistryWatch profile on this organization.
If you would like to know more about our Financial Efficiency Rating, click here.  If you would like to know more about our Transparency Grades, click here.
| Rank | 2021 | Organization name | CEO | Total revenue | ECFA | FE Rating | Transparency Grade | DCS |
| --- | --- | --- | --- | --- | --- | --- | --- | --- |
| 1 | 1 | Grand Canyon University | Brian Mueller | 1,470,193,710 | No | 5 | C | 70 |
| 2 | 2 | Liberty University | Jerry Prevo | 1,343,657,390 | No | 3 | C | 50 |
| 3 | 3 | Baylor University | Linda Livingstone | 1,252,666,839 | No | 2 | C | 55 |
| 4 | 4 | Pepperdine University | James Gash | 580,174,202 | No | 1 | C | 40 |
| 5 | 5 | California Baptist University | Ronald L. Ellis | 388,271,468 | No | 5 | C | 65 |
| 6 | 6 | Azusa Pacific University | Paul R. Ferguson | 298,077,591 | No | 4 | D | 65 |
| 7 | 7 | High Point University | Nido Qubein | 294,774,165 | No | 1 | C | 50 |
| 8 | 8 | Hillsdale College | Larry P. Arnn | 287,422,849 | No | 1 | C | 40 |
| 9 | 9 | Campbell University | J. Bradley Creed | 261,461,317 | No | 5 | C | 55 |
| 10 | 10 | Biola University | Barry H. Corey | 260,665,144 | No | 3 | C | 70 |
| 11 | 11 | Abilene Christian University | Phil Schubert | 252,996,672 | No | 1 | C | 55 |
| 12 | 12 | Samford University | Beck A. Taylor | 233,018,125 | No | 3 | C | 55 |
| 13 | 13 | Indiana Wesleyan University | David Wright | 208,118,995 | No | 4 | C | 70 |
| 14 | 14 | Lipscomb University | Candice McQueen | 193,551,646 | No | 1 | C | 50 |
| 15 | 15 | Wheaton College | Philip Ryken | 176,853,672 | No | 2 | C | 75 |
| 16 | 16 | Seattle Pacific University | Pete Menjares | 170,237,261 | No | 3 | C | 50 |
| 17 | 17 | Cedarville University | Thomas White | 159,289,322 | No | 4 | C | 80 |
| 18 | 18 | Concordia University - Mequon, WI | William R. Cario | 159,253,851 | No | 3 | C | 65 |
| 19 | 25 | Oral Roberts University | William M Wilson | 154,062,702 | Yes | 4 | A | 85 |
| 20 | 23 | Ashland University | Carlos Campo | 151,417,762 | No | 5 | C | 65 |
| 21 | 19 | Point Loma Nazarene University | Bob Brower | 151,214,169 | Yes | 2 | A | 80 |
| 22 | 20 | Campbellsville University | Joe Hopkins | 147,591,479 | No | 4 | C | 60 |
| 23 | 21 | Bethel University - Minnesota | Ross Allen | 146,758,836 | No | 3 | C | 65 |
| 24 | 22 | Regent University | M.G. "Pat" Robinson | 146,100,069 | Yes | 3 | A | 95 |
| 25 | 24 | Messiah University | Kim S Phipps | 142,322,736 | No | 3 | C | 75 |
| 26 | 26 | George Fox University | Robin Baker | 137,279,638 | No | 3 | C | 80 |
| 27 | 28 | Dallas Baptist University | Adam C. Wright | 135,214,343 | No | 4 | C | 55 |
| 28 | 29 | Southeastern University | Kent Ingle | 130,768,783 | No | 5 | C | 75 |
| 29 | 27 | Harding University | Mike Williams | 129,416,056 | No | 3 | C | 65 |
| 30 | 30 | University of Mary Hardin-Baylor | Randy O'Rear | 125,812,163 | No | 2 | C | 60 |
| 31 | 31 | Houston Baptist University | Robert B Sloan Jr. | 123,075,864 | No | 2 | C | 65 |
| 32 | 32 | Colorado Christian University | Donald W. Sweeting | 118,836,574 | Yes | 3 | A | 95 |
| 33 | 33 | Emmanuel College | Sister Janet Eisner | 117,304,644 | No | 2 | C | 65 |
| 34 | 34 | Palm Beach Atlantic University | Debra Schwinn | 116,726,108 | No | 3 | C | 65 |
| 35 | 35 | Moody Bible Institute | Mark Jobe | 109,007,070 | Yes | 1 | A | 85 |
| 36 | 36 | Mississippi College | Blake Thompson | 108,288,963 | No | 3 | C | 65 |
| 37 | 37 | University of Northwestern - St. Paul | Alan S. Cureton | 107,527,450 | Yes | 2 | A | 90 |
| 38 | 38 | Lee University | Mark Walker | 106,104,009 | No | 3 | C | 70 |
| 39 | 39 | Anderson University | Evans P Whitaker | 102,222,517 | No | 3 | C | 70 |
| 40 | 46 | Gardner-Webb University | William Downs | 100,956,877 | No | 4 | C | 70 |
| 41 | 41 | Taylor University | D. Michael Lindsay | 99,093,951 | Yes | 2 | A | 90 |
| 42 | 42 | College of the Ozarks | Jerry Davis | 97,681,730 | No | 4 | C | 80 |
| 43 | 43 | Charleston Southern University | Dondi E Costin | 94,488,376 | No | 3 | C | 75 |
| 44 | 44 | Gordon College | Michael D. Hammond | 92,822,591 | Yes | 2 | A | 90 |
| 45 | 45 | North Park University | Mary K. Surridge | 92,534,349 | No | 4 | C | 70 |
| 46 | 40 | Hardin-Simmons University | Eric Bruntmyer | 91,490,593 | No | 3 | C | 70 |
| 47 | 47 | Union University | Dub Oliver | 89,960,505 | Yes | 4 | A | 90 |
| 48 | 48 | Fresno Pacific University | Andre Stephens | 88,457,100 | No | 4 | C | 75 |
| 49 | 49 | Grove City College | Paul J. McNulty | 83,985,773 | No | 2 | C | 60 |
| 50 | NR | Belhaven University | Roger Parrott | 83,473,318 | No | 2 | C | 70 |