Cost To Send Missionary Into The Field Varies Widely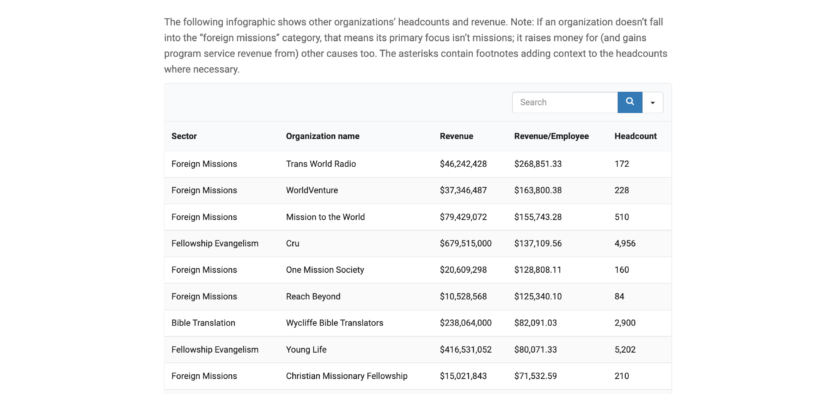 How much does it cost to send a missionary overseas? How much revenue do missions-oriented nonprofits raise to this end?
These are the questions MinistryWatch sought to answer when we asked more than 60 of the largest missions, Bible translation, and fellowship evangelism organizations how many full-time missionaries they have in the field. We then divided each nonprofit's total revenue by their number of full-time missionaries. Our goal was to understand the true, fully loaded cost of keeping missionaries in the field.
Here are some of the key findings:
Overall, the average revenue-per-missionary was $91,739, while the median was $64,536.

 

However, some organizations were far more efficient than others, as the range was wide: $29,842 to over $250,000.

 

Among the 26 organizations that shared their number of full-time missionaries, the average headcount was 992.

 

24 organizations didn't respond to MinistryWatch's requests for information, while two were unable to comment due to limited availability.

 
These numbers are far from perfect indicators of the efficiency of organizations.  They fail to take into account, for example, that many of the organizations we contacted do far more than missionary work.  However, "revenue per employee" is a common — some would say essential — measure of productivity among for-profit companies, so this figure can also be helpful in evaluating the efficiency of non-profit organizations as well.
Below is a short summary of what we learned from some of the largest missionary organizations.
Cru/Campus Crusade for Christ
First up is Cru, which told MinistryWatch in October that 5,711 people on its staff raise their own support as missionaries, representing approximately 85% of the Florida-based organization's total headcount of employees. Of these, 4,956 are full-time. 
Cru's latest Form 990s aren't available online, but its profile with the Evangelical Council for Accountability (ECFA) reports $679.5 million in revenue last year. With 4,956 full-time missionaries on staff, its per missionary revenue is $137,109.  Known for its campus fellowship programs in the United States, Cru conducts a wide range of activities, including internships, Bible studies, outreach efforts and even films.  It operates in 190 countries.  (See chart below for a comparison of all the ministries.)
Young Life
Colorado-based Young Life reports $416.5 million in revenue in its latest audit report, roughly matching its ECFA profile. The organization told MinistryWatch that 5,202 staff members are considered full-time missionaries, bringing its per missionary revenue to $80,071. Young Life, like Cru, does more than just missions work. It runs small groups, camps, meetings, national events, and student exchange programs. 
Wycliffe Bible Translators
Wycliffe Bible Translators has 2,900 full-time missionaries on staff, with all raising their own support. The Florida-based interdenominational nonprofit told us this number represents about 91% of its workforce. Per its latest audited financial statement and MinistryWatch's database, the organization totaled $238 million in revenue last year. That brings its per missionary revenue to $82,091. 
Missionaries aren't the only focus of Wycliffe Bible Translators' mission and pitch to donors, however. Contributors can give to individual projects as well, not just missionaries. 
Fellowship of Christian Athletes
The Fellowship of Christian Athletes (or FCA) says it has 2,527 full-time missionary staff. The Missouri-based sports ministry totaled $180.1 million in revenue last year, per its 2021 audited financial statement and MinistryWatch data, so its revenue per missionary is $71,271. 
Like the others listed so far, FCA isn't just a missions organization. It has coaches, campus, team and international ministries conducting a range of activities. 
Pioneers, Inc.
Pioneers told us last month it has 1,608 U.S.-sent missionary staff, not including staff working out of its headquarters in Florida. Per our database, Pioneers' 2021 revenue totaled $91.3 million, bringing its per-missionary figure to $56,819.
While Pioneers mainly engages in missions and church-planting work, it also raises money for individual causes/campaigns. Donors can give to various projects on its website, such as the Afghanistan Crisis Fund or its Victims of War project (which supports refugees and displaced people). 
Mission to the World, PCA
Mission to the World (MTW) has 510 full-time missionaries worldwide. Its latest Form 990s aren't publicly available, but its ECFA profile shows $79.4 million in 2021 revenue. That brings its per-missionary figure to $155,743. While church planting accounts for 75% of MTW's ministry work, it runs several other programs (shown below), including education, translation, theological, medical and youth ministries.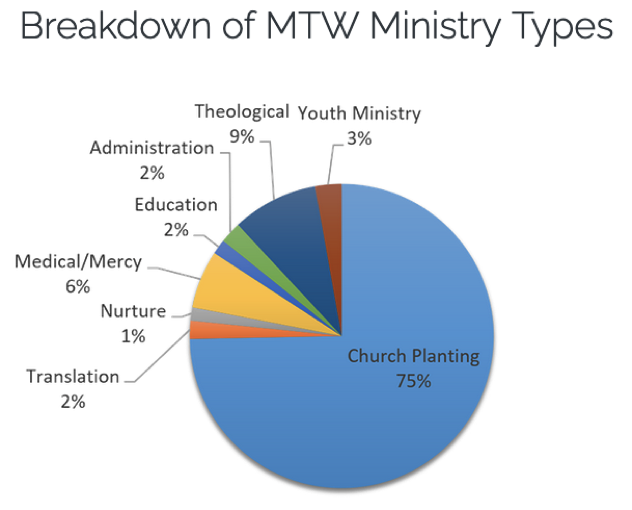 Source: MTW website.
Ethnos360
Ethnos360 told MinistryWatch in October that it has over 1,900 members, with 98% raising their own support as missionaries. The Florida-based organization has a small number of employees in support roles receiving traditional salaries via ministry funds. With $77 million in 2021 revenue listed in its ECFA profile, Ethnos360's per-missionary revenue is $40,526.
According to the audited report Ethnos360 sent us last month, the organization earned around $6 million from sales, fees and operations, and $65 million from contributions without donor restrictions. Revenue raised by missionaries or donated to missionary causes isn't its only income source. 
Notable Outliers
We also identified several smaller organizations out of the ordinary. 
With 172 missionaries and $46.2 million in 2021 revenue (per our database), Trans World Radio's per-missionary revenue comes out to $268,851. The North Carolina-based organization mainly deals in media and broadcasting, with much of the organization's revenue going to non-staff technology and broadcast related expenses.
Colorado-based sending agency Reach Beyond has global offices that operate as autonomous legal entities with their own independent leadership and board of trustees. This enables them to meet nonprofit tax requirements and other standards in their respective countries. The full-time definition is complicated too, since the organization is increasingly adding indigenous "missionaries" in various regions, some being volunteers or part-time. 
Reach Beyond reports 84 active missionaries, excluding those sent by its country offices. With $10.5 million in 2021 revenue recorded in our database, Reach Beyond's per-missionary revenue is $125,340. 
Indiana-based One Mission Society (OMS) has 160 full-time missionaries and $20.6 million in 2021 revenue listed in our database, making OMS's per-missionary figure $128,808. However, this doesn't account for the fact that OMS partners with thousands of churches, organizations and denominations worldwide in its missions work. Plus, its revenue includes donations to other OMS ministries and projects, apparel sales and other income sources. 
Another outlier is WorldVenture, whose per-missionary revenue is $163,800, based on a headcount of 228 and 2020 revenue of $37.3 million (per our database). However, the 228 total represents "units" of married and single workers, not just individuals. Also, the "full-time" metric includes long-term workers on open assignment. Another 20 units fall under the categories of short-term, set assignment and global apprentice, but we excluded them from the total as they aren't long-term staff. 
Speaking of spouses, the reverse of WorldVenture's arrangement applies in this next case: Biblical Ministries Worldwide has 450 missionaries in the field. With $13.4 million in 2020 revenue, its per missionary figure comes out to $29,842, which is lower than peers. However, the ministry said this doesn't include units of missionaries. It counts husbands and wives separately since they each complete the application process, go before the board and complete their training individually. Doubling that number brings it closer to the median of the group. 
—————
The following infographic shows other organizations' headcounts and revenue. Note: If an organization doesn't fall into the "foreign missions" category, that means its primary focus isn't missions; it raises money for (and gains program service revenue from) other causes too.
Notes related to the chart above:
Africa Inland Mission International has about 850 missionaries in Africa and worldwide through its immigrant and refugee ministry. That number also includes missionary personnel serving in its mobilizing offices, not just missionaries.
It's difficult to make like-for-like comparisons, because there is no standardized accounting in the missionary world. Further, not all organizations in this sector solely engage in mission work; some (especially the largest in the group) run a slew of other activities, such as education, relief and development, so their per-missionary revenue wouldn't account for all programs and services.

 

We cast a wide net by contacting the largest nonprofits in the "foreign missions," "Bible translation" and "fellowship evangelism" categories of

our database

. About a dozen confirmed they don't have any missionary staff, so we removed them from our analysis here. Several others aren't missions organizations entirely but focus primarily on fellowship, such as Cru, Young Life and the Fellowship of Christian Athletes. Still, we kept them in the sample because they have a sizable base of missionary staff. Caveats about their missions are noted below.

 

Many organizations added some sort of qualifier to their full-time headcounts, noting the exclusion of short-/medium-term, part-time and volunteer positions. Accordingly, the data covered in this story doesn't include staff in those miscellaneous categories.