50 Largest Evangelism and Discipleship Ministries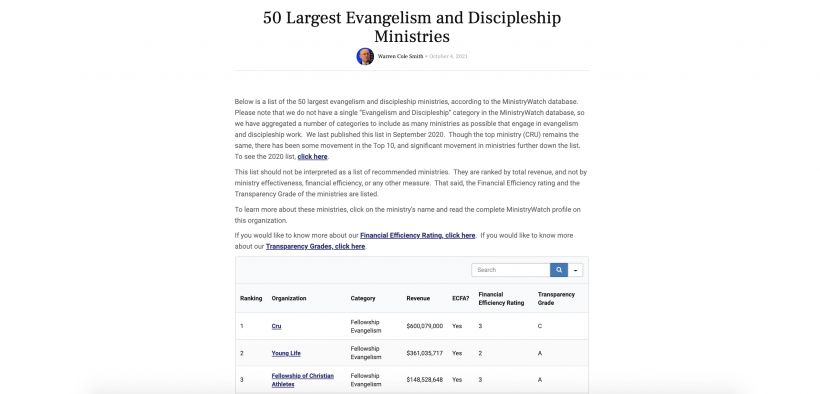 Below is a list of the 50 largest evangelism and discipleship ministries, according to the MinistryWatch database.  Please note that we do not have a single "Evangelism and Discipleship" category in the MinistryWatch database, so we have aggregated a number of categories to include as many ministries as possible that engage in evangelism and discipleship work.  We last published this list in September 2020.  Though the top ministry (CRU) remains the same, there has been some movement in the Top 10, and significant movement in ministries further down the list.  To see the 2020 list, click here.
This list should not be interpreted as a list of recommended ministries.  They are ranked by total revenue, and not by ministry effectiveness, financial efficiency, or any other measure.  That said, the Financial Efficiency rating and the Transparency Grade of the ministries are listed.
To learn more about these ministries, click on the ministry's name and read the complete MinistryWatch profile on this organization.
If you would like to know more about our Financial Efficiency Rating, click here.  If you would like to know more about our Transparency Grades, click here.
| Ranking | Organization | Category | Revenue | ECFA? | Financial Efficiency Rating | Transparency Grade |
| --- | --- | --- | --- | --- | --- | --- |
| 1 | Cru | Fellowship Evangelism | $600,079,000 | Yes | 3 | C |
| 2 | Young Life | Fellowship Evangelism | $361,035,717 | Yes | 2 | A |
| 3 | Fellowship of Christian Athletes | Fellowship Evangelism | $148,528,648 | Yes | 3 | A |
| 4 | The Navigators | Christian Growth | $138,324,000 | Yes | 3 | C |
| 5 | Billy Graham Evangelistic Association | Evangelism | $130,275,088 | Yes | 2 | C |
| 6 | InterVarsity Christian Fellowship | Fellowship Evangelism | $112,206,000 | Yes | 3 | A |
| 7 | Gideons International | Evangelism | $109,332,881 | Yes | 4 | C |
| 8 | Every Home for Christ | Evangelism | $58,706,736 | Yes | 5 | C |
| 9 | Word of Life Fellowship | Evangelism | $56,053,117 | Yes | 3 | A |
| 10 | Andrew Wommack Ministries | Christian Growth | $51,632,079 | No | 4 | C |
| 11 | Joni and Friends | Fellowship Evangelism | $49,760,031 | Yes | 3 | A |
| 12 | Mission Aviation Fellowship | Evangelism Support | $48,856,443 | Yes | 1 | C |
| 13 | Answers in Genesis | Christian Growth | $46,636,185 | Yes | 3 | A |
| 14 | Museum of the Bible | Christian Growth | $45,047,811 | Yes | 1 | C |
| 15 | Prison Fellowship Ministries | Christian Growth | $44,289,105 | Yes | 2 | A |
| 16 | Mennonite Brethren Foundation | Evangelism Support | $35,500,302 | Yes | 3 | C |
| 17 | Luis Palau Evangelistic Association | Evangelism | $32,800,903 | Yes | 4 | A |
| 18 | Operation Mobilization | Evangelism Support | $30,503,681 | Yes | 3 | C |
| 19 | David C. Cook | Christian Growth | $29,977,794 | Yes | 3 | A |
| 20 | Bible Study Fellowship | Christian Growth | $28,989,152 | Yes | 4 | A |
| 21 | RightNow Ministries International | Christian Growth | $28,668,095 | Yes | 4 | A |
| 22 | Jews for Jesus | Evangelism | $24,604,454 | Yes | 2 | C |
| 23 | Willow Creek Association | Evangelism | $23,097,775 | Yes | 2 | C |
| 24 | Anabaptist Foundation | Evangelism Support | $21,058,459 | Yes | 4 | A |
| 25 | Christ in Youth | Fellowship Evangelism | $20,856,684 | Yes | 4 | A |
| 26 | Commission to Every Nation | Evangelism Support | $20,810,919 | Yes | 5 | A |
| 27 | Student Mobilization | Fellowship Evangelism | $20,739,796 | Yes | 4 | A |
| 28 | Marketplace Ministries | Christian Growth | $19,733,183 | Yes | 3 | A |
| 29 | Child Evangelism Fellowship | Evangelism | $19,600,561 | Yes | 3 | A |
| 30 | Corporate Chaplains of America | Evangelism | $18,484,533 | Yes | 3 | A |
| 31 | Youth for Christ USA | Fellowship Evangelism | $17,325,787 | Yes | 3 | A |
| 32 | YWAM San Diego / Baja | Evangelism | $17,148,909 | Yes | 3 | A |
| 33 | Christ for All Nations | Evangelism | $16,575,117 | Yes | 3 | A |
| 34 | Living Stream Ministry | Christian Growth | $16,303,736 | No | 3 | D |
| 35 | Crown Financial Ministries | Christian Growth | $15,867,157 | Yes | 5 | A |
| 36 | Chosen People Ministries | Evangelism | $14,767,414 | Yes | 1 | C |
| 37 | Coalition for Christian Outreach | Christian Growth | $14,433,127 | Yes | 2 | A |
| 38 | JAARS | Evangelism Support | $14,080,218 | Yes | 3 | A |
| 39 | International Students | Evangelism | $13,140,168 | Yes | 2 | C |
| 40 | The Friends of Israel Gospel Ministry | Evangelism | $13,033,552 | Yes | 2 | C |
| 41 | Institute for Creation Research | Christian Growth | $12,912,501 | Yes | 3 | A |
| 42 | Haggai International | Evangelism | $12,000,324 | Yes | 1 | A |
| 43 | Youth for Christ International | Fellowship Evangelism | $11,524,434 | Yes | 5 | A |
| 44 | Cadence International | Fellowship Evangelism | $11,211,278 | Yes | 3 | A |
| 45 | Upward Unlimited / Upward Sports | Fellowship Evangelism | $10,009,588 | Yes | 1 | A |
| 46 | Fellowship for the Performing Arts | Christian Growth | $9,877,428 | Yes | 1 | A |
| 47 | Marriage Today | Christian Growth | $9,799,507 | Yes | 2 | C |
| 48 | Choice Books of Northern Virginia | Christian Growth | $9,789,614 | Yes | 3 | A |
| 49 | CBMC | Fellowship Evangelism | $9,557,618 | Yes | 2 | A |
| 50 | Lifeline Christian Mission | Christian Growth | $9,071,748 | Yes | 5 | A |