Personal Ministry In The Age of Covid-19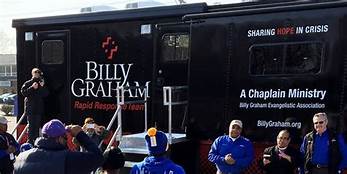 At Cornell University, where the university abruptly announced on Friday that classes would end that evening, staff and student leaders at Cru sprang into action.
Cru, formerly Campus Crusade for Christ, operates on thousands of college campuses worldwide.  The team at Cornell focused on collecting moving boxes, driving students who did not have automobiles, and helping find storage spaces for their belongings.
"Helping students both move out and get settled seems like it's going to be a big part of our job over the next few weeks," said J.W. Betts, campus team leader of Cru at Cornell.
And they will continue their spiritual mission on campus as well, even just a few international students remain, he said. "As long as there are any students on campus, we will continue to hang out and preach the Gospel," Betts said.
At Tufts University, which has asked dorm residents to move out and where a student was recently diagnosed with COVID-19, a Protestant chaplain, the Rev. Daniel Bell, says he is looking into secure and accessible methods for offering students pastoral care meetings and even worship services online. 
"In the days and weeks ahead, we will be working on offering creative ways to stay in touch with students virtually while still maintaining a consistent on-campus presence," Bell said. "We are all learning to remain flexible, resilient and grounded in the present moment, no matter what the future brings." 
Nathan Albert, an associate chaplain at the University of Lynchburg in Virginia, said he and his fellow chaplains will send students sign-up sheets to set up one-on-one virtual pastoral care sessions next week via Zoom video conferences, FaceTime and phone calls. That service will be available for the students they already meet with regularly, as well as those seeking help to process the rapid changes they're facing due to the pandemic.
"A lot of our students are digitally connected, tethered to their phones and social media," Albert said. "But there's something different about being face to face with people than face to phone. There's something great about being on campus … being in classes together, seeing one another running across the Dell (campus center)." 
Allowing students virtual face time with chaplains might help the school, whose mascot is the Hornet, to still "feel like we're in this together, that we're taking care of one another and doing this as a hive," he said. Albert will also try hosting meditations and prayer services over Instagram Live in hopes of offering students a rare moment of peace.
The school has extended spring break and moved classes online, allowing only students who apply for exemptions to remain on campus. Lynchburg's chaplains have seen it as their duty to act as advocates for students during school administrators' crisis management team meetings.
Some students and faculty in the area, including nearby Amherst and Appomattox counties, do not have access to Wi-Fi, Albert pointed out. Some rely on on-campus employment and work study, and some who live in abusive or financially precarious households may not feel safe returning there. The school's chaplains are also ensuring that the spiritual life center's food pantry, which serves students and locals alike, is stocked.
"This is a major disruption for a lot of our students, and some of our athletes, especially, are having a really difficult time," Albert said. "There are, say, seniors on the lacrosse team whose futures are now completely up in the air. … Whatever faith tradition our students find themselves journeying on, we want to offer an anchor, so when it seems like the seas are choppy, they're tethered to something." 
Race Cars Idle – But Team Needs Continue 
College campuses aren't the only venues for ministry that have been disrupted. 
Daryl Barker leads Master's Men Racing, a men's discipleship and evangelism ministry that works in the motorsports industry, an industry that has been hit hard by race cancellations in the wake of the Covid-19 outbreak.
"We serve as the chaplains to the ARCA Menards Series," Barker said.  This circuit is a smaller stock car series competing in generally smaller racing venues, though it does have a few "companion events" with NASCAR.  Barker's team also serves a number of NASCAR organizations as their team chaplains.  He conducts weekly Bible studies, general pastoral ministry, and ministry at the race track.  
Among the teams he works with are Stewart-Haas Racing, Chip Ganassi Racing, Front Row Motorsports, and Jr. Motorsports.  Barker said the total number of people his ministry touches each week is in the hundreds, and during this time, "the key is communication."  He added:  "Short messages of home originating from the truths of Scripture are the most powerful means of encouragement," he said.  "I do of course try to give some insight and application, but I try to limit my own 'wisdom' and commentary and instead point people to the 'living' and 'active' Word." 
During this era of social distancing, he says he relies more on phone calls, texts, and emails.  "Social media is less important to me due to the personal nature of what I do," he said.  "However, I still use it."
For Everyone Else
The Billy Graham Evangelistic Association has a service for everyone else.  BGEA says its prayer line is getting traffic from those who are anxious about the pandemic.
The Billy Graham Rapid Response Team (RRT) has a global network of 1,800-plus chaplains.  BGEA released a statement saying it has asked its chaplains "to pray over the pandemic and look for ways to serve their communities." 
On Friday, chaplains Ken and Stacey Williamson were preparing to serve at the Billy Graham Library at the organization's headquarters in Charlotte, N.C., when they came across someone who had recently suffered a panic attack out of fear of the coronavirus. The couple was able to encocurage and pray for the stressed-out visitor to the library.
Josh Holland, assistant director of the Rapid Response team, said, "Obviously, this has escalated extremely quickly here in the United States and around the world. As believers, we're commanded and reminded God has not given us a spirit of fear, but of power, love and sound mind. Certainly, we should use precaution and follow authority, but remember God is ultimately on His throne. We don't have to cave to daily living in worry and anxiety, but trust Him." 
Aysha Khan of Religion News Service contributed to this story.