Examining the Practice of Mission Support-Raising and Expense Reporting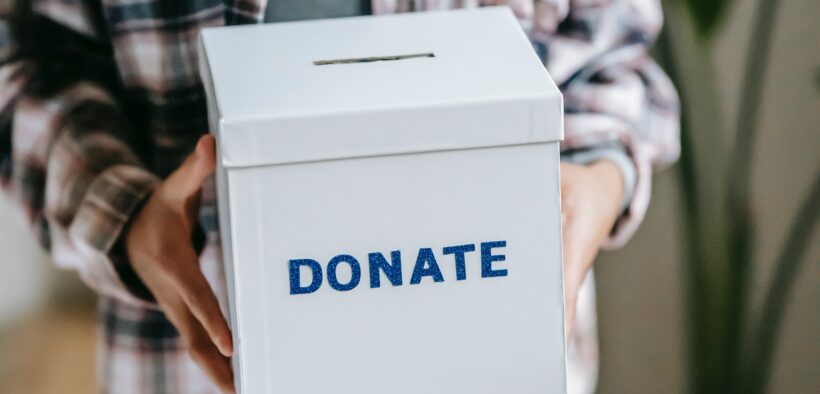 One of the many factors distinguishing much missions-related work from the average job – even the average ministry job — is the expectation of fundraising your own salary. The support-raising model raises questions about reciprocity and transparency.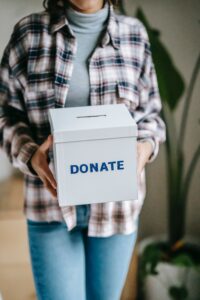 First, reciprocity: Most mission agencies take seven to 12 percent of the money the missionaries raise. These funds typically pay for travel coordination, field training, education, and other shared, "back office" services for their missionary members. For the largest organizations – among them Cru, Wycliffe Bible Translators, Young Life, and the Fellowship of Christian Athletes – these small percentages add up to tens of millions of dollars per year.
It's reasonable to ask: Are the missionaries who are doing the hard work of support raising getting their money's worth?
Transparency is another issue. When a ministry reports—as many do—that it spends five to 10 percent of its expenses on fundraising, are donors getting the full picture?  Does that percentage of total revenue include the time and money missionaries spend on support-raising? Why should the missionary agency be spending on fundraising when most of the fundraising is done by the individual missionaries themselves?
These are the questions MinistryWatch sought to answer by contacting 17 of the largest missionary and Bible translation/evangelism organizations in the country. We asked them some simple questions about their staff and how expenses are reported in their annual financial statements.
The ministries we spoke to have varying degrees of support-raising staff, ranging from 85 percent to 98 percent of their total headcount. They have their own descriptions of what is included in the fundraising percentages reported to their donors. They also have different ways of extracting a share of missionaries' funds for overhead, ranging from a 3.25 percent fee to cover certain expenses to a 12 percent cut for administrative functions.
Mission Organizations Answer Questions on Support-Raising Practices
Among the largest organizations covered here is Cru/Campus Crusade for Christ, which spent 9.7 percent of its expenses (including international subsidies) on fundraising in 2021, according to its latest annual report. The ministry confirmed to MinistryWatch that about 85 percent of its staff, or 5,711 people, raise their own financial support.
Cru says its 9.7 percent does include a portion of costs allocated from staff raising support, and all supported staff use a portion of their time to raise funds. Two footnotes in its 2021 annual report help to explain this dynamic, shown for readers below:
(Source: Cru's 2021 annual report; numbers on the right are presented in thousands)
Cru also said that 12 percent of donations raised by staff are allocated towards ministry-related services, expansion efforts, and administrative costs. 
Another prominent name is Pioneers, a missions agency with over 3,000 members and 300 teams spanning 100 countries. Pioneers USA currently has 1,780 employees, including U.S.-sent missionaries and staff at its headquarters in Florida. Matt Green, Pioneers USA's vice president of marketing, says all U.S.-sent missionaries raise their own support, along with 72 of the 172 staff members working at its headquarters.
According to its latest annual report, Pioneers spent 5.5 percent of its U.S. expenses on fundraising in 2021. Green says that number includes money spent by the Pioneers USA fundraising team on raising funds for international projects, as well as the amount of time and expenses that Pioneers members put into raising support for their salaries and projects.
Green says Pioneers' missionaries are assessed a 12 percent fee on their personal support-raising to aid Pioneers USA and its global arm, Pioneers International.
Wycliffe Bible Translators, an interdenominational nonprofit out of Florida, also has a sizable portion of its staff raising their own support: About 91 percent or 2,900 individuals. Per its 2021 annual report, Wycliffe Bible Translators spends 8 percent of its expenses on fundraising.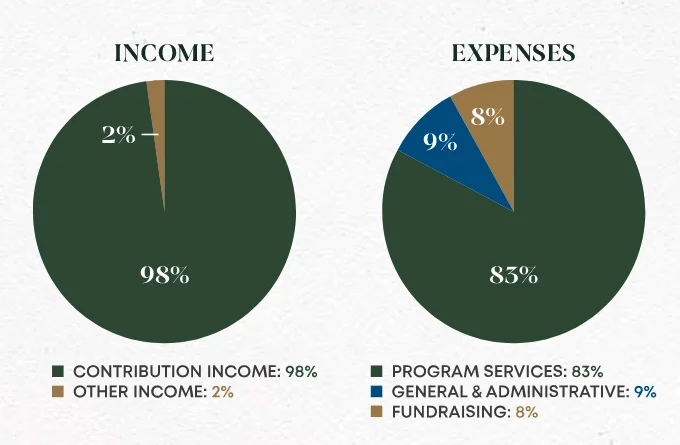 (Source: Wycliffe Bible Translators' 2021 annual report)
Vicky Mixson, the organization's executive vice president and chief communications officer, says this percentage represents the combined direct and allocable costs of fundraising activities for its headquarters operations and its two subsidiaries, the Seed Company and Wycliffe Foundation. Those costs include professional fundraising staff and a portion of missionary labor attributable to support-raising activities.
Mixson added that missionaries who raise support as part of their work with Wycliffe Bible Translators raise a 10 percent assessment that helps cover the ministry's general, administrative, and fundraising expenses.
Next up is Ethnos360, which has over 1,900 members and estimates that approximately 98 percent raise their support, excluding a small number of U.S. employees in support roles. 
The organization also provided a copy of its 2021 audited statements to MinistryWatch, showing it spent only $207,401 on fundraising out of $74 million in total expenses—far less than the typical five to 10 percent share mentioned in many ministries' annual reports. Ethnos360 Chief Operations Officer Dan Kreider says this sum is not related to missionary support but represents "organizational" fundraising costs such as travel, printing, mailings, events, and expenses from its stewardship development office.
"Members cover the expenses related to ministry partnership development for their ministry with Ethnos360," Kreider said. "The amount spent varies from missionary to missionary and ministry partnership development involves more than fundraising."
Another factor setting Ethnos360's model apart from the others mentioned in this article is that it assesses a 3.25 percent fee on all missionary support to cover headquarters expenses related to some of the services provided for its missionaries. This percentage is less than half the lowest of its peers.
Not All Mission Groups Use the Support-Raising Model: Here Are the Outliers
Not all mission/evangelism organizations follow the "raise your own salary" model. For example, Every Home for Christ had 2020 revenue of $58.7 million. It operates in 155 countries and pays its staff through funds raised by the ministry. In its 2021 annual report, the Colorado-based outreach organization reported spending eight percent of its expenses on administration and fundraising, far lower than its peer group average of about 18 percent.
Another outlier is Cross International, a Florida-based organization providing relief and development support in about a dozen countries. The ministry confirmed to MinistryWatch that it doesn't have staff, either in the U.S. or abroad, who raise their own support. Its 2021 annual report indicates that fundraising activities accounted for 1.58 percent of its total expenses last year ($1.3 million of $82.5 million).  This number, too, is far lower than its peer group.
United Bible Societies, a U.K.-based organization focused on Bible translation and distribution, also confirmed that it doesn't have support-raising staff and is instead funded by its members. The ministry sent us its 2020 Form 990 filing, which shows it spent $0 on fundraising.
There were a few other organizations on our list whose operations don't necessarily align with the support-raising model. That includes Prison Fellowship Ministries and the Billy Graham Evangelistic Association, who both confirmed their staff members don't raise support.
A handful of organizations didn't respond to MinistryWatch's requests for comment. Those are listed below, along with the latest publicly available figures on their fundraising expenses.
Three organizations responded but declined to comment: Fellowship of Christian Athletes, which spent about 7 percent of its expenses on fundraising in 2021 per its financial summary; Mission to the World, whose profile with the Evangelical Council for Accountability shows around $5 million in fundraising expenses last year, out of $61.5 million total revenue, or about 8.1 percent; and The Navigators, which stated in its annual report that it spent 9.9 percent on fundraising last year.