Bible Translation Organizations Form Alliance

illumiNations hopes to cut through complicated structures and a lack of transparency in Bible translation industry
An alliance of Bible translation organizations, called illumiNations, unveiled its "I Want to Know" campaign last month, part of its effort to translate the Bible into the remaining untranslated languages by 2033.  
illumiNations was founded by high-capacity Christian givers as an attempt to focus Bible translation efforts, with the goal of accelerating the translation of the Bible into untranslated languages.  Those responsible for the formation of illumiNations include Mart Green, Katherine Barnhart, and former NFL player Todd Peterson.  These wealthy givers would donate money into a donor-advised fund at the National Christian Foundation, and that fund would make grants to Bible translation organizations.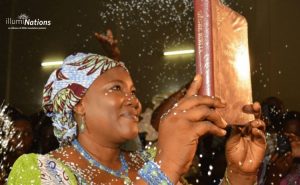 However, illumiNations has expanded its efforts to take money from small donors.  The "I Want To Know" campaign gives individual donors the chance to contribute as little as $35 to pay for the translation of a single verse.  The Bible has about 31,000 verses.  That means it takes about $1-million to translate the Bible into a new language.  Breaking down Bible translation process to individual verses has proven to be a powerful fundraising message.  At the recent IF:Gathering in Dallas, hosted by best-selling author Jennie Allen, attendees raised more than $1.5-million in a single weekend.
An analysis by MinistryWatch estimates that Bible translation organizations in the U.S. alone take in more than $400-million per year.  The largest is Wycliffe Bible Translators (WBT), which takes in about $200-million per year.  It is an industry plagued by complicated organizational structure and a lack of transparency.  Some organizations have missionaries who raise their own support, and others – including illumiNations – are essentially fundraising arms who make grants to other Bible translation organizations who also have their own development teams.  Donors have told MinistryWatch that they sometimes get solicitations from as many as three different organizations for the same projects.
Access to MinistryWatch content is free.  However, we hope you will support our work with your prayers and financial gifts.  To make a donation, click here.
It's not clear where the illumiNations efforts will fit into this overall ecosystem.  illumiNations will not actually translate.  It will give grants to existing Bible translation organizations who will be doing their own fundraising in parallel to illumiNations.
illumiNations only recently incorporated as a distinct 501-c-3 organization.  Until then, donors would make contributions to the National Christian Foundation.  It is not clear how much money illumiNations has contributed to Bible translation projects, but a source who asked not to be identified said that since 2010 illumiNations had made $180-million in grants to Bible translation organizations.
MinistryWatch made repeated requests for the Form 990 or audited financial statements from illumiNations, but received this statement instead:
Since 2010, ten Bible translation organizations and five Christian philanthropic advisors have collaborated under a collective impact alliance known as Every Tribe Every Nation (ETEN). This alliance enables the organizations to work together to advance Bible translation around the world, increasing efficiency in our operations and fundraising efforts.

ETEN began using illumiNations as its external-facing brand moniker for public use in 2015. Initially, donations to illumiNations flowed to one of the alliance agencies, which distributed them among the agencies. Later in 2015, illumiNations established a Donor Advised Fund (DAF) at National Christian Foundation (NCF) to allow donations to flow directly to alliance agencies. This DAF, the illumiNations Fund at NCF, is still used today to receive funds and grant them to the illumiNations Foundation Inc, which ETEN established as a separate 501(c)(3) entity in late 2019. This was done not only to accommodate several grantors but also to distribute all funds to agencies. 

ETEN/illumiNations raises money online and at in-person events to support Bible translation work around the world. 100% of all funds contributed to illumiNations from individual donors and churches go directly to partner agencies to fund critical Bible translation projects. 
According to linguists, there are about 7,000 languages on the planet.  However, about 500 of these languages will likely go extinct in the next few decades.  About 3,500 of these languages have full or partial Bibles.  The bottom line is that while many languages remain untranslated, well over 90 percent – perhaps as many as 99 percent — of the world's population speak a language – either as their first or second language — that already has a Bible translation. 
Heart Language
But the Bible translation industry says the number is closer to 1-billion people who do not have the Bible in what they call their "heart language." According to The Seed Company, one of illumiNations' partners, one of the organizations in the illumiNations network, "The national language can be a second or even third language for them.  God's Word reaches us all most effectively in our heart language."
However, the concept of a "heart language" seems to be one created by missionaries.  Scott Moreau, Academic Dean at Wheaton College and professor of intercultural studies, said, "It is used across the missiological world (not just among translators) but I've not seen it elsewhere."
Eddie Arthur spent more than 30 years with Wycliffe Bible Translators.  He has a Ph.D. in missiology.  He says, "Languages are tricky things and terms like 'heart language' are pretty well meaningless in situations where people speak more than one language – which is most of the world."
Arthur, for example, worked with a of people in the Ivory Coast called the Kouya.  However, he said, "The Kouya people of three villages used Gouro [the language of a neighboring people] because it was a better way to communicate with [them] and with the increasing number of Gouro women who married Kouya men.  The functionality of communication was more important than their ethnic identity as Kouya."
He also said that many people in the developing world "will use English, French, or another major language in preference to their mother tongue because of the cachet of sophistication that comes with it."  In working with such people, an English Bible might in fact be more, not less, attractive than a Bible in their native tongue or "heart language."
He pointed out another real world problem with an insistence on "heart language" translations.  "Families will often choose to use a third language because neither husband nor wife speaks the other's language adequately.  In these cases, the children are likely to grow up speaking a language which is not the first language of either of their parents.  The term 'mother tongue' is of little use in situations like this."
Arthur also believes that the way Bible translation agencies market their work to donors is no longer completely truthful.  He concluded, "We might have to revisit…the way we talk about and publicize mission work and translation."
Marketing Magic
Such a "revisit" will be hard for an industry that has built a billion-dollar infrastructure to support a massive network of missionaries whose work is rapidly coming to an end – or at least will need to change dramatically.  The needs of the 21st century will pivot from Bible translation and more toward distribution and engagement.  
The industry also has a record of making promises it has not kept.  One of the biggest Bible translation organizations, Wycliffe Associates, has been embroiled in controversy over the past year for unsubstantiated claims that has a process that that will produce a complete New Testament in a matter of weeks for far less than $100,000, using volunteer labor.  The inability of Wycliffe Associates to substantiate these claims, which appeared in its fundraising and marketing material, may have contributed to its departure from the Evangelical Council for Financial Accountability last year, and to the departure of its president, Bruce Smith, later in 2020.
Industry insiders who asked not to be identified tell MinistryWatch that some of the founders of the new illumiNations alliance recognize these problems and consider their efforts part of the solution.  Some of the founders, including Mart Green of the Hobby Lobby family, have been enormously generous to Bible translation organizations over the years.  illumiNations is supposed to be a focused effort that has stepped outside the traditional Bible translation industry to finish, finally, the job of reaching "every tribe and every nation."
But old habits die hard.  Consider, for example, an anecdote from last month's announcement of illumiNation's "I Want to Know" campaign:
Walkie, a native speaker of the Yupik language of Alaska, remembers the moment his mother understood the Bible's message for the first time. "Before my mother died, I was able to read her Psalm 139 in Yupik," he recalled. "And she said, 'Oh! So that is what it means to us!'" Yupik speakers have some Scripture in their language, but are still waiting for a complete Bible.
It is an emotionally compelling story.  However, it is an anecdote that in some ways illustrates the problem of the industry.  It leaves out the fact that virtually all of the 21,000 Yupik people of Alaska speak English fluently.  In fact, less than half of the Yupik people even speak Yupik.  For the vast majority of Yupik people, English is in fact their "heart language," with the Yupik language being one they struggle to use.  The Yupik language is an important cultural treasure, worth preserving, but there are no shortage of advocates in that process.  In fact, the University of Alaska has a degree program in Yupik.  Recently, the first Yupik novel was published.  Also, the American Bible Society translated the Gospels and the Psalms into Yupik in 1929.  These translations were updated in 2015.  Walkie's mother has had the Bible in her "heart language" for generations.  
Even illumiNations' claim that "100% of all funds contributed to illumiNations from individual donors and churches go directly to partner agencies to fund critical Bible translation projects" is impossible to verify without publicly available financial statements.  For example, while illumiNations was quick to publicize the $1.5-million it raised at Jennie Allen's for-profit IF:Gathering, it would not answer repeated requests from MinistryWatch asking for the cost of the sponsorship of that event.  And if "100% of all funds contributed to illumiNations" went to partner agencies, who paid for the sponsorship.
But as long as such stories as those of Walkie and his mother – stories long on emotion but short on facts and context — raise massive amounts of money, they will likely continue to be used.  Using illumiNations own formula, the Bible translation industry is hoping they will raise $4-billion more by 2033.  That figure, in round numbers, is how much it will take using illumiNations' own benchmarks:  $35 dollars per verse x about 31,000 verses in the Bible x the 3,500 languages yet to be translated.  
"The goal of translating the Bible into every language for all people has been a 'Goliath' of biblical proportions for generations," Mart Green said. Green hopes illumiNations will be the "giant slingshot" that finally finishes the task.