Weekly Review

ECFA Membership Changes, MinistryWatch Database Changes, Investigative Reporter Nick Ochsner on the podcast, On This Date In MinistryWatch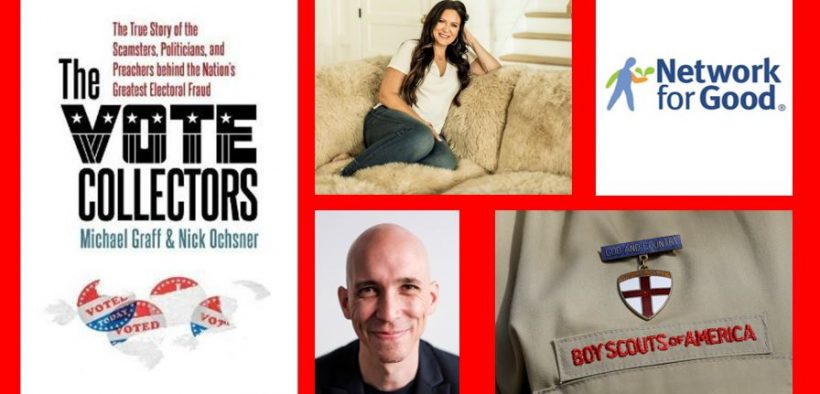 ECFA Changes.  The following organizations have had membership status changes in the Evangelical Council for Financial Accountability.  ADDITIONS:  Youth Reach Gulf Coast (Summerdale, Ala.), New Dawn Communities (San Clemente, Calif.), Pine Valley Camp (Ellwood City, Penn.), KC Underground (Shawnee, Kans.), The Center (Kaufman, Tex.), Send Hope Now (Boise, Idaho), Narrow Gate EFL (Roswell, Ga.), To Every Tribe (Los Fresnos, Tex.), We Ignite Nations (Arvada, Colo.), OnRamp (College Station, Tex.)   REMOVALS:  NONE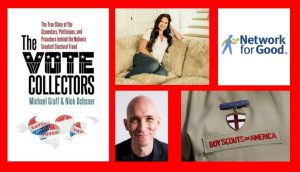 On the Podcast:  On today's program, news about the sex abuse case involving the Boy Scouts of America.  Survivors appear to have rejected the settlement plan.  And clergy burnout has become more acute in the era of COVID, but some pastors say sabbaticals are helping them and their families cope.  And Proverbs 31 Ministries founder and president Lysa TerKeurst announced on social media Jan. 1 that she and her husband Art are getting divorced. We begin the program with a story that we've been following here at MinistryWatch for more than two years, and that's the story of a ministry called Preemptive Love.  You can hear the podcast on iTunes, Spotify, Stitcher, and other podcast apps, or you can simply click here.
Helping Tornado Victims.  We have had a number of requests from our readers for recommendations.  Which organizations are most effective in these post-disaster situations?  MinistryWatch has published a list of organizations that are doing relief work and which have an "A" Transparency Grade and a 3-, 4-, or 5-star rating for Financial Efficiency.  It's a list of about 30 ministries, and you can find it on the front page of our website.  I'll also include a link in the show notes to this program.  Link to list HERE.
MinistryWatch Database Changes.  MinistryWatch now has more than 1,000 ministries in its database. These ministries represent more than $35-billion in total revenue, most of that donor revenue from evangelicals. The following ministries have their profiles updated with the most recent year's financial data. The Financial Efficiency rating of each ministry is in parenthesis. If this rating represents a change from the previous year, that change is noted: Haven of Rest Ministries, Inc. (2 Stars, Transparency Grade: C), International Friendships, Inc.  (Down 2 to 1 Star, Transparency Grade: A), Alliance for Children Everywhere (Up 1 to 2 Stars, Transparency Grade: A), Jews for Jesus (Up 1 to 2 Stars, Transparency Grade: C), Kingsbury Community Assistance Program (KCAPS) (Up 2 to 3 Stars, Transparency Grade: D), Pilgrim Africa (Down 4 to 3 Stars, Transparency Grade: C), Roever Evangelistic Association (Up 1 to 2 Stars, Transparency Grade: A), Urban Impact Foundation (Down 3 to 2 Stars, Transparency Grade: A). The following ministry has been added to the MinistryWatch database with the most recent year's financial data: Barnabas Aid / Barnabas Fund Inc (-2 Stars, Transparency Grade: A), Glory of Zion International Ministries (4 Stars, Transparency Grade: D)
Access to MinistryWatch content is free.  However, we hope you will support our work with your prayers and financial gifts.  To make a donation, click here.
Salary Data Now In MinistryWatch Database. We now have salary information for nearly 5,000 executives from more than half of the ministries in the MinistryWatch 1000 database.  So check out this new addition by clicking on the red button at the top of this page, or click here.  That takes you to our database.  The search engine is right there, and you can type in the name of a ministry you're interested in and our profile will pop right up – now, with compensation information for the top executives.
Audio Version of Faith-Based Fraud Now Available. Thanks to those of you who made my new book Faith-Based Fraud a best-seller in several Amazon categories this week.  It's now available in paperback and e-book versions.  To get your copy, click here.  This week, the new audio version released.  You can get that from Audible by clicking here.
MinistryWatch Video.  In closing, a reminder that we have created a new, short (3.5 minutes) video that explains what we do here at MinistryWatch, and why.  If you're new to MinistryWatch, I hope you'll check it out.  To find it, click here.
MinistryWatch EXTRA Episode:  FAQ About MinistryWatch.  These mid-week "Extra" episodes are a chance for us to go deep with a particular topic, and today…well…that topic is MinistryWatch.  Over the past two years, since the re-boot of MinistryWatch, I have gotten a lot of questions about what we do, how we do it, and why we do it.  The purpose of today's podcast is to answer some of those questions.  And I've invited into the program Christina Darnell, the Managing Editor of MinistryWatch.  Listen here.
On This Date at MinistryWatch. On this Jan. 2, 2014, MinistryWatch reported that two Christian publishers had begun investigating charges of plagiarism against pastor Mark Driscoll.  Read more here.  On Jan. 2, 2020, MinistryWatch published its first article on Preemptive Love Coalition.  This week, the organization severed ties with its founder Jeremy Courtney.  Read our coverage here.